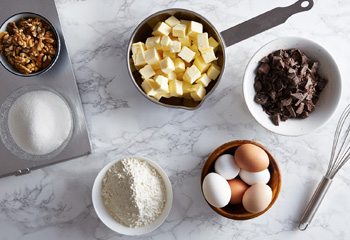 The 50 Best Brownie Recipes…Ever
Brownies With a Twist
Simple ingredients like fruit, candy bars, white chocolate, nuts and avocados transform the basic brownie into something amazing.
1. Carmelitas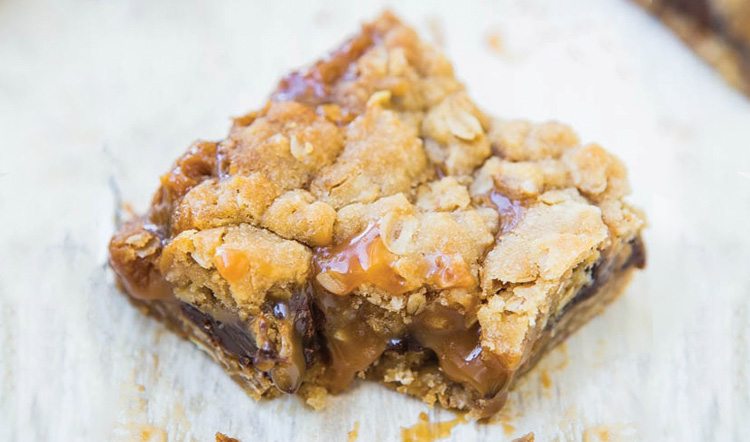 If you think all brownies are made out of chocolate, think again! These amazingly buttery, gooey caramel delights will give a whole new meaning to the word brownie. Thanks to Avery Cooks for her Carmelitas recipe and photo.
2. Cookies and Cream Extreme Brownies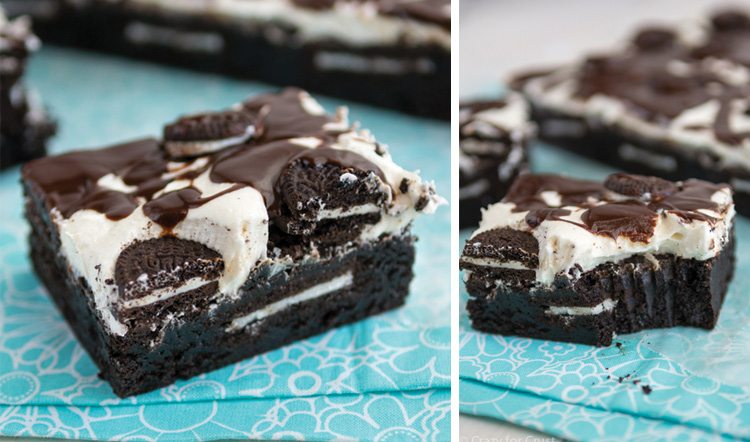 Do you like oreos? Do you like fudge? Then what are you waiting for? These fluffy, chunky, chocolatey brownies are to die for. Certainly not for those who don't like an adventure. Thanks to Crazy for Crust for the Cookies and Cream Extreme Brownies recipe and photo.
3. Salted Caramel Brownies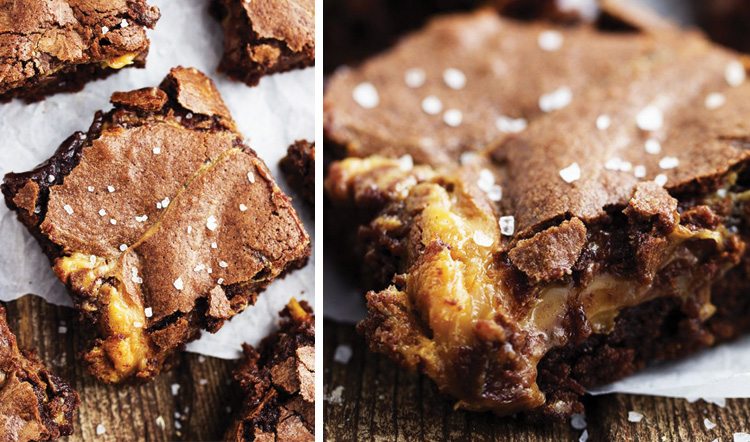 Desserts don't always need to be sweet. Try this best of both worlds recipe and get the addictive brownies you've been dreading to bake. Just enough sweet caramel and saltiness to go with the chocolate in your brownie. Thanks to The Recipe Critic for the Salted Caramel Brownies recipe and photo.
4. One Pot Caramel Brownies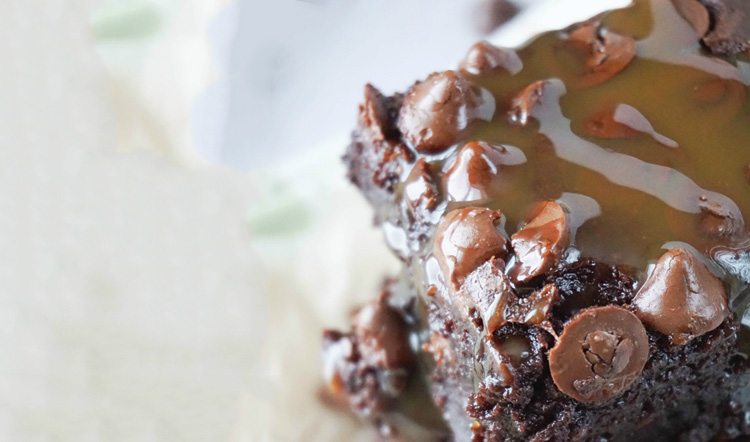 The name says it all. This is your craving go-to recipe if you're looking for a one-stop deal. Get caramel, chocolate, peanut butter, mint and other chocolate delights right here. Thanks to Sugar and Soul for the One Pot Caramel Brownies recipe and photo.
5. Birthday Cake Truffle Bars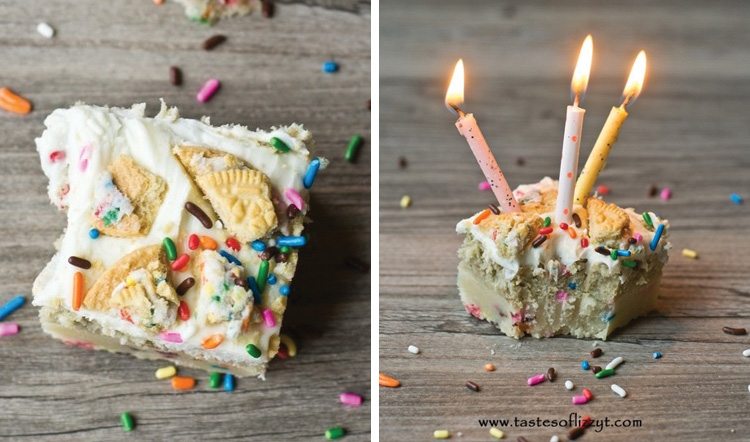 Crumbs, sprinkles, cookies, you name it, these truffle bars are ready to dance in your palate before they're even out of the oven. You'll want it to be your birthday EVERY day. Thanks to Tastes of Lizzy T for the Birthday Cake Truffle Bars recipe and photo.
6. Slutty Brownies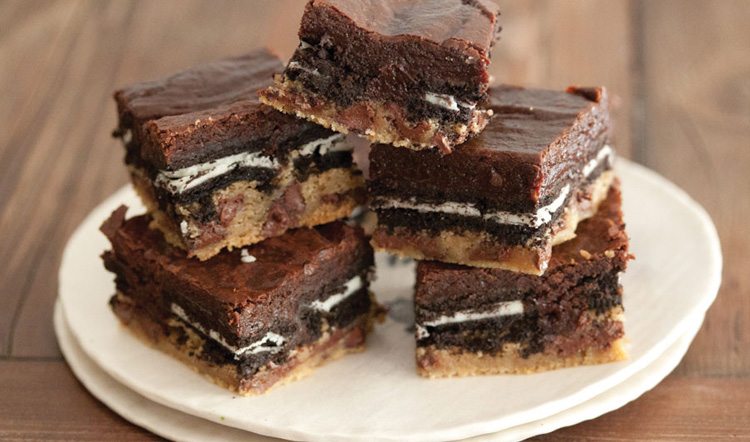 With these brownies made of layered Oreos, over cookie dough, over chocolate it is difficult to be faithful to just one dessert. Slutty or not, who cares! These are all you need to get over a bad day. Thanks to What's Gaby Cooking for the Slutty Brownies recipe and photo.
7. Four Ingredient Flourless Protein Brownies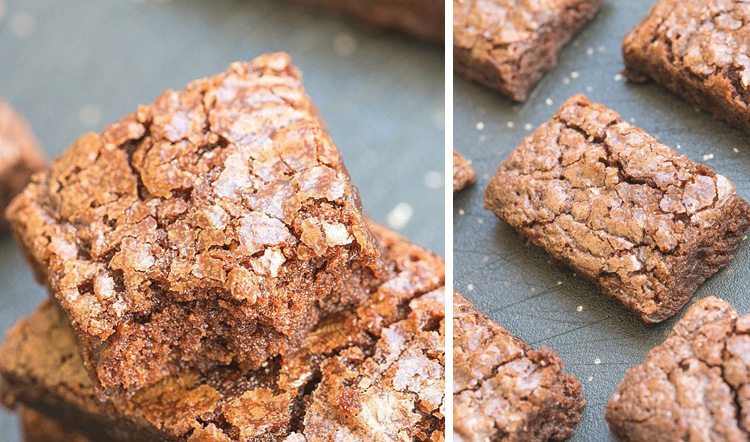 Going healthy does not mean giving up taste. These brownies are energy-packed using paleo approved casein and vegan protein powder with brown rice in lieu of flour. Who says paleo is only about meat and vegetables! Thanks to The Big Man's World for the Four Ingredient Flourless Protein Brownies.
8. Ina's Outrageous Brownies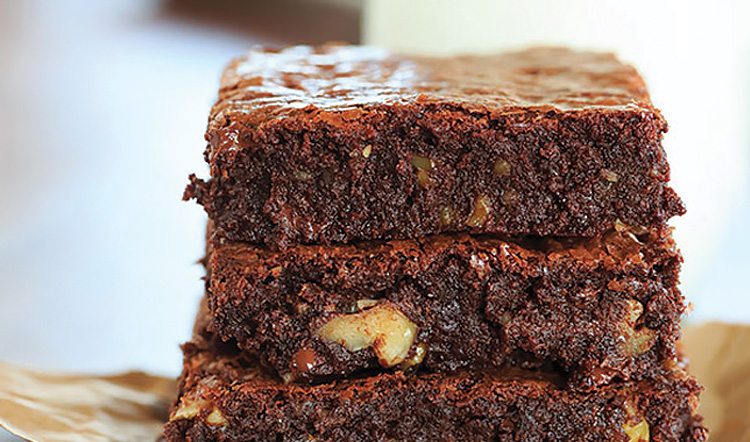 Outrageous is an understatement, so make sure to have a jug of milk by your side when having these. A pound of butter and a pound of chocolate are just two of the main ingredients -not to mention the excess walnuts to make them even more outrageously delicious. Thanks to The Brown Eyed Baker for Ina's Outrageous Brownie recipe and photo.
9. Caramel Pretzel Nutella Brownies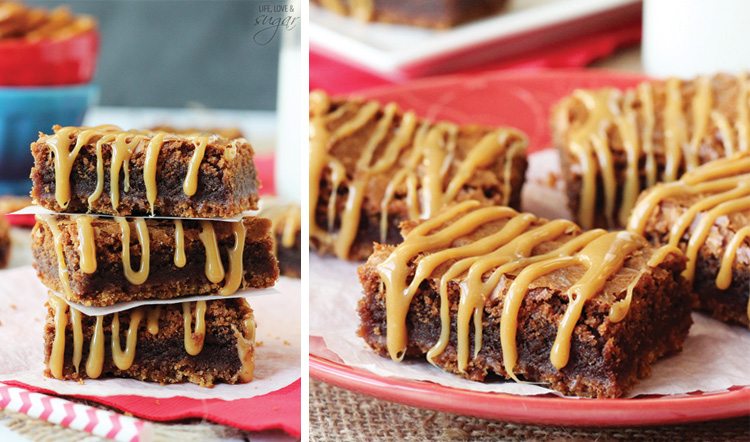 You get the whole shebang in one bite. Sweet, crunchy and chewy – this brownie can quickly become your main event. Thanks to Life Love Sugar for the Caramel Pretzel Nutella Brownies recipe and photo.
10. Pecan, Bourbon and Bacon Brownies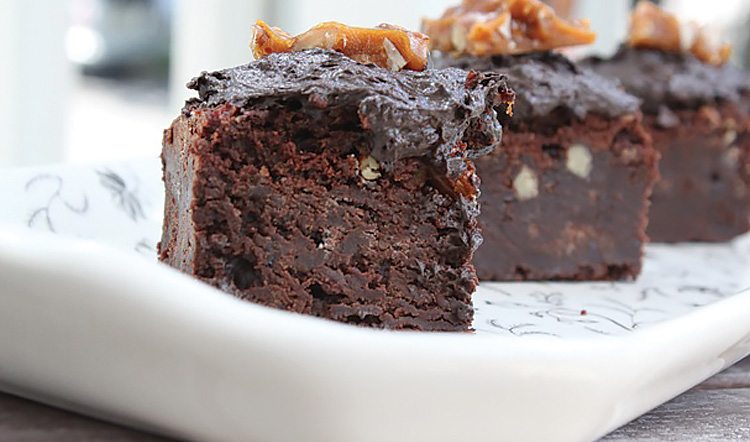 Any recipe that calls for bacon is pretty much a winner in our books. Add that sweet bourbon for an extra spring in your step and you've pretty much just made your new favorite recipe. Caution: don't eat and drive. Thanks to Casey over at Good.Food.Stories for the recipe and photo posted on Bluebonnet Baker.
11. Christmas Tree Brownies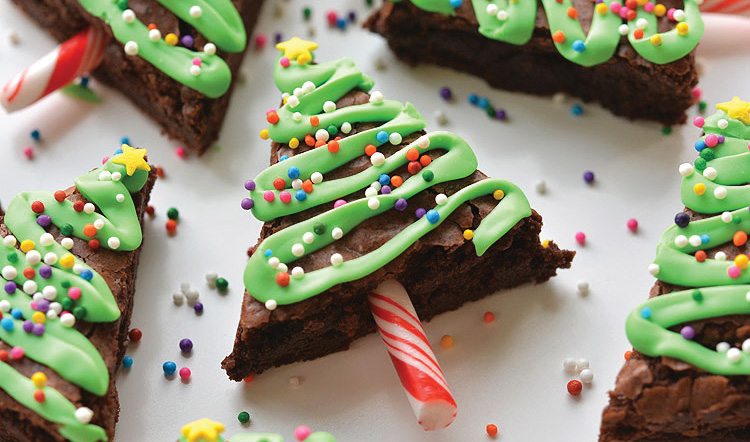 Simple enough: cut in triangles, decorate the top of the brownie to look like a Christmas tree and use a peppermint stick at the bottom as the tree trunk. Eat deliciously and have a holly jolly Christmas! Thanks to One Little Project for the Christmas Tree Brownie recipe and photo.
12. Best Brownies in the World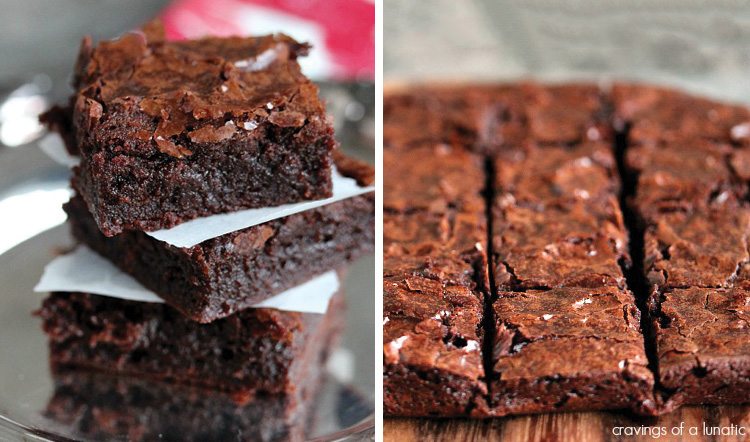 Cravings of a Lunatic claimed these as the best in the world and no one's fought against it. Moist, ooey, gooey, chewy, fudgy, addicting and truly out of this world. Trust me, you'll soon be cheating on your (other) favorite dessert. Thanks for the Best Brownies in the World recipe and photo.
13. Rocky Road Brownies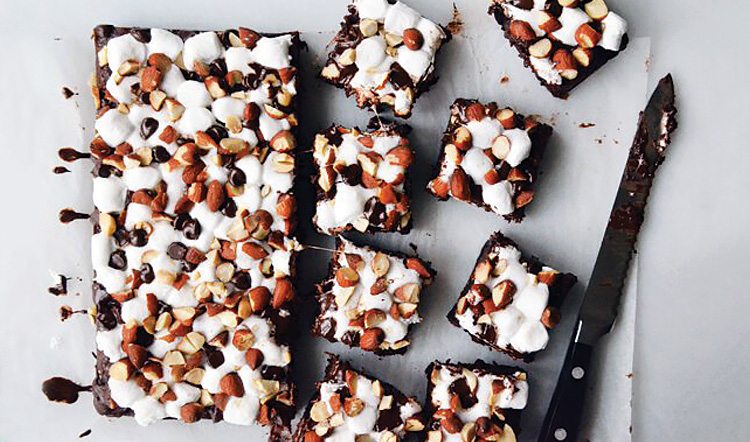 It's rocky road, do you need more persuasion? This easy melt in your mouth recipe calls for classic ingredients: marshmallows, almonds and chocolate chips. Thanks to Just A Taste for the Rocky Road Brownie recipe and photo.
14. Simple Vegan Brownies
You'll be eating brownies in 30 minutes with this recipe. In fact, 10 minutes after that you'll probably have eaten all the brownies. Yes, they're that good and yes, they're that healthy. No guilt trip here, just munch away. Thanks to The Minimalist Baker for the Simple Vegan Brownie recipe and photo.
15. Gluten Free S'mores Brownies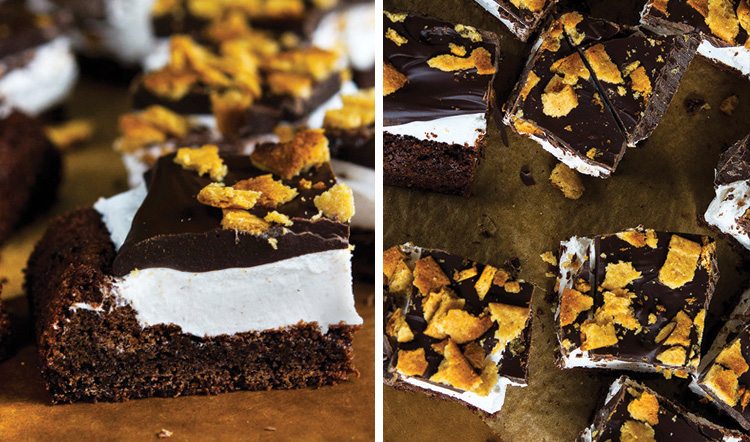 On a gluten free diet? No problem. Brownies are for everyone and there's no reason you should be left out of the dessert parade – marshmallows, chocolate and Graham cookies included. All you need now is a camp fire. Thanks to Gluten Free On a Shoestring for the Gluten Free S'mores Brownie recipe and photo.
16. Red Velvet Cheesecake Swirl Brownies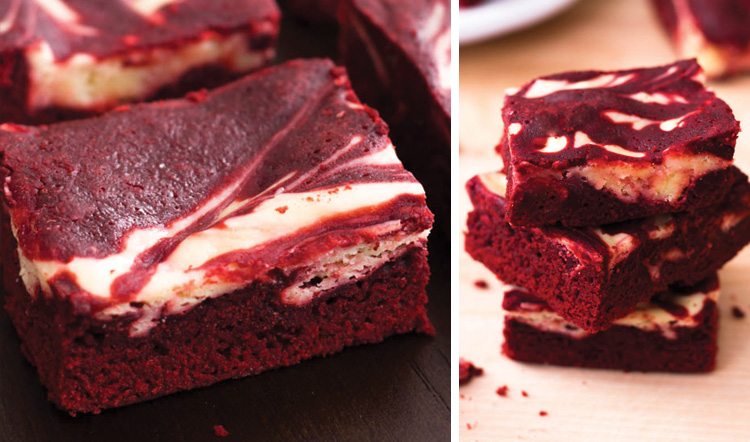 Consider this your new love affair. The velvety taste of the moist batter and cream cheesecake layered swirl will whip a blindly in love spell on you. Thanks to Sally's Baking Addiction for the Red Velvet Cheesecake Swirl Brownie photos and recipe.
17. The Very Best Brownie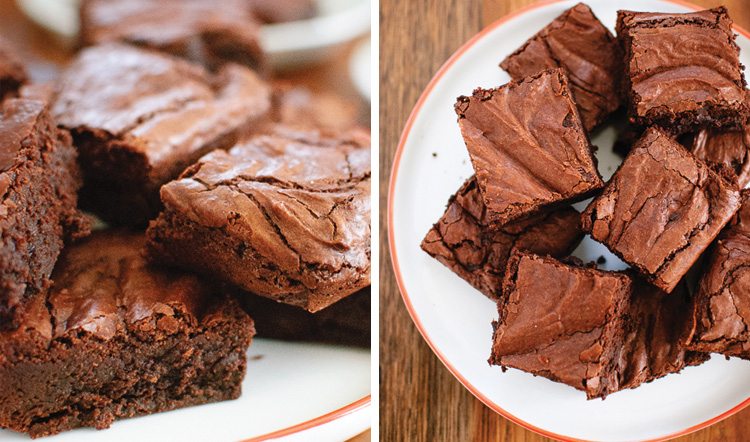 They say the best things in life are simple — and this is. Straight cut to the core, this brownie is just what you want if you're looking for richness and simplicity. A brownie in all its pure form, cracked top and all. No added flavors, just a chocolate brownie. Thanks to Cookie and Kate for The Very Best Brownie recipe and photo.
18. Blackberry Cheesecake Brownies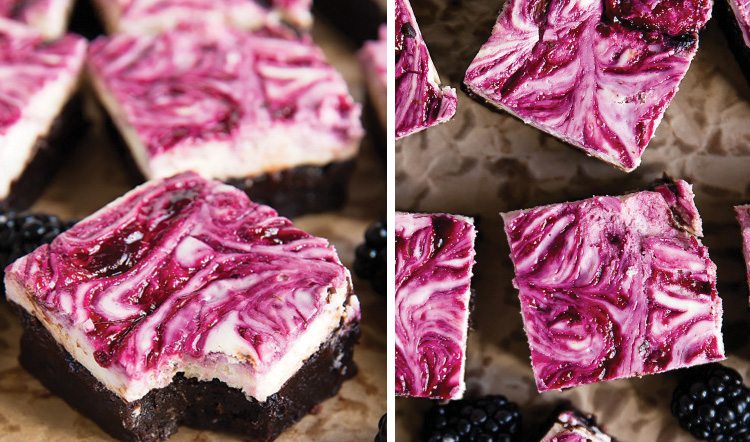 Not only do they look astounding, they taste amazing. The blackberry flavor sparks a slight tangy taste that couples favorably with the cheesecake topping. Thanks to Broma Bakery for the Blackberry Cheesecake Brownie recipe and photo.
19. White Chocolate Brownies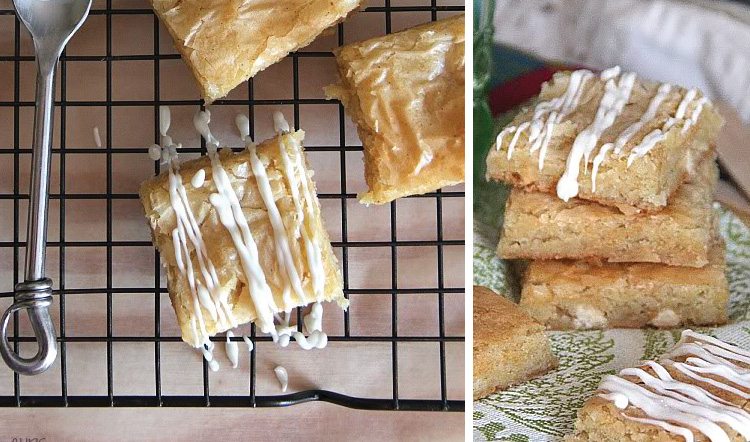 A dark brownie inverted. Some like milk chocolate, others dark and then there are those who favor white chocolate. These are sweet and exquisite as you'd expect them to be! Thanks to Cookies and Cups for the White Chocolate Brownie recipe and photo.
20. Peanut Butter Banana Brownies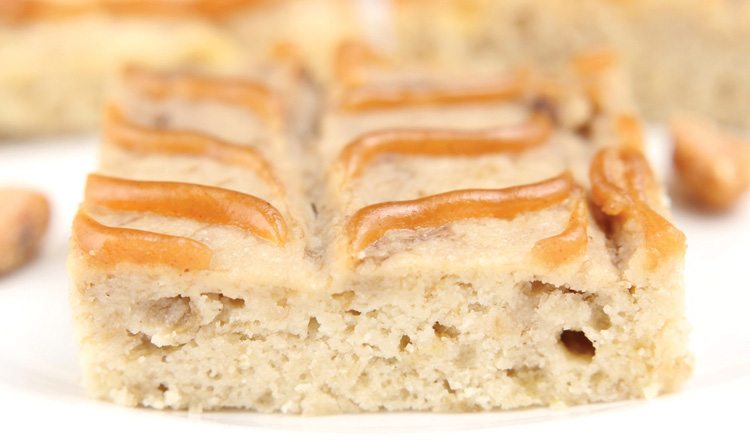 This is a kind twist on brownies, because who doesn't like banana bread?? There's really no chocolate here, but it keeps the brownie title because the texture stays true to the brownie. The peanut butter drizzled on top is just the right amount of creamy. Thanks to Amy's Healthy Baking for the Peanut Butter Banana Brownie recipe and photo.
21. Triple Chocolate Guinness Brownies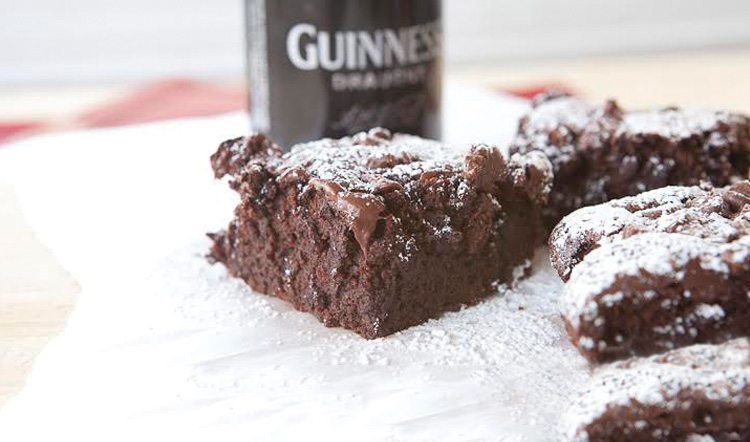 Guinness is a key recommendation for a top-notch flavored brownie. Who would've thought to add stout into the mix, right? Thanks to Macheesmo for the Triple Chocolate Guinness Brownie recipe and photo.
22. Salted Caramel Mocha Brownies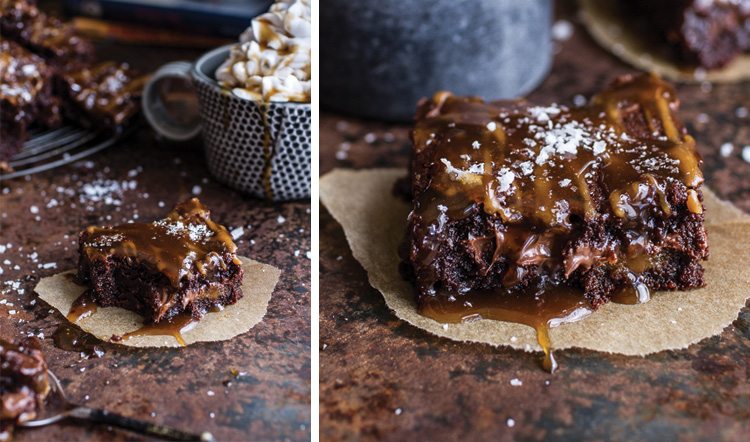 Talk about a knock off that turned out even better than the original. Here's a Starbucks drink turned brownie -but a thousand times yummier. You've got to try them. Bittersweet never tasted so good. Thanks to Half Baked Harvest for the Salted Caramel Mocha Brownie recipe and photo.
23. Nutella Stuffed Buttered Brownies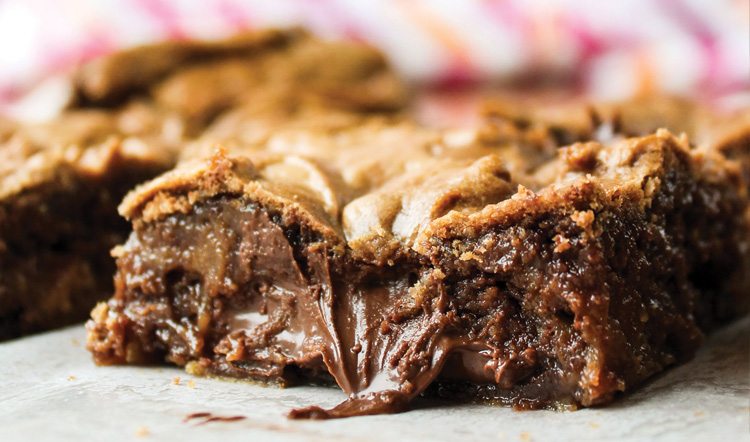 Oh, the possibilities of an infinite desire to feed a craving. Here you have it, a brownie infused with the hazelnut taste of Nutella. Thanks to The Food Charlatan for the Nutella Stuffed Brown Buttered Brownie recipe and photo.
24. Caramel Apple Brownies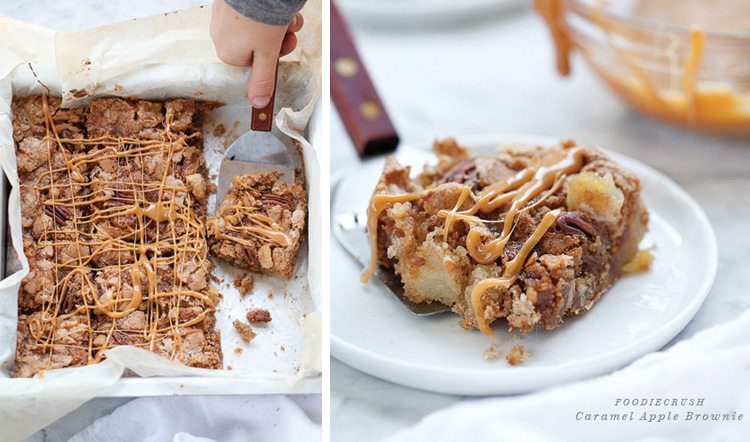 Think apple pie meets cobbler and you end up with this. Crunchy and gooey all the way, have it with a cold glass of milk or warm with a scoop of ice cream a la mode. Thanks to Foodie Crush for the Caramel Apple Brownies recipe and photo.
25. Nutella Brownie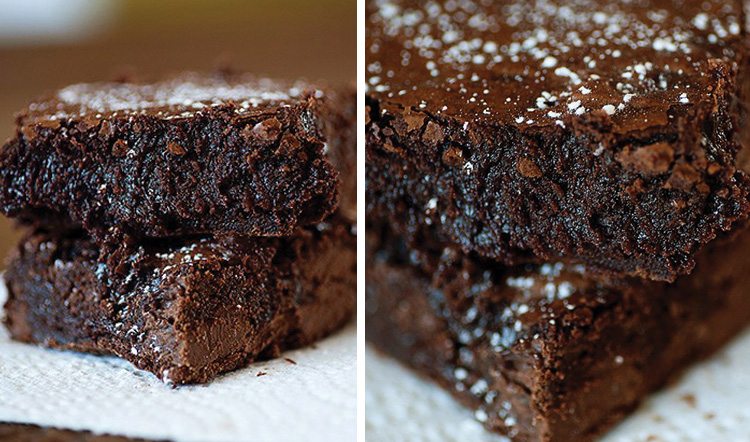 With just a hint of Nutella, these buttery brownies will make everyone at your house ecstatic. They are simple, but classic and delish. Thanks to Buns in My Oven for the Nutella Brownie recipe and photo.
26. Skillet Brownies with Pretzel Crust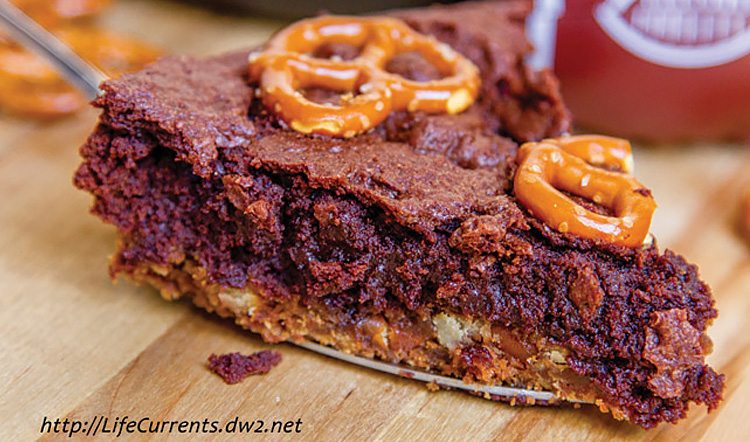 A diverse take on serving brownies. Use a skillet and keep them warm a little longer and serve straight from it, makes for a warm homemade presentation. Thanks to Life Currents for the Skillet Brownies with Pretzel Crust recipe and photo.
27. Flourless Black Bean Avocado Brownies
Avoiding flour? This one's for you. The mix sounds a bit odd, yes, this brownie promises you'll want more before you're finished with the first batch. Flourless, vegan and gluten-free, what more could we ask for in a healthy treat? Thanks to Ambitious Kitchen for the Flourless Black Bean Avocado Brownies recipe and photo.
28. Chocolate Mint Brownies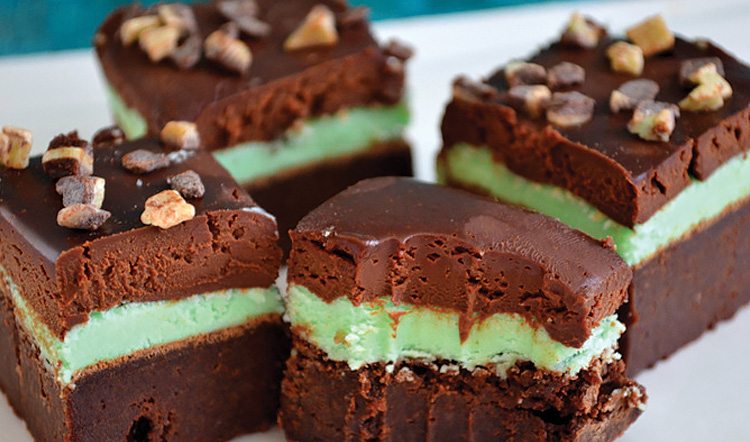 Mint adds a spark to anything. It's an instant taste of freshness that only mint can offer when combined with chocolate. Thanks to Mom On Timeout for the Chocolate Mint Brownies recipe and photo.
29. Buckeye Brownies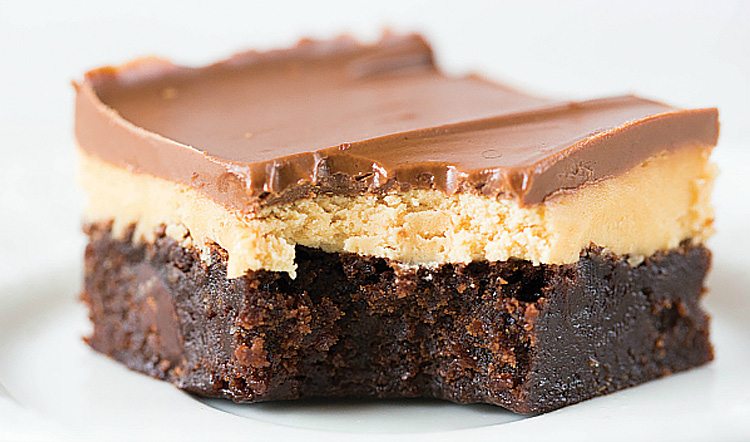 Three layers of creamy goodness: peanut butter and peanut butter chocolate over chocolate. You'll be sneaking these under your pillow for a midnight snack, they're so good! Thanks Brown Eyed Baker for the Buckeye Brownies recipe and photo.
30. Oreo and Peanut Butter Stuffed Brownies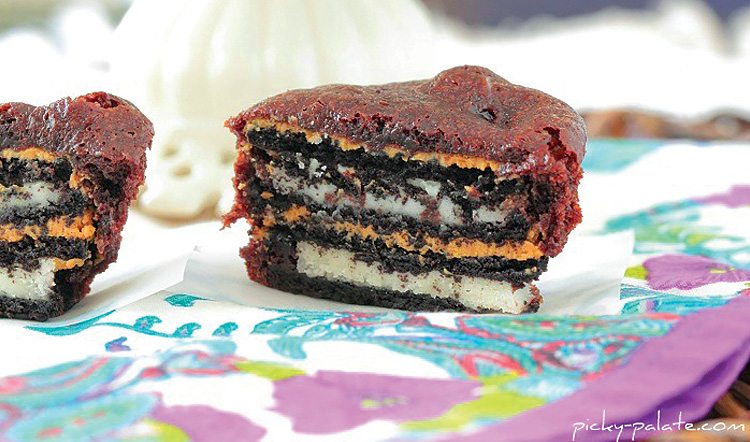 These sound intoxicating already. In a good way, of course. Is there such thing? Yes. Try these and be hooked forever and ever! Thanks to Picky Palate for the Oreo and Peanut Butter Stuffed Brownies recipe and photo.
31. Snickers Brownie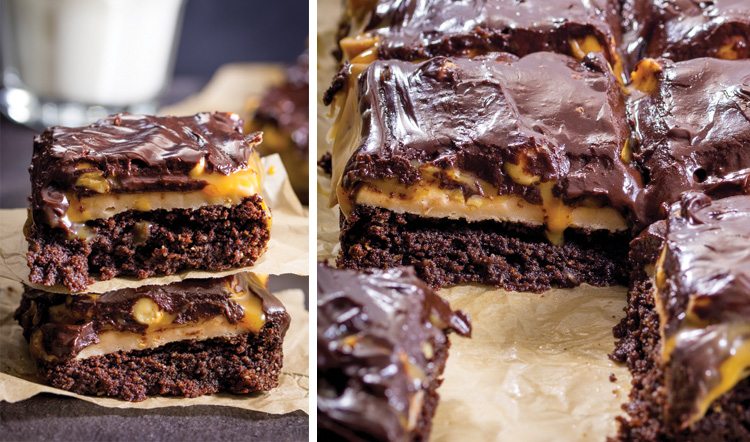 So Snickers really satisfies you? Than you'll be head over heals when you try this crunchy, caramel, sticky-ooey-gooey, nutty brownie. Head over to Simply Stacie for the recipe. Thanks to Kitchen Sanctuary for the Snickers Brownie photo.
32. M&M and Oreo Brownies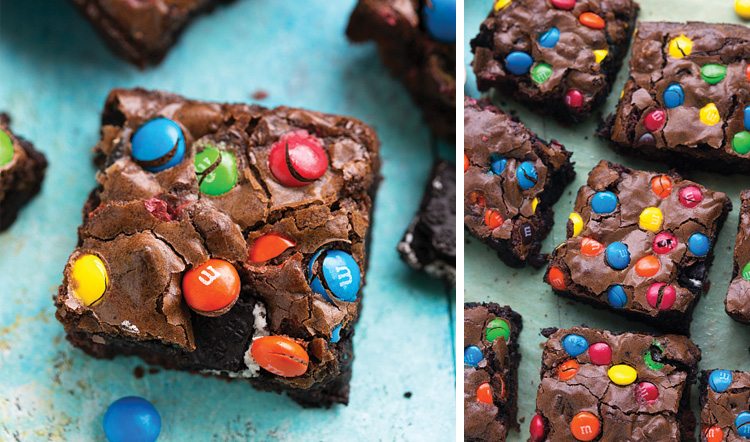 Oh! those cute little M&Ms! It's easy to eat a whole bag, so why not distribute them evenly amongst brownies? These are so colorful and flavorful you'll want to bring them to every kid's party. Thanks to Chelsea's Messy Apron for the Brownie Ice Cream Bars with Samoas recipe and photo.
33. German Chocolate Brownies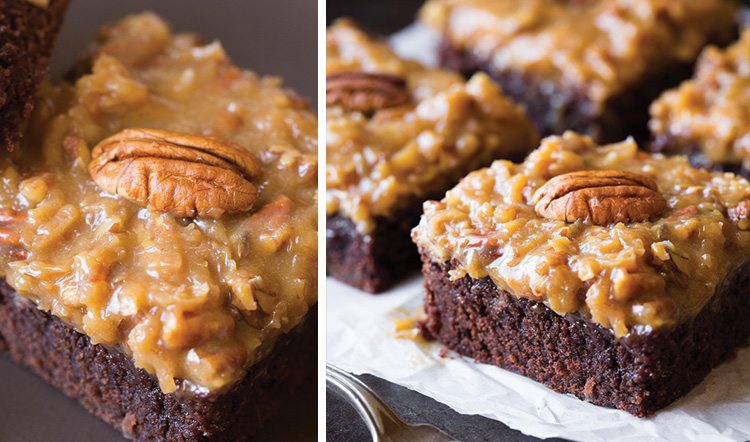 Isn't German chocolate the best? These brownies may very well be the quintessential result you're looking for. The coconut pecan topping is to die for. Thanks to Cooking Classy for the German Chocolate Brownie recipe and photo.
34. Decadent S'mores Brownies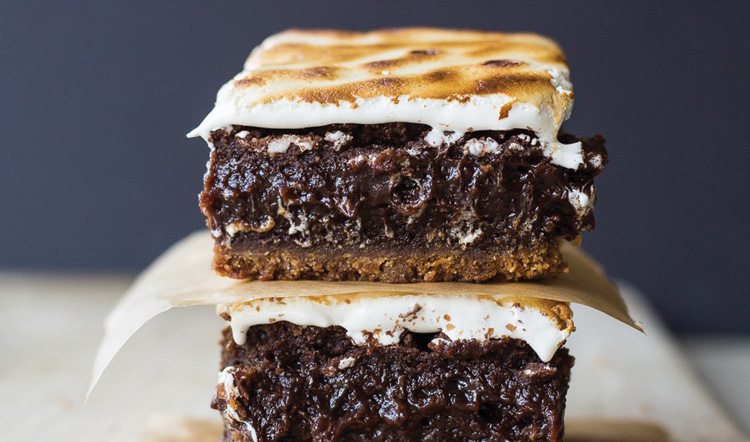 OMG. Repeat that title again, please. S'mores are a favorite all on their own, but add them to a brownie and we are front row fireside. The marshmallow seriously melts in your mouth, the chocolate in the middle is placed almost strategically atop the Graham cookie that crumbles away ever so graciously. Make sure to make extra batches of these, you'll be begging for s'more. Thanks to The Beach House Kitchen for the Decadent S'mores Brownie recipe and photo.
35. Cake Batter Cheesecake Brownies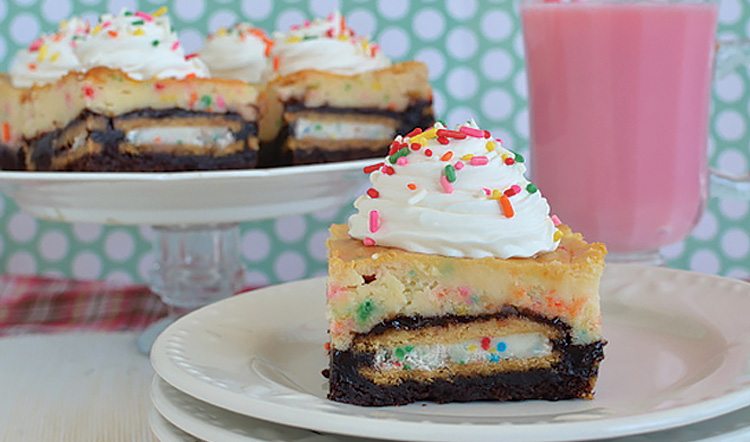 There should be a warning label that reads "proceed with caution, highly addicting". I mean who doesn't run their fingers across the cake batter bowl? Exactly. Imagine that AND cheesecake. Enough said. Thanks to Inside Bru Crew Life for the Cake Batter Cheesecake Brownie recipe and photo.
36. Snickers Brownie Bites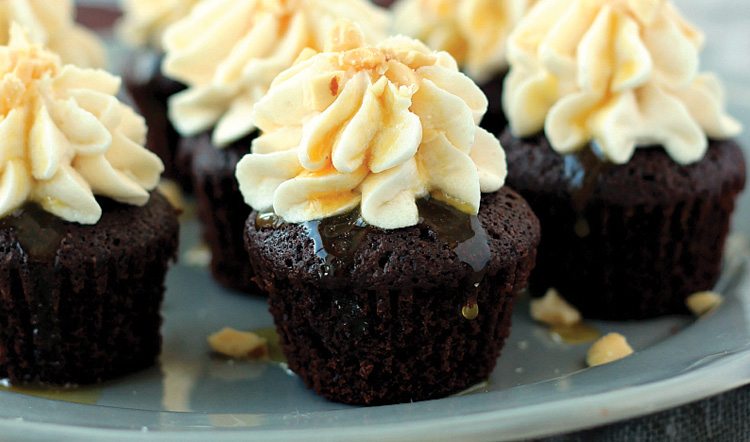 Not everything needs to be super sized. These pretty little bites are enough to send you into a luscious caramel-infused heaven. Thanks to The Recipe Rebel for the Snickers Brownie Bites recipe and photo.
37. Vegan Brownies Two Ways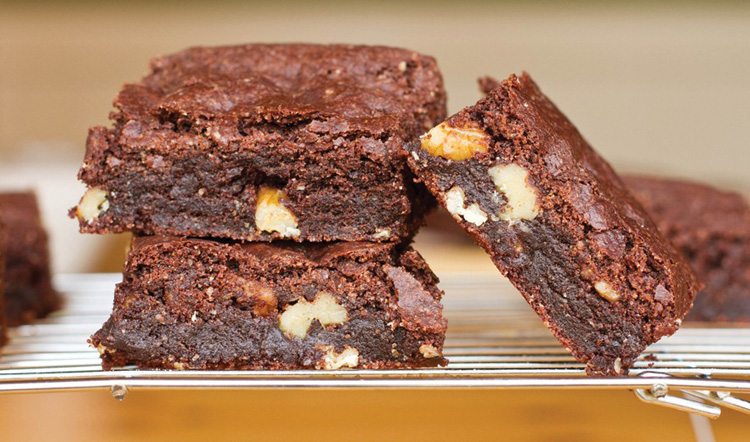 Protein-packed hemp hearts, walnuts, medjool dates, raw cacao powder, vanilla, and Himalayan sea salt are all the sacred ingredients that make the raw brownie dough taste oh so healthy and yummy. This includes an extra layer of chocolate, but (shhhh) no one really needs to know! Thanks to Oh She Glows for the Vegan Brownies Two Ways recipe and photo.
38. Touchdown Brownies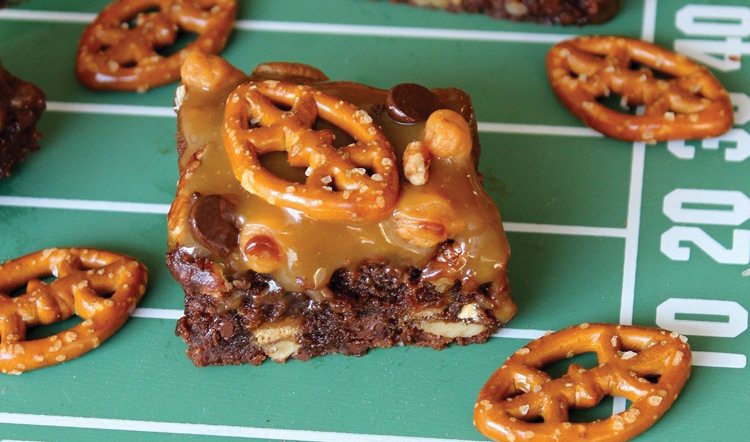 It's football season so why not call for a touchdown of your own! These are perfect to serve during a game, a tailgate party or just because. The caramel makes them gooey and fudgy, the pecans and pretzels crunchy and salty. Thanks to The Baker Mama for the Touchdown Brownies recipe and photo.
39. Milky Way Caramel Cheesecake Brownies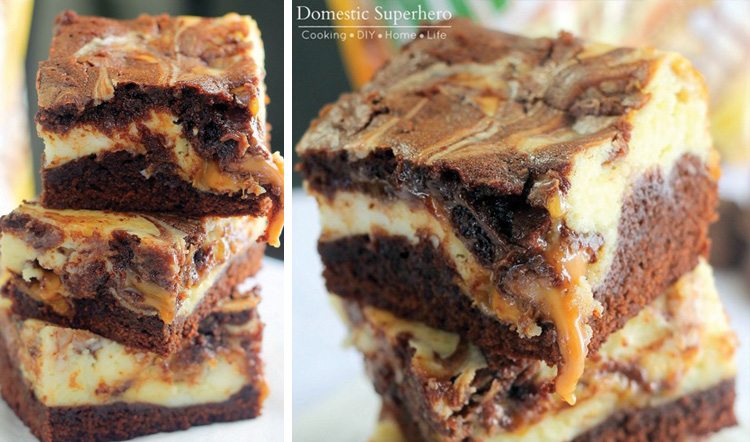 Anything with cheesecake as an ingredient is already an instant winner, right? If you like Milky Way, wait until you try the brownie version, WITH cheesecake. I think I just inadvertently introduced you to your new bff. Thanks to Domestic Superhero for the Milky Way Caramel Cheesecake Brownies recipe and photo.
40. Chocolate and Peanut Butter Brownies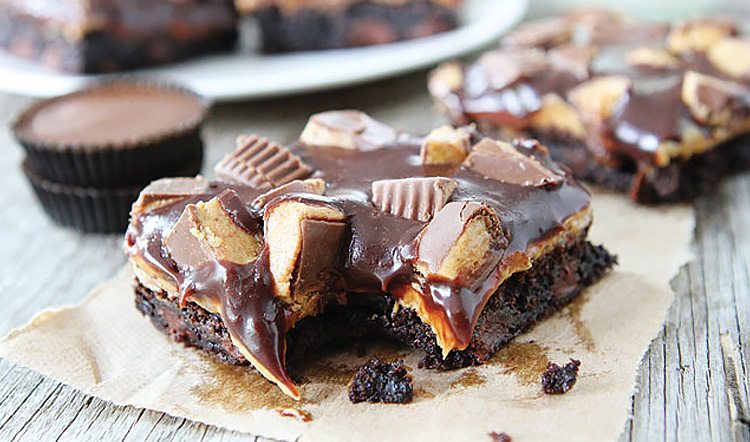 Sinfully exquisite. Peanut butter cups, chocolate and chocolate ganache are seriously the perfect combo in making these tasty squares. Thanks to Two Peas and Their Pod for the Chocolate and Peanut Butter Brownies recipe and photo.
41. Blueberry Espresso Brownies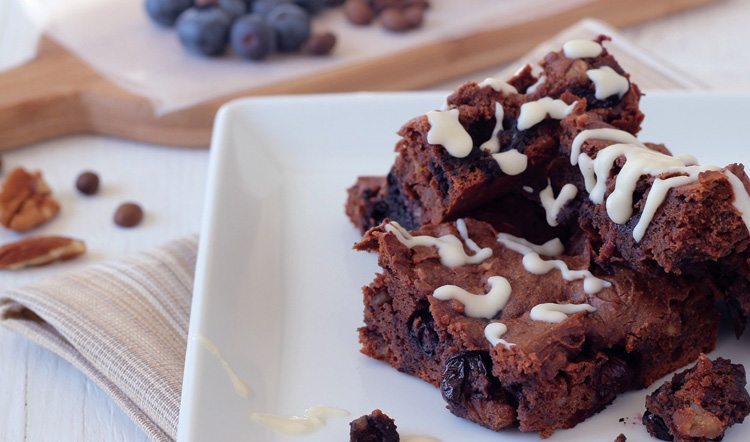 We bow down to these key ingredients that make this brownie a winner: chocolate luxury in a square, healthy as a blueberry, strong as espresso (only the coffee aftertaste is light) and semisweet as the coconut cream drizzles over the top. Yum. Thanks to Civilized Caveman for the Blueberry Espresso Brownies recipe and photo.
42. Cosmic Brownies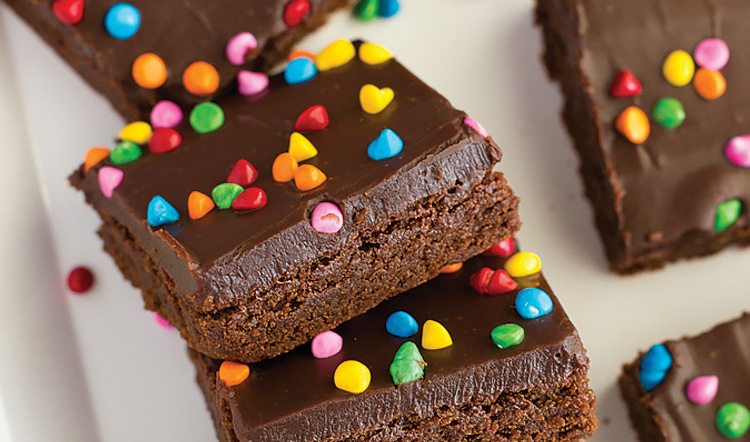 These are your nostalgic memory of Little Debbie's Cosmic Brownies. Feel like a kid again with these bright and colorful brownies that taste so yummy in your tummy. It's the simple pleasures in life that make it worthwhile. Thanks to Life Made Simple for the Cosmic Brownies recipe and photo.
43. Cookies 'n Cream Oreo Fudge Brownies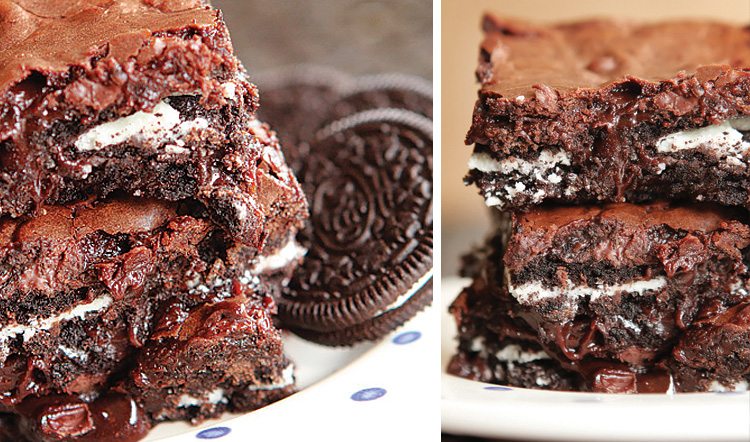 On a sugar cleanse? This may not be for you. With a highly sweetened taste produced by the Cookies N'Cream Oreos, these brownies are a standout on any table. Make sure to make extras because everyone will want seconds, thirds and so on. Thanks to Kevin and Amanda for the Cookies N'Cream Oreo Fudge Brownies recipe and photo.
44. Bourbon Pecan Brownies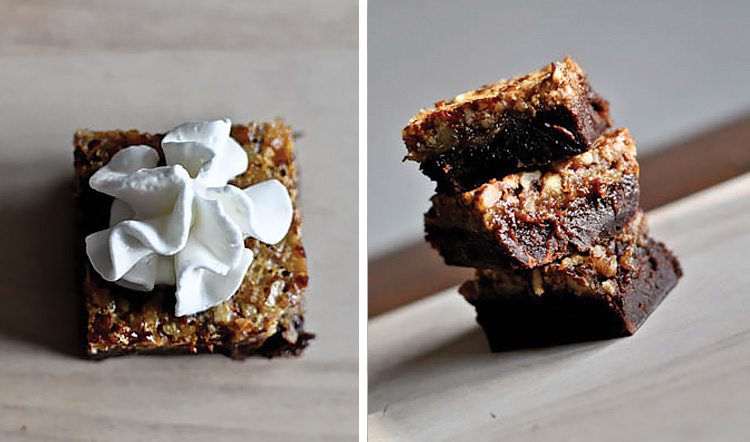 Dense and fudge-filled with bits and pieces of crunchy pecan, sweet bourbon flavors and a dollop of cream – now this is a brownie recipe you'll be sharing for years. Thanks to How Sweet It Is for the Bourbon Pecan Brownies recipe and photo.
45. Twix Brownies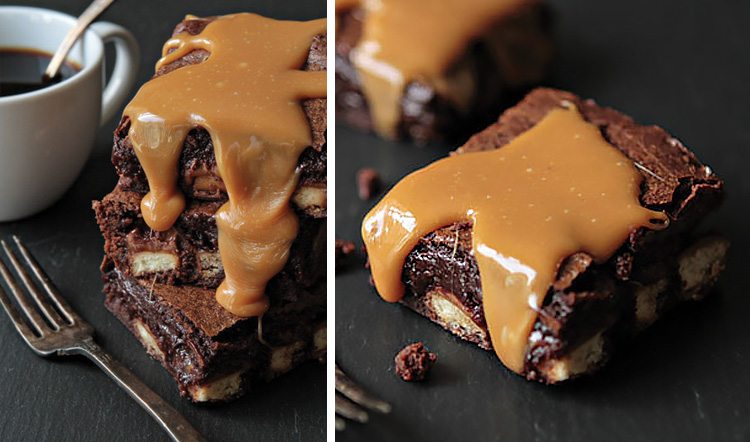 You bet your crunchiness you'll munch away on these Twix inspired brownies. Caramel, malt and chocolate make that brownie extra special. Thanks to My Baking Addiction for the Twix Brownies recipe and photo.
46. Kit Kat Cream Cheese Brownies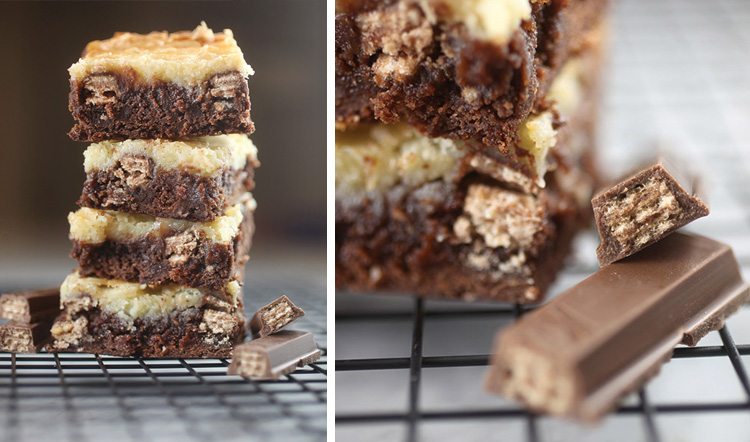 Feel like having a Kit Kat break? Try it in a brownie and you'll be on break all day. Did I mention there's a cream cheese topping included? Yeah. There is! Thanks to Bakerella for the Kit Kat Cream Cheese Brownies recipe and photo.
47. Chocolate Mint Andes Brownies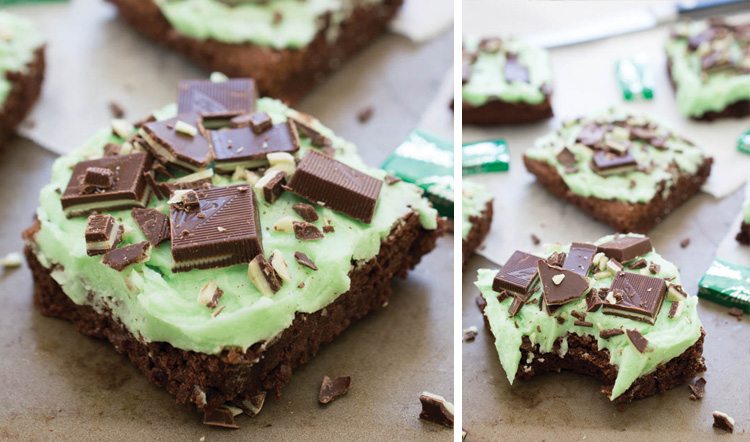 Accompanied by a peppermint buttercream frosting, these brownies are perfect for St. Patty's Day. Who doesn't like Mint Andes anyway? Thanks Chef Savvy for the Chocolate Mint Andes Brownies recipe and photo.
48. Double Chocolate Caramel Brownies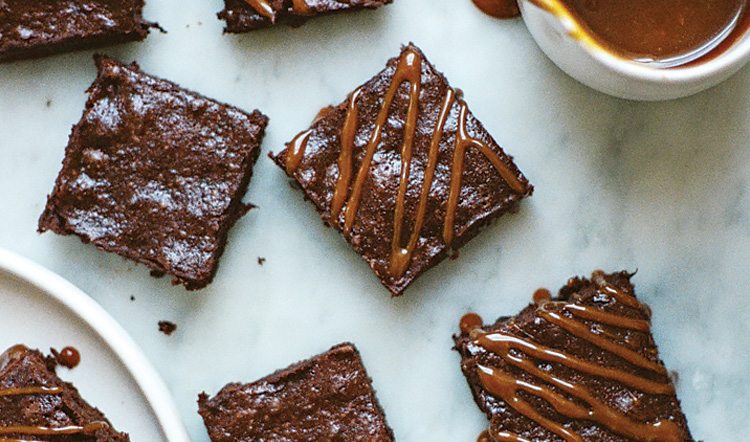 Talk about chocolate galore. Save these for a rainy day so the food comma can be justified. Double the chocolate for the chocoholic and added caramel for just enough chewiness in every bite. Is it raining yet? Thanks to Apt 2B Baking Co. for the Double Chocolate Caramel Brownies recipe and photo.
49. Brownie and Cream Sandwich Cookies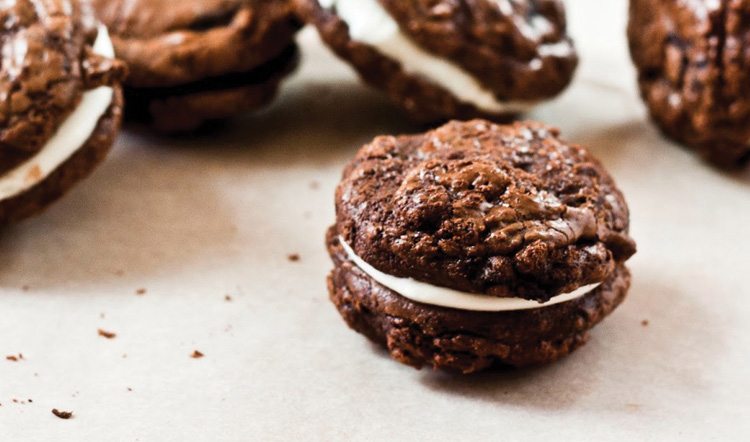 These bitesize treats are a fun steer from your typical squared brownie. If you're feeling adventurous and in the mood for something between a brownie and an Oreo cookie than this is your recipe. Not as crunchy as the Oreo but enough cream in the middle to remind you of it. Thanks to Hummingbird High for the Brownie and Cream Sandwich Cookies recipe and photo.
50. One Bowl Brownies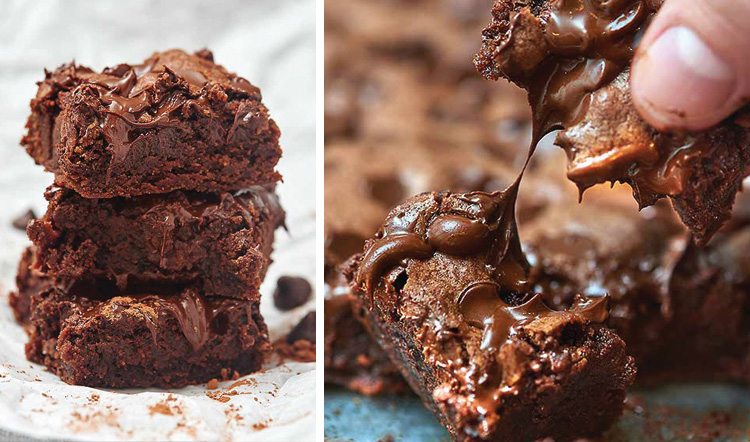 Binge on these easy to make brownies. No complicated ingredients or extra process, just grab a bowl, your mixer and be ready to stir. Thanks to Show Me The Yummy for the One Bowl Brownies recipe and photo.
Now that you've seen our list of the 50 most amazing brownies, which one will you start baking first? We dare you to try every recipe! And what better way to complement a brownie than with a chocolate dipped fruit. Choose from any of our delicious apples, strawberries and cherries!