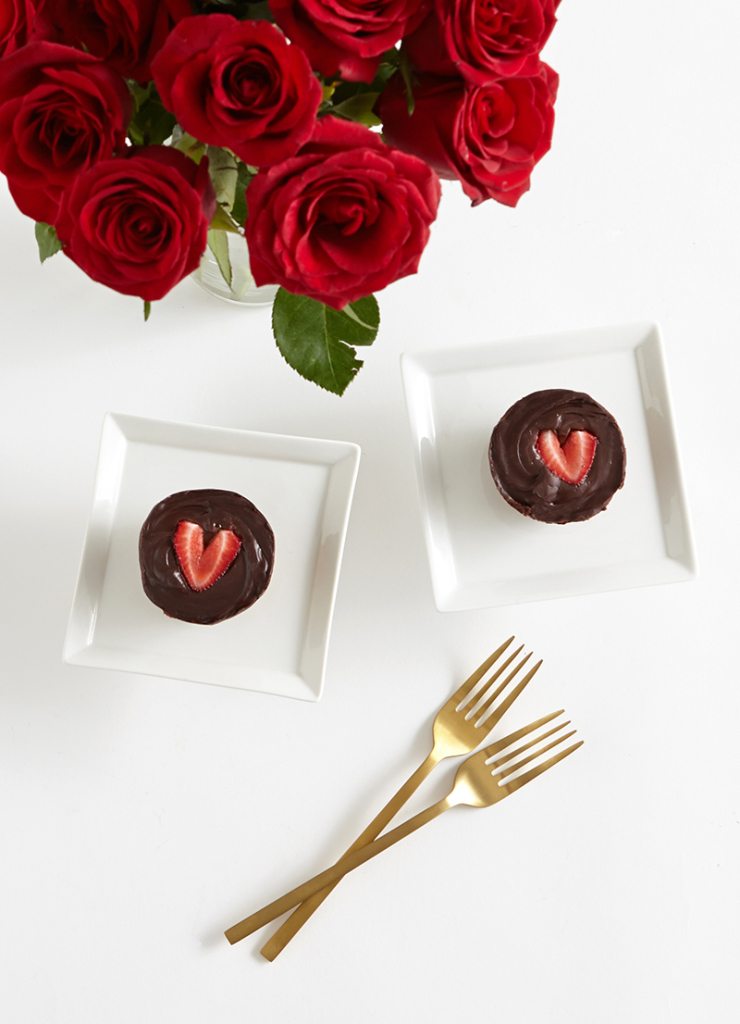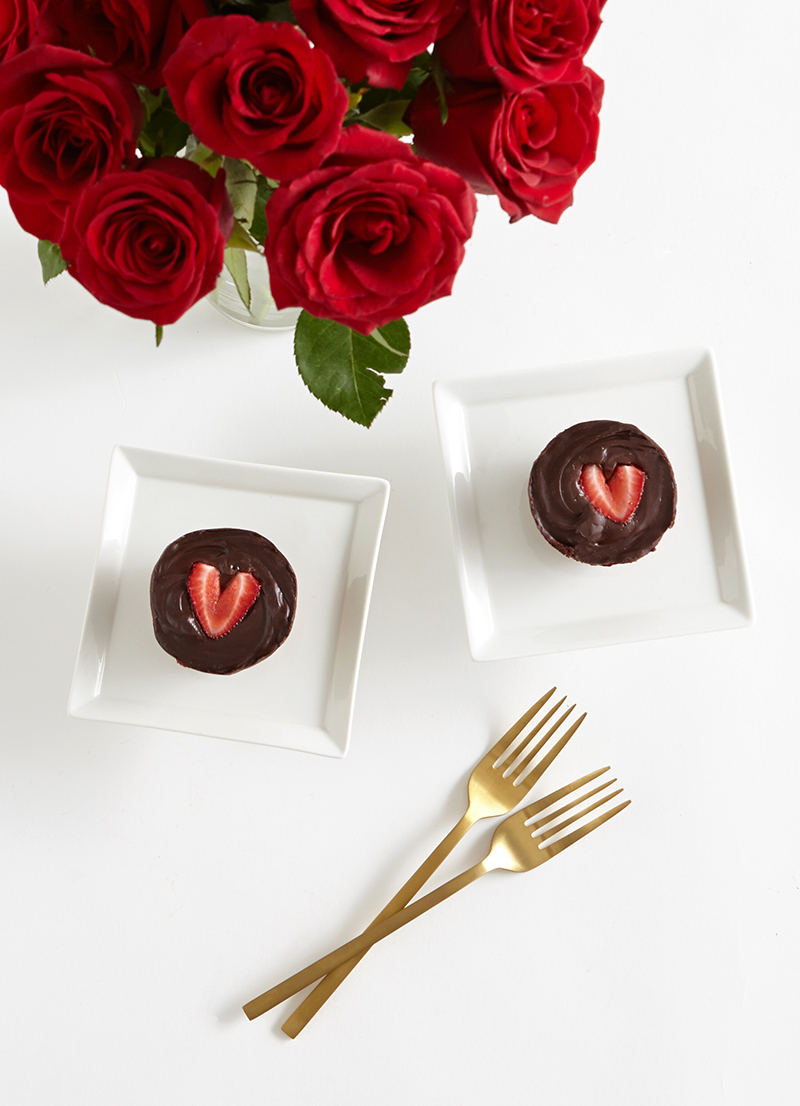 Presentation. Presentation. Presentation. Start setting the mood for love with a romantic table. We used classic white plates, gold plastic forks and topped it all off with a red bouquet of long-stem roses from ProFlowers. We're totally smitten with their Romance Month mission to love boldly.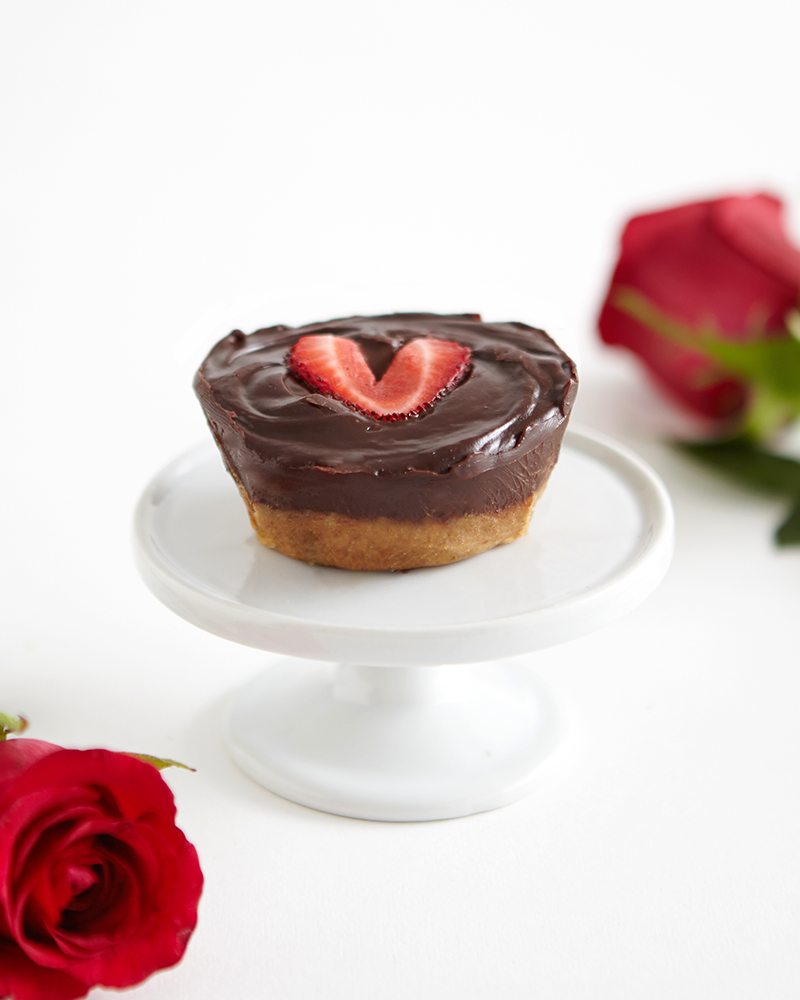 When we created this recipe, we thought of every detail. Because when it comes to love, and gifts, it's the little things that count—like a sweet strawberry rose on top of dark, melted chocolate.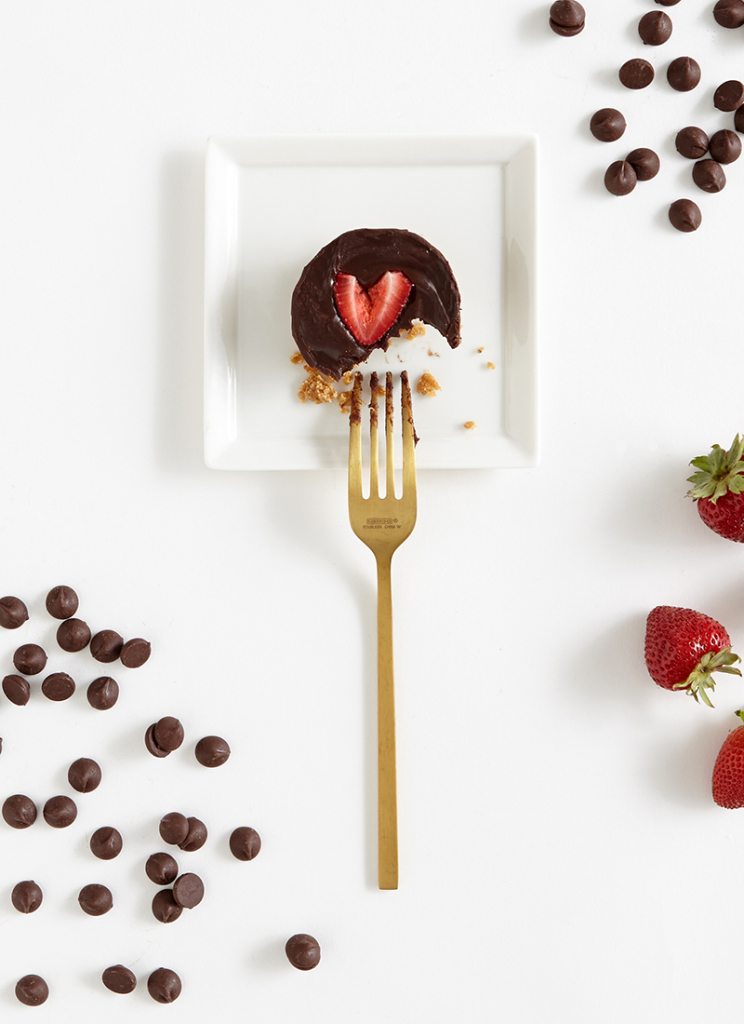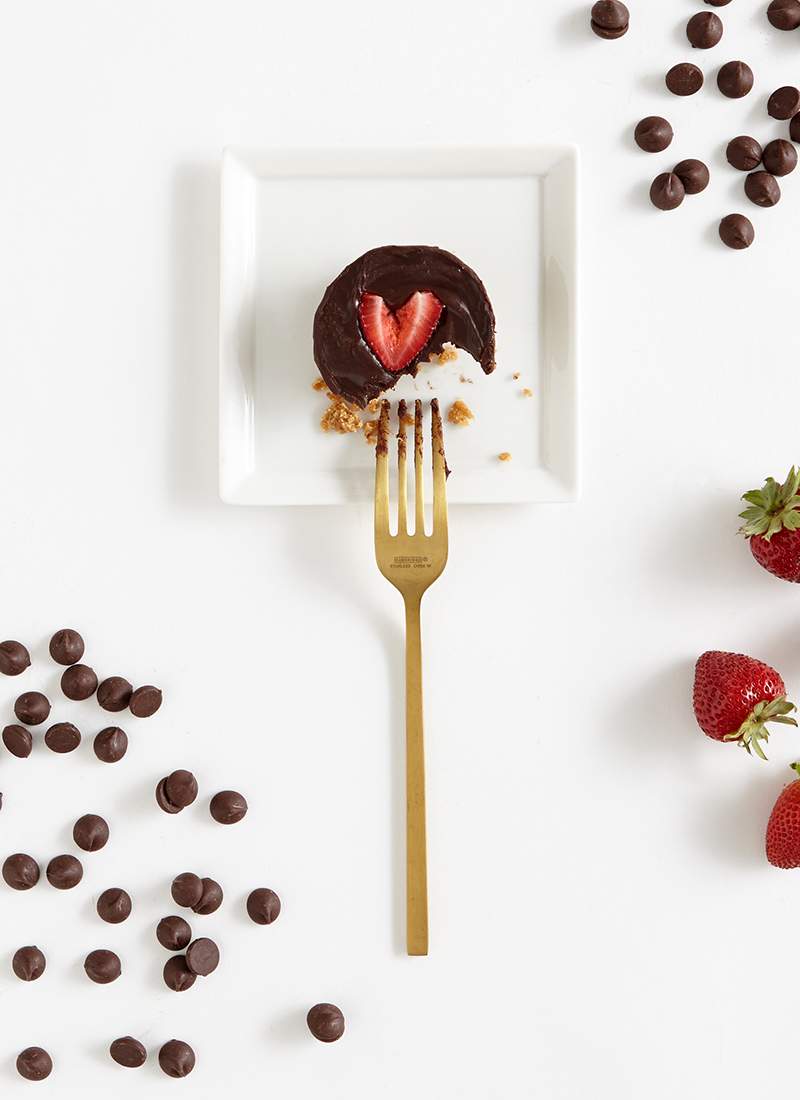 One look, and one bite of this decadent tart and they'll fall in love with it (and you for making it). And if they really love you, they'll share a forkful or two. Especially when you tell them about all the hours you spent slaving away in a hot kitchen. Even though it's really super easy and you don't even have to turn on your oven.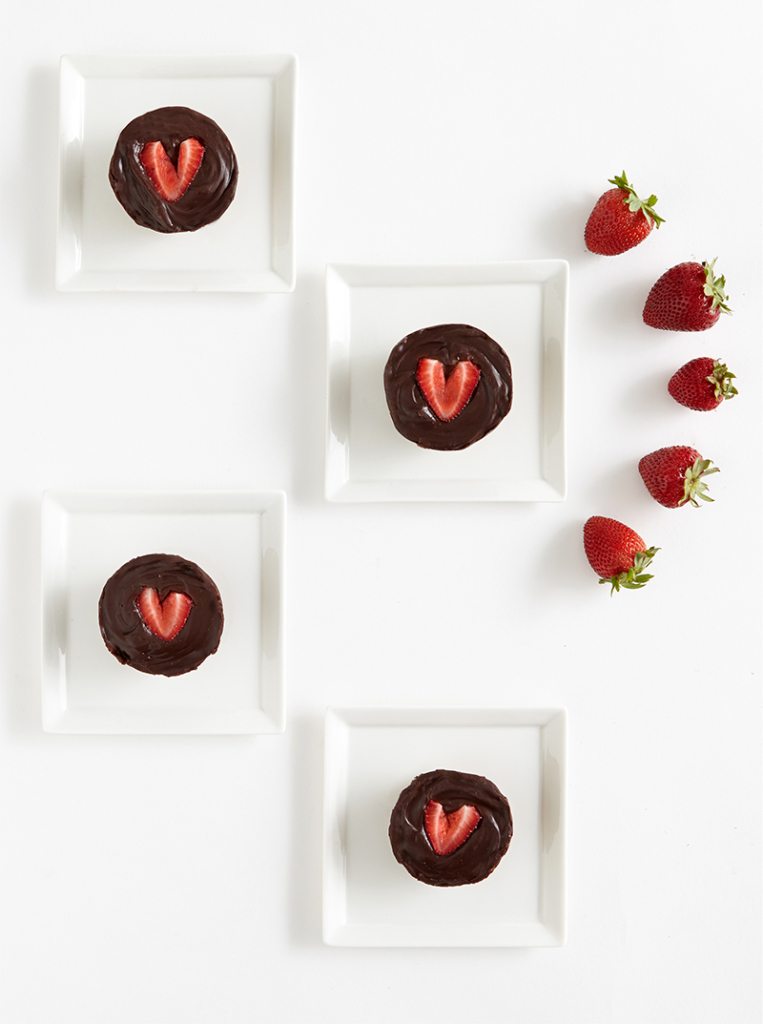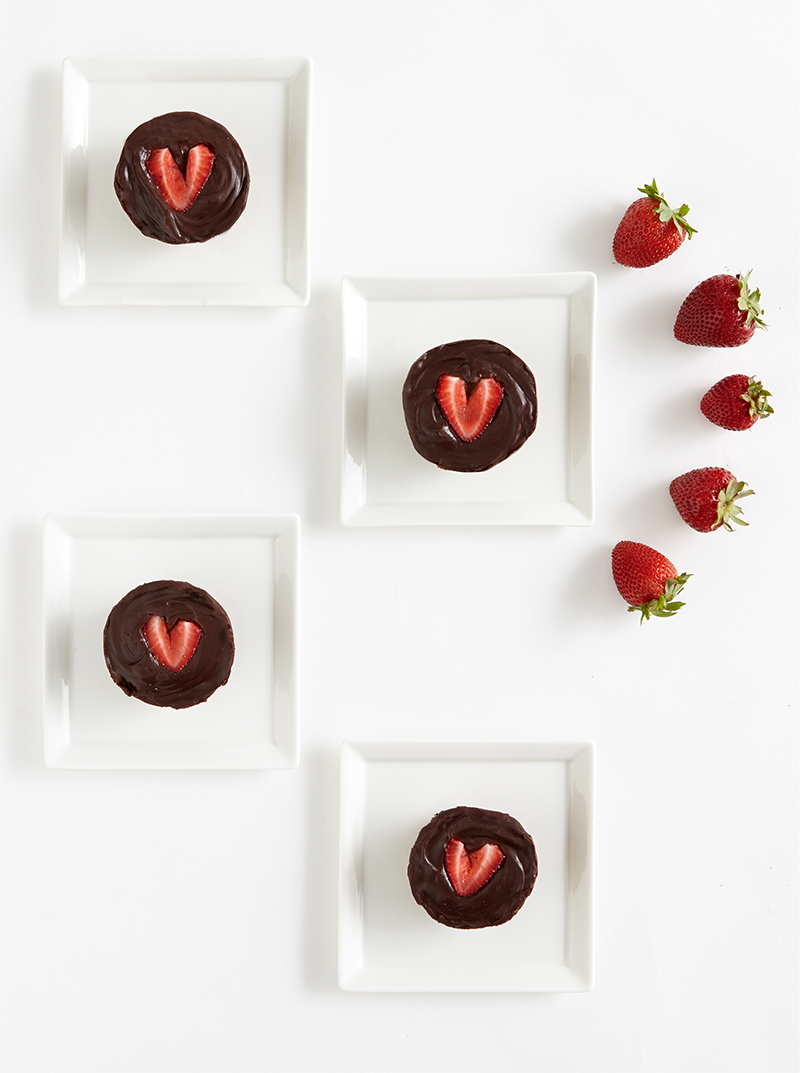 Ready to sweep them off their feet? Here's the recipe. Enjoy!
four No-Bake Dark Chocolate Strawberry Heart Tarts
Ingredients:
FIlling
1 cup dark chocolate morsels
1/2 cup bittersweet chocolate
1 cup heavy whipping cream
Crust
10 graham crackers
6 T melted butter
1/3 cup granulated sugar
Muffin tin and 12 cupcake wrappers
Directions:
Line muffin tin with cupcake wrappers and set aside.
Crush graham crackers into fine powder then add sugar and melted butter, mix until well combined. Mixture should be feel course and sandy. Press firmly into sides of cupcake wrappers in muffin tin. Set aside.
In a sauce pan combine dark chocolate morsels, bittersweet chocolate and heavy whipping cream over low heat. Stir constantly until chocolate is completely melted and ingredients are well combined. Remove from heat and pour chocolate evenly into graham-cracker-lined cupcake wrappers.
Cut strawberries in half and cut a divot in the top center with a knife to create heart shape. Place one strawberry heart on the top of each tart.
Refrigerate at least 1-2 hours.
Your Summer Love Story
Did the tarts make them swoon? Let us know in the comments or post a pic on Instagram and tag it @SharisBerries. If your amour is long-distance, you can still surprise them with a gift of berries and blooms delivered right to their door.