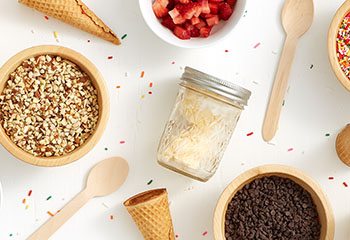 Anatomy of an Awesome Ice Cream Sundae Bar
Scoop With Style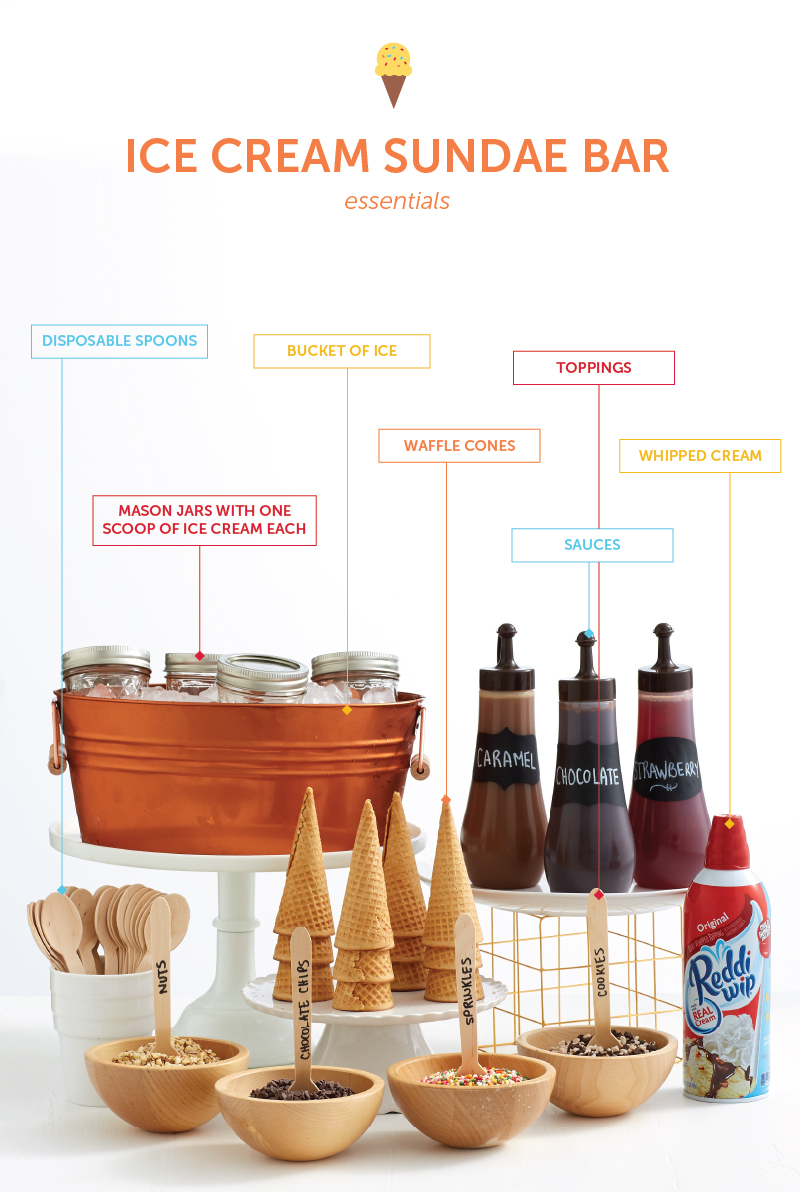 Of course our version of a sundae bar has to have some style. So instead of white plastic spoons that will only end up in a landfill, we used eco-friendly wooden spoons we found on Amazon.com. They're also easy to label so guests can quickly identify each topping.
We served the ice cream in cute and trendy mason jars. These days you can find them anywhere, online and in stores. Just add a scoop of ice cream to each jar. Guests can place their scoop on a cone or use the jar as a sundae bowl. If you serve different ice cream flavors, label the jar tops so guests can see their options at a glance.
To keep the ice cream from melting, we stored the jars in a copper ice bucket for a vintage touch. A small cooler works too. If you're going to be outside on a hot day we recommend picking a shady spot and bringing spare ice to keep your ice cream from turning into ice cream soup.
Sprinkles, Cones and Such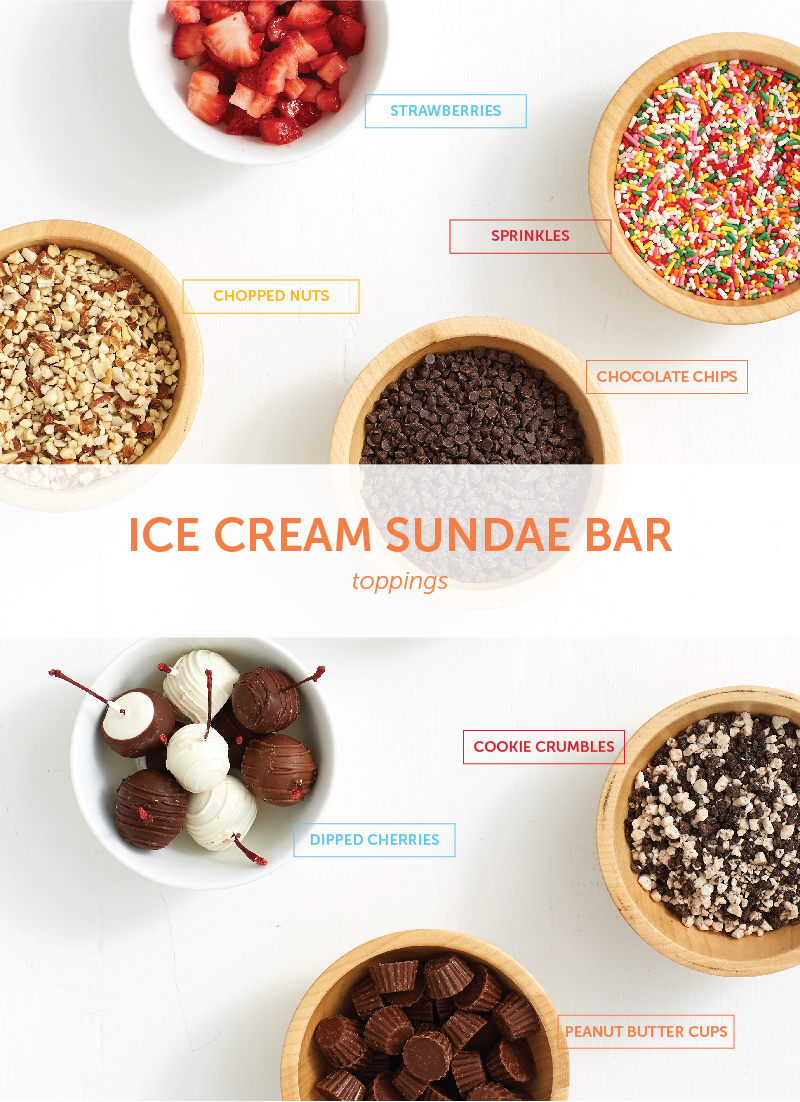 Store-bought waffle cones stack nicely on a decorative plate or stand. If you want to get extra fancy (like us), dip the ends of the cones in melted chocolate and roll them in treats like nuts, shaved coconut and sprinkles.
When it comes to sauces, while chocolate, caramel and strawberry are classic crowd pleasers, don't forget to think outside the box. For more grown-up recipes add a splash or Kahlua or raspberry Chambord. Or better yet, make a whiskey, red wine, vanilla vodka or beer float.
The toppings are up to you. Nuts, rainbow sprinkles, cookie crumbles, chocolate chips, peanut butter cups, fresh fruit … go for the works.
A Dipped Cherry on Top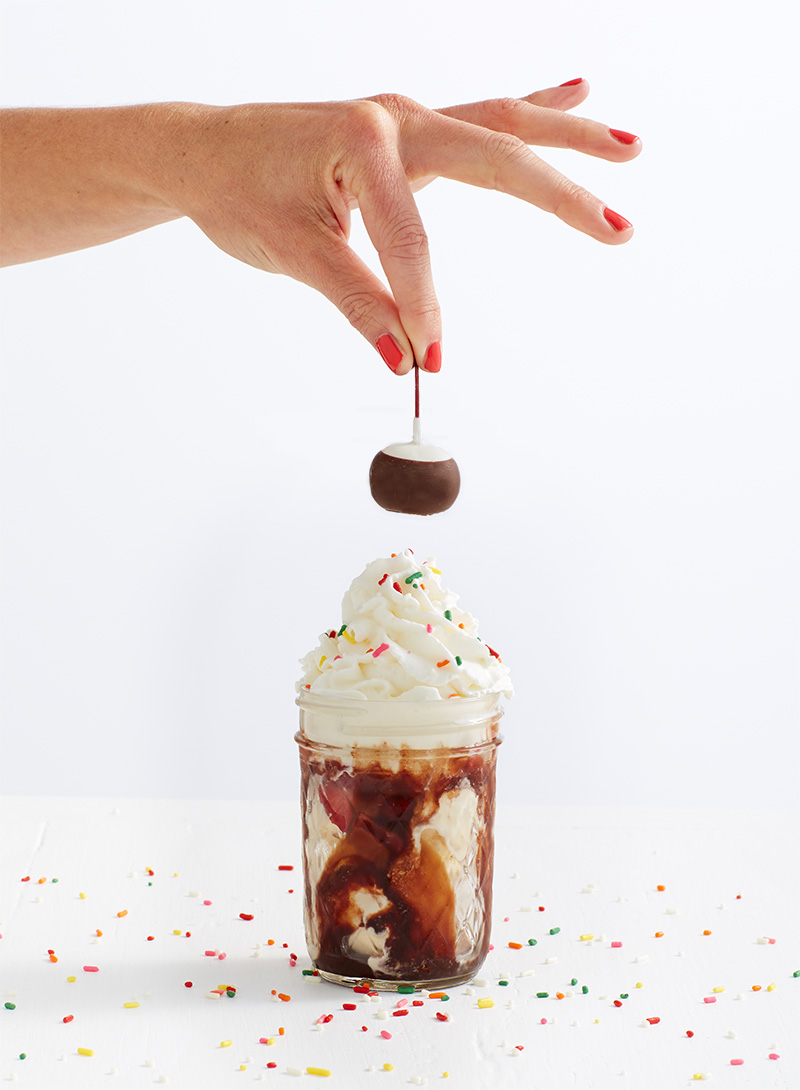 Last but not least, we didn't forget the sundae grand finale, the whipped cream and the cherry on top. And our cherry, of course, is dipped. Actually it's double dipped. We're all about going big or going home, especially when it comes to sundae bars.
Send Them a Summer Scoop
Wish you could send the ice cream social to your favorite family or friends? Obviously, mailing them ice cream isn't a good idea, but you could surprise them with treats to top off their sundaes. For starters, try popular picks like our dipped cherries, caramel pretzels, chocolate-covered Oreo® cookies and brownie pops. Or keep it fun and simple and send them a new kind of summer cone, our Summer Scoop Strawberries. They're decorated to look like your favorite scoop and topped with rainbow sprinkles and almonds.