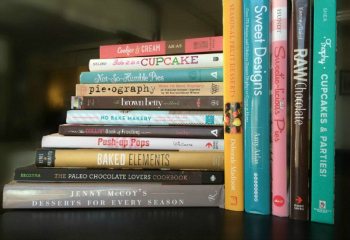 16 Amazing Dessert Cookbooks
Well, Halloween is officially past and that means it's time for two things: shopping and baking. Today we're going to help you accomplish both! We've gathered up a list of our favorite cookbooks for dessert lovers. So, whether you're shopping for your "number one baker" or looking for a new dessert to showcase on your holiday table, these sweet recipe collections are sure to satisfy.
Our list of the top cookbooks for dessert lovers has a little something for everyone. Chocolate lovers will go crazy for Baked Elements, The Paleo Chocolate Lovers' Cookbook or Raw Chocolate. Party people will drool over the gorgeous themed tables in Trophy Cupcakes & Parties or Sweet Designs. Sustainability advocates will appreciate the thoughtful recipes collected in Seasonal Fruit Desserts and Jenny McCoy's Desserts for Every Season. Adorable novelty desserts are covered in Push-up Pops, No Bake Makery and Bake it in a Cupcake. While the timeless recipes in The Brown Betty Cookbook and Sweetie-licious are great for bakers looking to connect to a long (family) tradition of heart-warming food.
Finally, pie is a category unto itself. Choose Not-So-Humble Pies for bakers who like to break with tradition and explore unique flavor combinations. More than a cookbook, Pieography is a wonderful compilation of stories and recipes that feeds the soul as well as the stomach.
Really, you can't go wrong with any of the cookbooks we've listed below.
1.

Bake it in a Cupcake

by Megan Seling
Who doesn't like a good surprise? In Bake it in a Cupcake, Megan Seling presents 50 treats that prove it's what's on the inside that counts! If you're searching for the Holy Trinity of desserts, try the Cheesecuppie Cake. It has "miniature pies baked into cupcakes baked into a full-size cheesecake." Wow. Check out more about Bake it in a Cupcake on Amazon.
2.

Baked Elements

by Matt Lewis and Renato Poliafito
It just so happens that Matt Lewis' and Renato Poliafito's 10 favorite ingredients are also our 10 favorite ingredients: chocolate, peanut butter, caramel, cinnamon, banana, lemon and lime, booze, pumpkin, malted milk powder, and cheese. These are the flavors that great desserts are made of! Sprinkled with infographics for each chapter and witty commentary, Baked Elements is as educational as it is fun to read. Check out more about Baked Elements on Amazon.
3. Jenny McCoy's

Desserts for Every Season
Jenny McCoy encourages readers to enjoy ingredients at the peak of flavor by cooking seasonally. The book is arranged by seasons with warm, nutty, spiced desserts in autumn and light, fresh, fruity concoctions in summer. She includes a seasonal harvest calendar as an additional guide to buying fruit in season, when it tastes best! Check out more about Jenny McCoy's Desserts for Every Season on Amazon.
4.

No Bake Makery

by Cristina Suarez Krumsick
Cristina Suarez Krumsick's cookbook is for people who love a little something sweet, but hate the fuss of baking. The book has 80 recipes for two-bite treats that are truly cuter than cute. There are "bites" for every holiday, kid-friendly bites, grown-up bites and truffles, candies and cookies of all flavors. Whether you're craving dessert in the middle of a heat wave or just don't want to wait for the oven to pre-heat, No Bake Makery is the solution. Check out more about No Bake Makery on Amazon.
5.

Not-So-Humble Pies

by Kelly Jaggers
It's the sophisticated ingredients that make the recipes in Not-So-Humble Pies stand out. Kelly Jaggers showcases recipes with complex flavor profiles like Cardamom and Saffron Chiffon, retooled classics like Salted Peach Crumble, spicy fusions like Habanero Passion Fruit, and gourmet flavor combos like Apple and Brie Tart with Bacon. Using the simple building blocks of crust and filling, pies offer modern chefs a playground for experimentation. This book will inspire you to play, too! Check out more about Not-so-Humble Pies on Amazon.
6.

Pieography

from Where Women Cook
Pieography straddles the line of cookbook and literature. It started as a contest asking women to share a slice of life by finishing the statement "If my life were a pie …" The result is 42 recipes inspired by 39 women. The extraordinary recipes are as eclectic as the women they represent. There are savory pies, puff pastries, pies made in iron skillets, and pies in delicate glass dishes. Interspersed among the recipes, the women behind the pie share short essays about life that create a richly satisfying food experience — even without the kitchen. Check out more about Pieography: Where Pie Meets Biography on Amazon.
7.

Push-up Pops

by Courtney Dial Whitmore
Single-serving desserts are a fun and simple treat for parties and after-school snacks. Courtney Dial Whitmore delivers recipes that are as adorable to show off as they are delicious to eat. Push-up Pops has decorative desserts for popsicles, parfaits, layered cupcakes and more – all perfect for any occasion. Check out more about Push-up Pops on Amazon.
8.

Raw Chocolate

by Matthew Kenny
Matthew Kenney and Meredith Baird show that dessert doesn't have to be cooked to be delicious. Raw Chocolate features recipes that allow foodies to explore the many flavors and textures that chocolate has to offer. Most importantly, this cookbook opens with a refined recipe for a raw chocolate base that can become the starting point for any number of decadent dishes. Check out more about Raw Chocolate on Amazon.
9.

Seasonal Fruit Desserts

by Deborah Madison
Seasonal Fruit Desserts is a feast for the soul. Deborah Madison writes like a poet, priming the palate with rich descriptions of fresh ingredients like tart apples, scarlet berries, crisp pears and juicy peaches. Her recipes cover a range of ways to enjoy local fruit including syrups, sauces, pies and tarts, cakes, preserves, roasted and sautéed dishes. Check out more about Seasonal Fruit Desserts on Amazon.
10.

Sweet Designs: Bake It, Craft It, Style It

by Amy Atlas
In her book, Sweet Designs, Amy Atlas gathers more than 100 recipes with 75 easy crafts to style 14 themed, picture-perfect dessert tables. The pages are filled with informational sidebars offering shortcuts, tips and alternative ideas to adjust each theme for kids' or adult parties. She's thought of everything – from printable templates to an index for sourcing essential elements – so readers can exactly duplicate her lovely tables. Check out more about Sweet Designs: Bake It, Craft It, Style It on Amazon.
11.

Sweetie-licious Pies: Eat Pie, Love Life

by Linda Hundt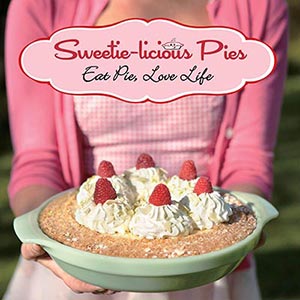 Filled with Linda Hundt's award-winning recipes, Sweetie-licious Pies is a trip down retro lane to a simpler time of comforting desserts and hearty cooking. The stories she tells throughout the cookbook are as All-American as the pies. Her memories of family, friends and tradition will have readers eating pie and loving life from the first page. Check out more about Sweetie-licious Pies: Eat Pie, Love Life on Amazon.
12.

The Brown Betty Cookbook

by Norrinda Brown Hayat
The stories in The Brown Betty Cookbook are as important as the recipes, and it all starts with the story of "grandmom Betty" and her pound cake. The recipe collection spans four generations of laughter, love and baked goods. Nowadays, these are the versions that make Brown Betty a beloved bakery in Philadelphia. From that original pound cake to the Company's Comin' Coconut Cake that made them famous, these recipes have stood the test of time like a story that you'll want to tell again and again. Check out more about The Brown Betty Cookbook on Amazon.
13.

The Dollop Book

of Frosting by Heather Saffer
For anyone who has ever thought of cupcakes as a "frosting delivery vehicle," Heather Saffer understands. It's why this winner of Cupcake Wars eventually closed her cupcake bar to focus on frosting full time. The Dollop Book of Frosting is a compendium of her best frosting recipes and favorite baked goods. In addition to frosting recipes like Gingersnap Stout and Chocolate Chipolte, there are bonus recipes for baked desserts like Sriracha Brownies and Rosemary Sea Salt Shortbreads with Fig. Check out more about The Dollop Book of Frosting on Amazon.
14.

The Paleo Chocolate Lovers' Cookbook

by Kelly Brozyna
If you like your Paleo smothered, covered and dripping in chocolate, then this is the book to buy. Kelly Brozyna, aka The Spunky Coconut, presents 80 gluten-free, dairy-free, flavor-filled recipes for breakfast, desserts and candy, with a few bonus recipes for savory dishes. Every recipe has a photo, but, it's more than just rustic props and natural lighting that draws readers in. The decadent dishes, with clear instructions and simple ingredient lists, are approachable for chefs of any skill level. Check out more about The Paleo Chocolate Lovers' Cookbook on Amazon.
15.

Trophy Cupcakes and Parties

by Jennifer Shea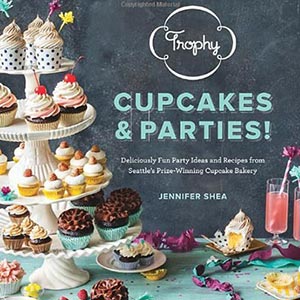 Jennifer Shea includes everything you need to plan the perfect get-together in Trophy Cupcakes and Parties, an entertaining primer named after her popular Seattle-area cupcakery. Each party idea includes ideas for decorations, crafts, activities and, of course, a very special cupcake recipe. Even if you're not a party planner, Shea's tips for making (and decorating) the perfect cupcake are invaluable. Check out more about Trophy Cupcakes and Parties on Amazon.
16.

Cookies & Cream

by Tessa Aria
Tessa Arias invites dessert lovers to experiment with one of America's favorite combinations — cookies and milk. In her book Cookies & Cream, she presents 50 unique flavor combos that will inspire readers to start a mix-and-match adventure of their own. Browse the holiday section for the simple Gingerbread Ice Cream Sandwich (with pumpkin spice ice cream) or the creative Hot Cocoa Ice Cream Sandwich. Or, make decidedly grown-up desserts with boozy Mint Julep or Mudslide sandwiches. Check out more about Cookies & Cream on Amazon.
We hope you enjoy these cookbooks from some of our favorite bakers from around the web. Do you have any other dessert cookbooks you love? Any of these that stand out as your favorite? Tell us about them in the comments!