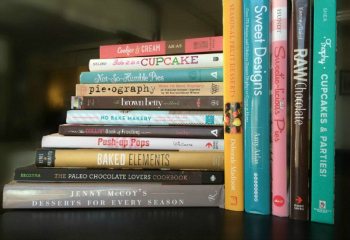 16 Amazing Dessert Cookbooks
Well, Halloween is officially past and that means it's time for two things: shopping and baking. Today we're going to help you accomplish both! We've gathered up a list of our favorite cookbooks for dessert lovers. So, whether you're shopping for your "number one baker" or looking for a new dessert to showcase on your holiday table, these sweet recipe collections are sure to satisfy.
Our list of the top cookbooks for dessert lovers has a little something for everyone. Chocolate lovers will go crazy for Baked Elements, The Paleo Chocolate Lovers' Cookbook or Raw Chocolate. Party people will drool over the gorgeous themed tables in Trophy Cupcakes & Parties or Sweet Designs. Sustainability advocates will appreciate the thoughtful recipes collected in Seasonal Fruit Desserts and Jenny McCoy's Desserts for Every Season. Adorable novelty desserts are covered in Push-up Pops, No Bake Makery and Bake it in a Cupcake. While the timeless recipes in The Brown Betty Cookbook and Sweetie-licious are great for bakers looking to connect to a long (family) tradition of heart-warming food.
Finally, pie is a category unto itself. Choose Not-So-Humble Pies for bakers who like to break with tradition and explore unique flavor combinations. More than a cookbook, Pieography is a wonderful compilation of stories and recipes that feeds the soul as well as the stomach.
Really, you can't go wrong with any of the cookbooks we've listed below.
1.

Bake it in a Cupcake

by Megan Seling
2.

Baked Elements

by Matt Lewis and Renato Poliafito
3. Jenny McCoy's

Desserts for Every Season
4.

No Bake Makery

by Cristina Suarez Krumsick
5.

Not-So-Humble Pies

by Kelly Jaggers
6.

Pieography

from Where Women Cook
7.

Push-up Pops

by Courtney Dial Whitmore
8.

Raw Chocolate

by Matthew Kenny
9.

Seasonal Fruit Desserts

by Deborah Madison
10.

Sweet Designs: Bake It, Craft It, Style It

by Amy Atlas
11.

Sweetie-licious Pies: Eat Pie, Love Life

by Linda Hundt
12.

The Brown Betty Cookbook

by Norrinda Brown Hayat
13.

The Dollop Book

of Frosting by Heather Saffer
14.

The Paleo Chocolate Lovers' Cookbook

by Kelly Brozyna
15.

Trophy Cupcakes and Parties

by Jennifer Shea
16.

Cookies & Cream

by Tessa Aria
We hope you enjoy these cookbooks from some of our favorite bakers from around the web. Do you have any other dessert cookbooks you love? Any of these that stand out as your favorite? Tell us about them in the comments!