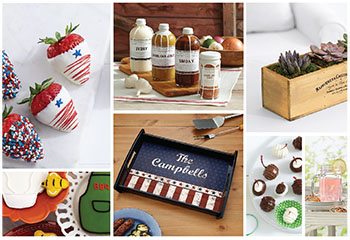 4th of July Host & Hostess Gifts
Be the life of the party, even if you're not there
You can have these gifts delivered to your place a few days before the 4th of July event. Choose rush delivery if you're in a hurry. All Shari's Berries treats ship express, for freshness. On the day of the party, add some festive ribbon if you want to be extra fancy. Though most of them are pretty spectacular all on their own. And if you're such a social butterfly that you have more invites than time, you can still be the life of the party by sending an amazing gift to your hostess or host's home.

For Grillers: Lillie's Q Barbecue Gift Set, Stars and Stripes Serving Tray
For Snackers: Hand-Dipped Cherries, Summer BBQ Cookie Assortment
For Gardeners: Rustic Succulent Trio, Sippin' Time Mason Jar Mug
For Everyone: Star-Spangled Berries, American Glory Bouquet
More Gifts They'll Salute
Whatever the occasion, every host and hostess will love our delicious bite-sized cake pops, cake truffles and dipped strawberries.