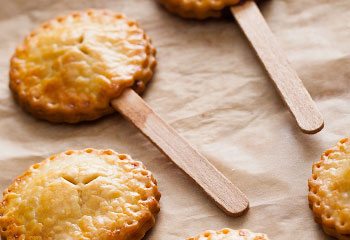 Treats on a Stick, 29 Ways
Ice Cream Cookie Pops
A tried-and-true combination, ice cream and chocolate chip cookies go hand in hand when snack time rolls around. See how to make these ice cream sandwich pops at Pen and Paper Flowers.
Mini Caramel Apples on a Stick
The mini version of this party favorite has all the crisp, candy taste that everyone loves plus the earthy style of actual sticks gathered from the yard – scrubbed and cleaned, of course. See how to make it at Allyson Baker Design.
Bunny Cookie Lollies
Perfect for Easter, spring or a kids party, this frosted bunny cookie is sweet and adorable. See how to make it at Cake Journal.
Cupcake Pops
This sprinkled pop features everything we love about cupcakes in miniature form. With this recipe, you start big by baking the whole cake and then working your way down. See how to make it at Bakerella.
Oreo® Pops
This recipe reinvents the popular cookie by dipping it in white chocolate and topping it with sprinkles. See how to make it at See Vanessa Craft.
S'mores on a Stick
This campfire favorite can now be had anytime with this recipe. Simply crush the graham cracker and roll the marshmallow in them after dipping it in chocolate. You don't even need a fire. See how to make it at Melanie's Crafts.
Homemade Butterfinger® Pops
Transform the crunchy candy bar into pops or even suckers! They're best served after having been frozen. See how to make them at Veronica's Cornucopia.
Watermelon Krispie® Treats
It's amazing what some food coloring can do. This summery snack is easy to make and now that you've put it on a stick, you don't have to worry about your hands becoming sticky. See how to make it at Glorious Treats.
Hot Chocolate on a Stick
These melt-in-your-mouth treats will help you forget polar vortexes or warm you up on a breezy evening by the beach in summer. See how to make them at Tracey's Culinary Adventures.
Mini Buttermilk Cinnamon Bun Pops
This breakfast mainstay just got even better, especially when you enjoy as much or little of the glaze as you like when they are served in dipping
bowls. See how to make it at Ice Cream Before Dinner.
Skittles Pops
Step one: get Skittles. Step two: eat some of them. Step three: get marshmallows. Step four: eat some of those. Step five: crush skittles and sprinkle them onto marshmallow. Start enjoying this candy dream in just five easy steps. See how to make it at Num's the Word.
Pancake Pops
Pancakes are always good, no matter what time of day it is. These bite-sized versions are no different. Top them with blueberries or dip them in maple syrup; anything goes once you take them off the griddle. See how to make it at Tater Tots and Jello.
Frozen Grapes on a Stick
It is just as easy to make as it sounds. This crisp-sweet summer snack only requires a couple of hours in the freezer. See how to make it at Heritage School House.
Cookie Dough Pops
No baking required. Enjoy this beloved indulgence on a stick, one bite at a time. See how to make it at Baked Perfection.
Bite-Sized Baked Brie
This mix of butter and cheese would be appealing enough; but add raspberry jam and experience puff pastry bliss. See how to make it at Joy the Baker.
Caramel Popcorn Balls
Whether you're about to curl up with a movie or are preparing treats for your kid's birthday party, these peanut butter and chocolate-dipped popcorn balls are irresistible. See how to make it at Dine and Dish.
Bacon and Cheese Pops
You could put bacon on pretty much anything and it would taste good. But put it on cream cheese and make a lollipop out of it? Now that is a treat impossible to beat. See how to make it at Distracted Crafter.
Handmade Marshmallow Pops
Forget the graham cracker and campfire, this will do just fine. Check out our delicious marshmallow pops.
Mashed Potato Pops
Creamy, cheesy mashed potatoes have always been a popular side dish. With this recipe, you can let your creativity loose. Fill them with whatever you love, roll in breadcrumbs, fry and this side dish is sure to steal the spotlight. See how to make it at In Erika's Kitchen.
Twisted Shamrocks
In true St. Patrick's Day fashion, these pretzels are joined by chocolate to form a four-leaf clover. Plus, the "stick" used is just another pretzel. See how to make it at Penny's Food Blog.
Easy Easter Cookie Pops
Don't be fooled by the name; these treats can be made any time of the year. After spreading peanut butter between two buttery crackers, let that freeze so the stick won't fall off when dipping into white chocolate. See how to make it at Daily Crave.
Pizza on a Stick
Pizza is good anywhere, anytime. Of course, some people dislike the mess it can make, or the amount of grease on the slice. But homemade pizza rolls on a stick? Perfection. See how to make them at Artisan Bread in Five.
Chocolate-Covered Banana Split Bites
No spoon required. Let the splits sit in the freezer for a bit after dipping in chocolate sauce, then they're ready to enjoy. See how to make it at Food Doodles.
Cheddar Pinwheels
The only thing that can make cheese better is more cheese. There's cheddar aplenty in these pastries baked to a melted crunch. See how to make it at Freckled Nest.
Jell-O® Shot Push-Pops
Hey, they don't all have to be kid-friendly. This dose of America in a push-pop will undoubtedly be a big hit at your Fourth of July bash, or any summer party. See how to make it at Farmish Momma.
Choco-Mac Pops
It's hard not to love this rich combination of almond, cocoa and icing sugar. See how to make it at Simple Baking.
Peanut Butter and Jelly Pie Sticks
It doesn't matter whether you're 13 or 33, peanut butter and jelly is always good. The homemade crust gives the snack a delicious crunch. See how to make it at Spoon Fork Bacon.
Banana Cereal Pops
A healthy delight, these banana pops are sprinkled with crushed red berries cereal. This breakfast dish can be enjoyed any time of day. See how to make it at Candiquik.
Apple Caramel Pie Pops
If you love apple pie, you'll love these pies on a stick. Sprinkle a little cinnamon sugar to top them off. See how to make them at Miss Renaissance.
More Treats on a Stick
Not satisfied with this list? Check out our Pinterest page for more inspiration.