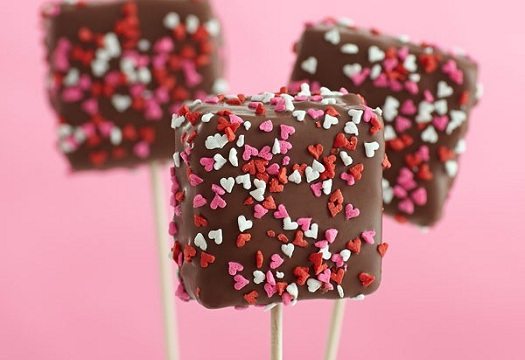 25 No-Bake Valentine Treats for Kids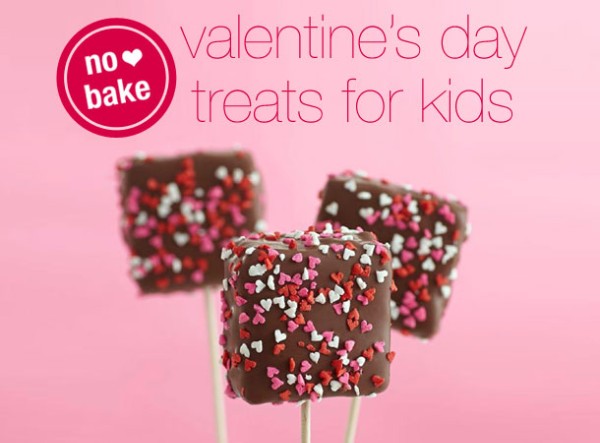 A special holiday dessert is a sweet way to show your family how much you care on Valentine's Day, but not many of us have the time. However, you might be surprised at how swiftly you can whip up a batch of no-bake treats for kids. We scoured the Internet and found 25 recipes that are both quick and kid-friendly. Whether you're putting together a small bag of goodies to surprise the kids in their lunch or packaging up a platter for the classroom Valentine's Day party, you don't have to spend an entire weekend slaving away in the kitchen.
Hearts and Pudding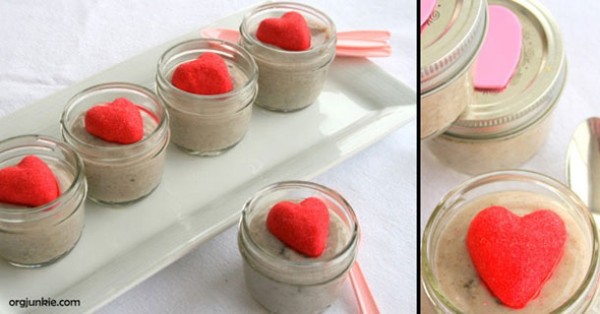 Perfectly packaged for lunch boxes, these pudding snacks are a great no-bake way to send kids to school with a little extra love. Photo and instructions for Hearts and Pudding from Angie via I'm an Organizing Junkie.
Pink Yogurt Popsicles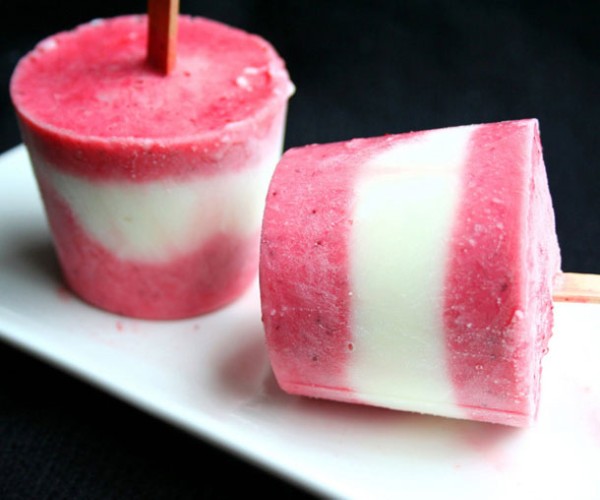 Mix Greek yogurt and strawberries in your popsicle maker for a creamy alternative that's also packed with protein. Layer a delicious mix of strawberries and cream to create lovely Valentine's Day colors. Photo and instructions for Pink Yogurt Popsicles from All Day I Dream About Food.
Chocolate-Covered Popsicles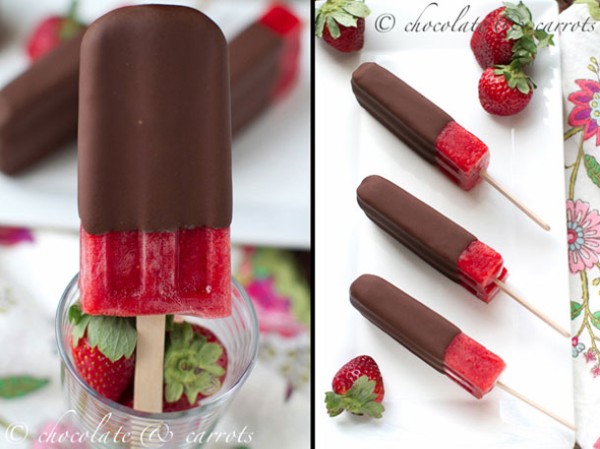 Fresh strawberries star as the main ingredient in these frozen treats. Dipped in dark chocolate, they're a low-sugar option that your whole family will love. Photo and instructions for Chocolate-Covered Popsicles from Chocolate and Carrots.
Valentine Heart Whoopie Pies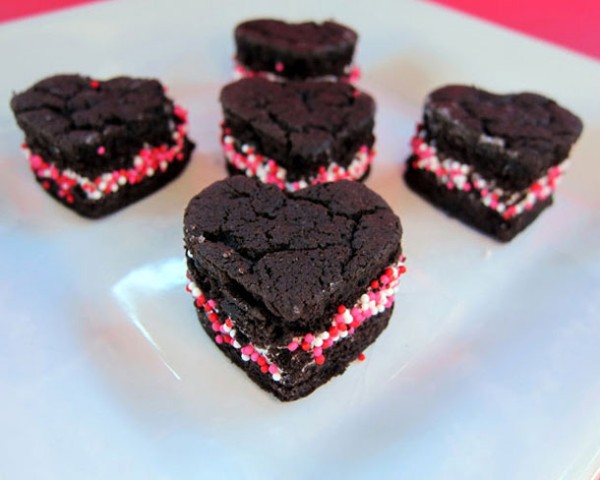 A heart-shaped cookie cutter and some Valentine sprinkles are all you need to turn a package of Oreo® Cakesters into a festive batch of whoopie pies. Photo and instructions for Valentine Heart Whoopie Pies from Plain Chicken.
Chocolate-Covered Pretzels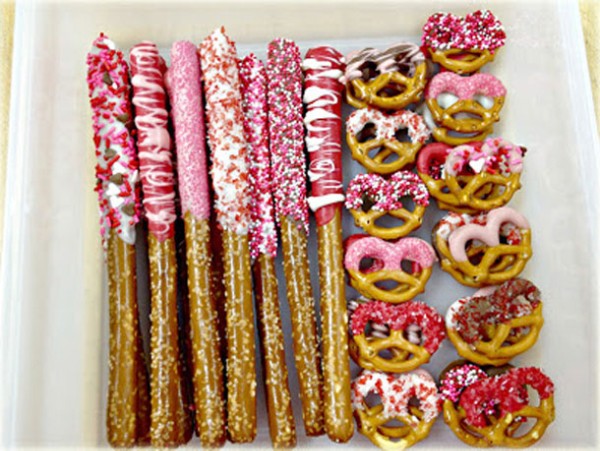 Drizzle red, pink and white candy melts on your favorite pretzel sticks to make these sweet-and-salty treats. Trust us, it's all in the wrist. Or for extra wow, share these dipped pretzels with a surprise layer of caramel inside. Photo and instructions for Chocolate-Covered Pretzels from Mommy's Fabulous Finds.
Strawberry Fudge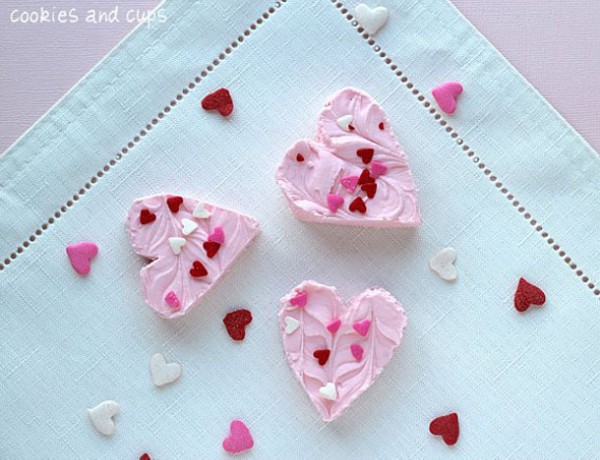 This has to be one of the simplest fudge recipes out there. With only two ingredients you may just find enough time to whip up a second batch of this yummy, strawberry-flavored fudge. Photo and instructions for Strawberry Fudge from Cookies & Cups.
Valentine's Twinkies® on a Stick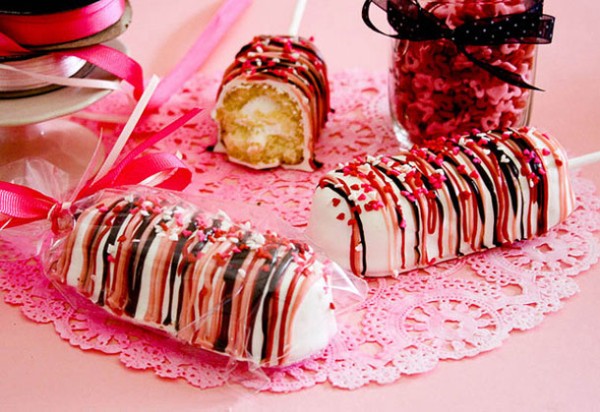 Thank goodness these creme-filled snack cakes are back. Otherwise, we wouldn't be able to share this amazing idea for Valentine Twinkies® on a stick. Truly adorable! Photo and instructions for Valentine's Twinkies® on a Stick from Confessions of a Cookbook Queen.
Peppermint Bark Oreos®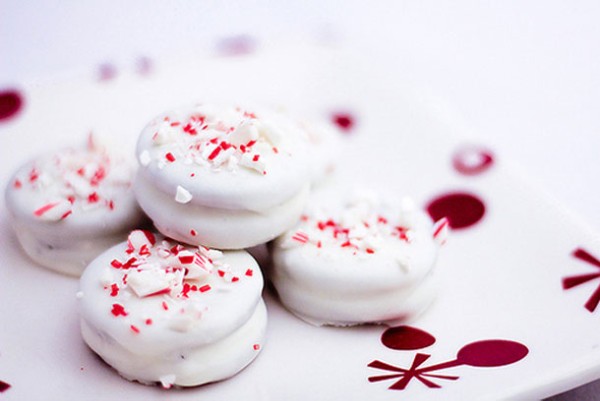 Grab a couple packages of holiday-edition Oreos® from the after-Christmas sale and save them for a Valentine's Day surprise. Of course, even without the bright red center, these peppermint-flavored cookies are still a fresh idea. Photo and instructions for Peppermint Bark Oreos® from Bake.Love.Give.
Old-Fashioned Pink Popcorn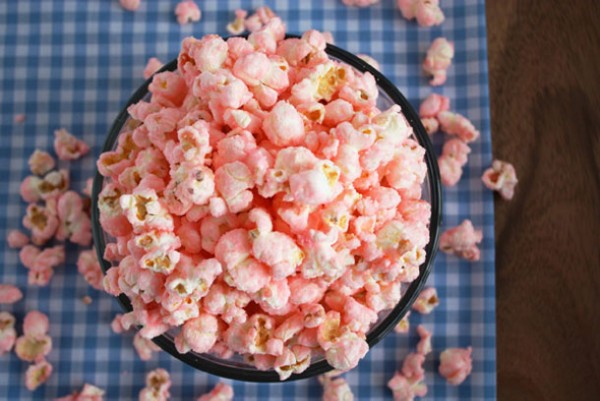 Pretty in pink and sweet as candy, this popcorn recipe is a nostalgic trip down memory lane for many adults. Mix up a batch and share a tradition with your children. Photo and instructions for Old-Fashioned Pink Popcorn from Cooking Classy.
Handmade Valentine's Marshmallow Pops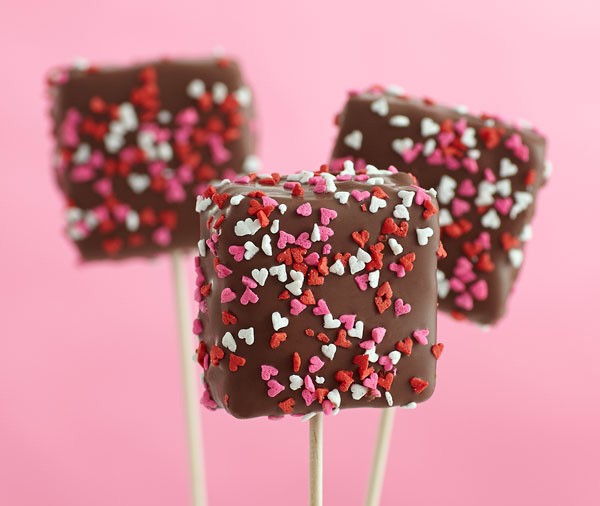 Handmade marshmallows are so much better than the mass-manufactured version found in the baking aisle of your local grocery store. Light and fluffy with just the right amount of sweetness, your kids might not even recognize them! But, they'll love them and so will you. Order our Handmade Valentine's Marshmallow Pops right here at Shari's Berries.
Oreo® Pops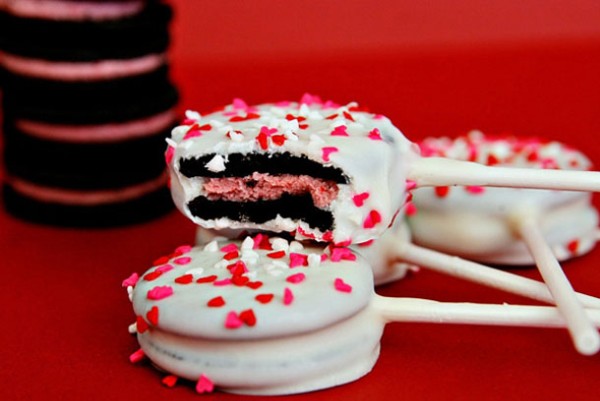 If you think the humble sandwich cookie can't get any better, then you've never tried chocolate-dipped Oreos®. Pop them on a stick and you've got a deliciously sweet treat with a handle for easy dunking into cold milk or hot cocoa. Photo and instructions for Oreo® Pops from See Vanessa Craft.
Chewy Pink Granola Bars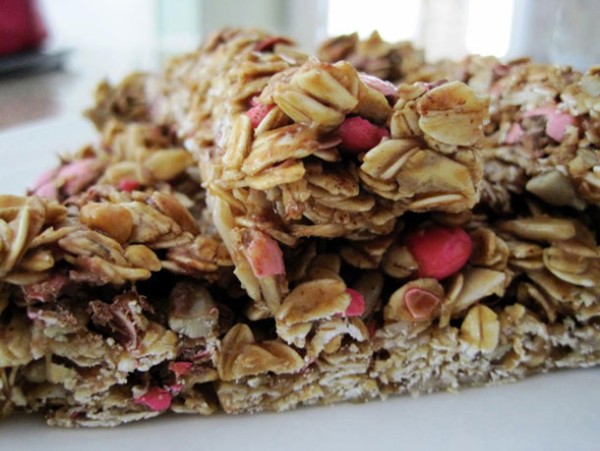 Proving that Valentine's Day snacks can be sweet and healthy, these granola bars get into the spirit with pink and red M&Ms®. It's a cheery touch to a guilt-free snack your kids will be happy to eat year-round. Photo and instructions for Chewy Pink Granola Bars from Skinny Muffin.
Chocolate Heart Pudding Cups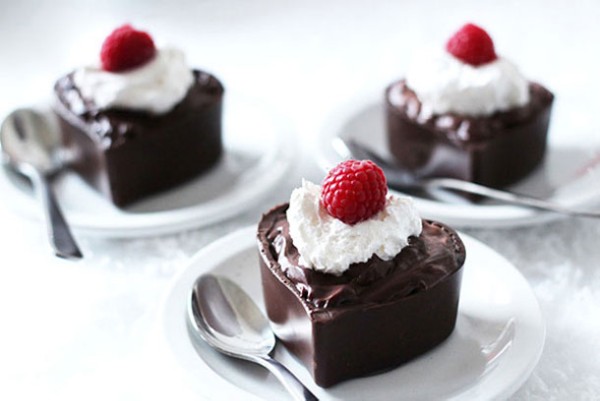 Turn a plain cup of chocolate pudding into a decadent Valentine's dessert. It's as easy as pouring it into a heart-shaped mold. Photo and instructions for Chocolate Heart Pudding Cups from Worth Pinning.
No-Bake Strawberry Cheesecake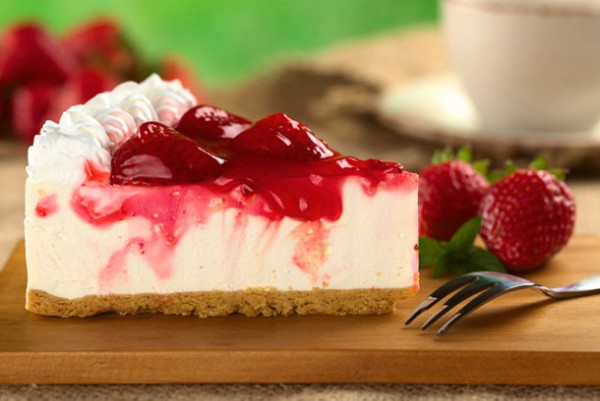 If your kids don't like chocolate, then a no-bake cheesecake is another way to enjoy a special holiday dessert. Strawberry topping gives this cheesecake a vibrant Valentine hue. Photo and instructions for No-Bake Strawberry Cheesecake from Strawberry Sue.
Butterscotch Peanut Butter Marshmallow Hearts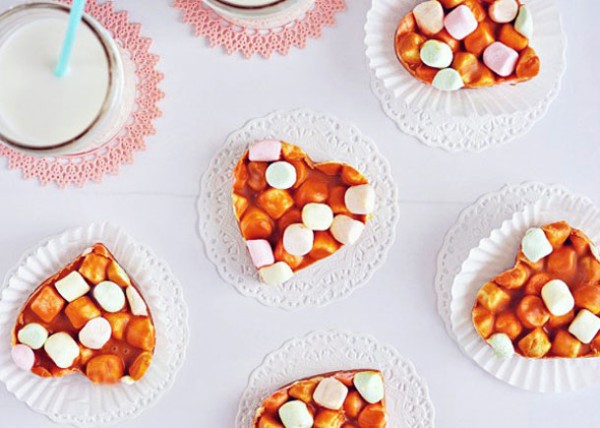 It only takes four ingredients to make this incredibly rich, buttery dessert. Cut the dessert bars into hearts for a Valentine's celebration and save the leftover pieces for yourself. Win-win! Photo and instructions for Butterscotch Peanut Butter Marshmallow Hearts from Sweetapolita.
X&O Marshmallow Treats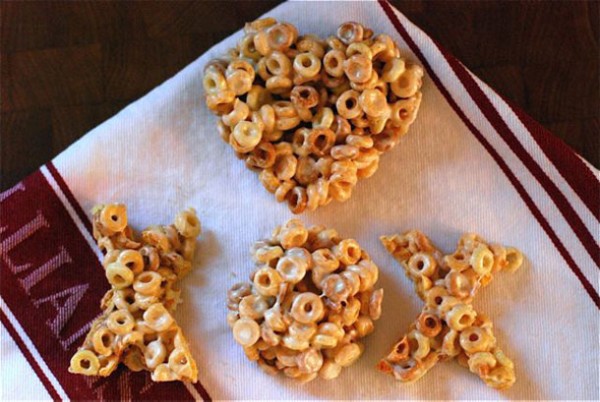 With a little creative cutting, these peanut butter twists on marshmallow treats become a Valentine's dessert for kids. Xs and Os are a fun way to share hugs and kisses with the kids, or use a heart-shaped cookie cutter if that's what you have on hand. Photo and instructions for X&O Marshmallow Treats from The Naptime Chef.
Pink Lemonade Ice Cream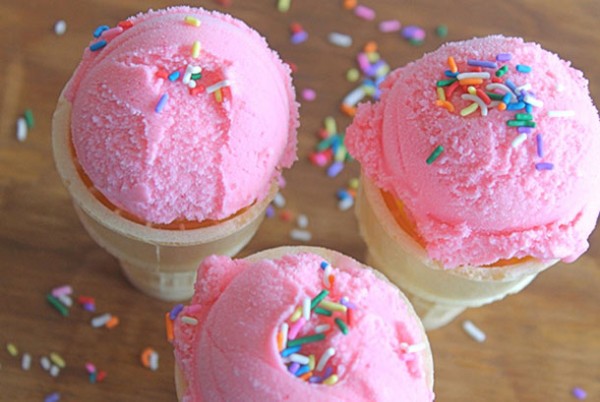 While some parts of the country aren't so keen on a scoop this time of year, there are those of us who know that it's never too cold for ice cream. If this sounds like your kids, then they will love this bright pink treat covered in sprinkles. Photo and instructions for Pink Lemonade Ice Cream from The Baking Robot.
Raspberry Coconut Snoballs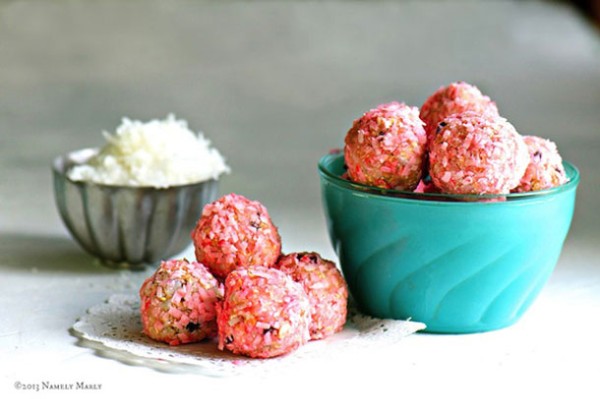 Raspberry and coconut are a sublime combination, improved only by the fact that these delicious little cookies require no baking. Photo and instructions for Raspberry Coconut Snoballs from Namely Marly.
Misty Minty Peppermint Patties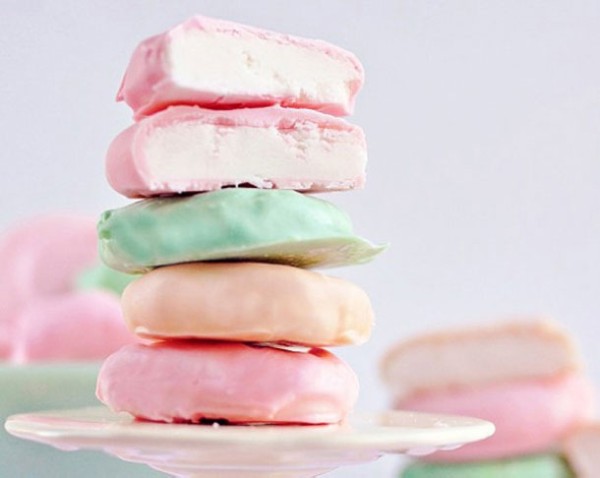 If you have the skills to tackle candy making, this unique take on chocolate-covered peppermint is worth the effort. Pastel colors and creamy white chocolate are an enchanting alternative to more traditional candies featuring bright red and dark chocolate. Photo and instructions for Misty Minty Peppermint Patties from Sweetapolita.
Valentine's Day Nanaimo Bars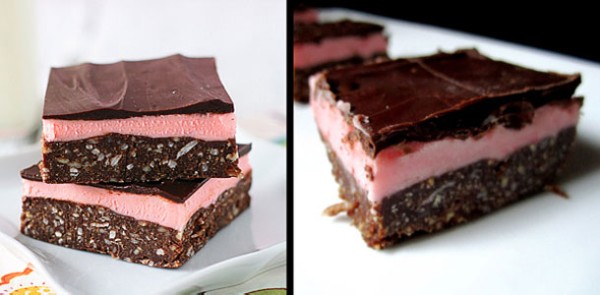 Normally these Canadian dessert bars have a creamy white center, but a little pink gel dye is all you need to turn them into a Valentine-themed treat. Photo and instructions for Valentine's Day Nanaimo Bars from My Baking Addiction.
Peppermint Popcorn Bark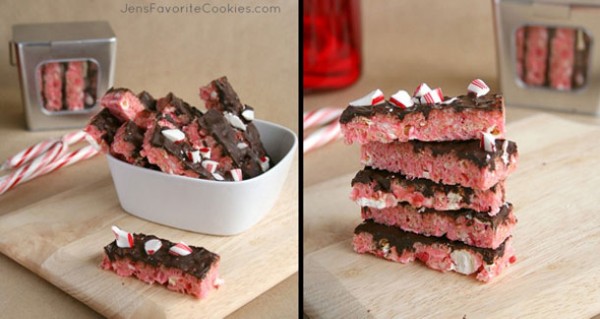 This dessert bar has layers of minty goodness thanks to peppermint marshmallows, peppermint chips and crushed peppermint candies. Despite the extra ingredients, it's as simple to make as standard marshmallow treats. Photo and instructions for Peppermint Popcorn Bark from Jen's Favorite Cookies.
Pink S'mores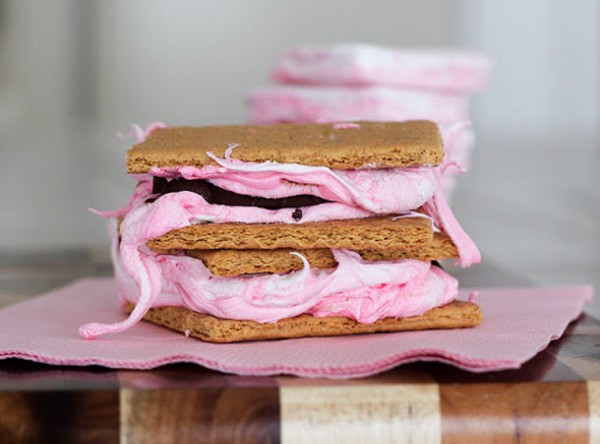 Take a classic no-bake dessert and dress it up for Valentine's Day! Just replace standard white marshmallows with pink and your s'mores will never be the same. Photo and instructions for Pink S'mores from The Sassy One.
Valentine's Day Puppy Chow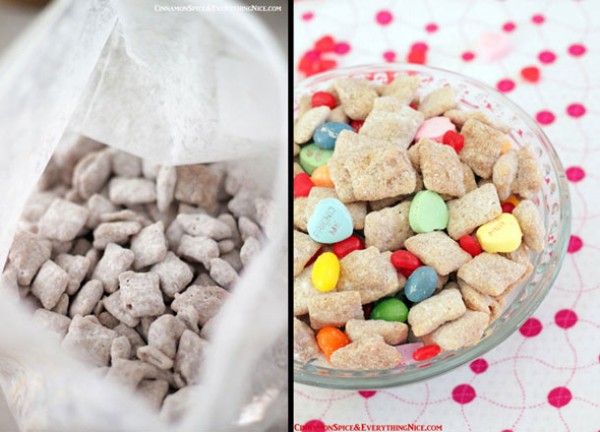 This is not the kind of puppy chow you give to your dog. In fact, spiced Chex mix and Valentine candy is a tasty combination that is almost too good to share with the kids. Photo and instructions for Valentine's Day Puppy Chow from Cinnamon Spice & Everything Nice.
Red Velvet Milkshake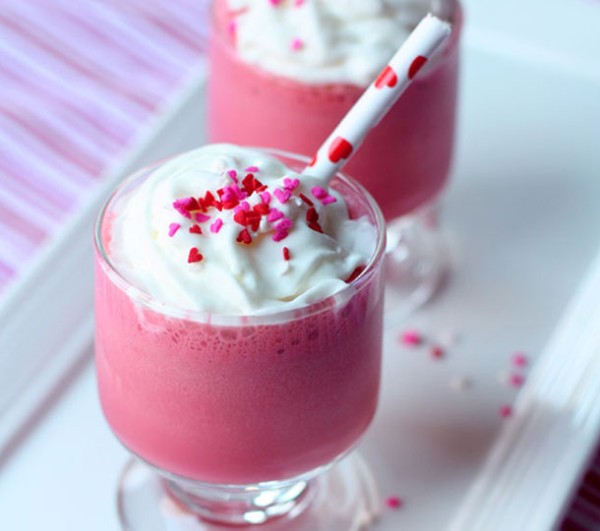 Enjoy all the flavors of red velvet cake without heating up the oven. Served in mini glasses, this bright red milkshake is just the right size for sharing with the whole family and quick enough to whip up after dinner. Photo and instructions for Red Velvet Milkshake from Pizzazzerie.
Cream Cheese Meltaways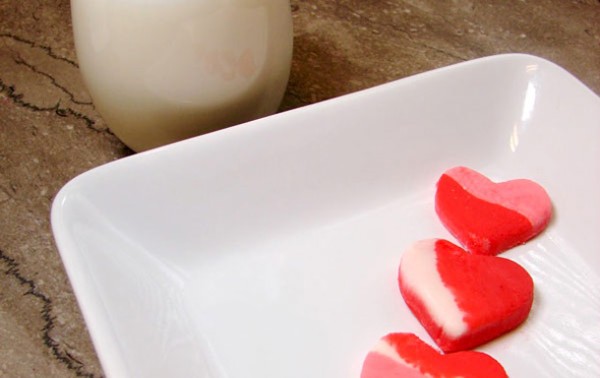 If the oven isn't an option and nothing but a cookie will do, these marble-colored meltaways are a close approximation. Use pink, red and white for Valentine's Day or mix a rainbow of colors for any occasion. Photo and instructions for Cream Cheese Meltaways from In Katrina's Kitchen.
Time to Make Treats
You don't need all day to whip up a Valentine's Day treat the kids will love — especially if you have a guide to the some of the best no-bake sweets on the Internet. Will you be serving a homemade treat to your little Valentines this year?