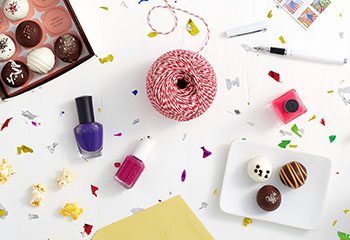 23 Ways to Celebrate Your BFF on Best Friend Day
1. Make a BFF movie
Stuff all the glory days of your friendship into a short animated video. If you don't have a way to make the video on your own, Animoto.com lets you choose a soundtrack, add text plus upload photos and videos. Then it automatically creates a mini movie for you and your best friend.
2. Plan a girlfriend getaway
Head to Vegas and go wild, or spend a relaxing weekend at a spa or wine tasting.
3. Make a mix tape
Take that road trip tune you couldn't help but sing at the top of your lungs together, or the slow jam that was playing when her secret crush finally asked her out and put them all on a mix CD. Then make it look cool it with our free printable CD sleeve.
4. Give her the moon and stars
Well, maybe not the moon. Name a star after her so she can feel like the superstar friend she is. Aww! We made ourselves tear up.
5. Play hooky together
Call off work on the same day to hit the beach or a movie. If you're not that big of a rebel, suggest you both take a PTO day to hang out during the week while the kids are in school, or to avoid weekend crowds.
6. Get your zen on
Unwind together in a yoga class or mediation place. Find an outdoor class at the beach or a park so you can both get even closer to nirvana.
7. Binge on chick flicks (no boys allowed)
Grab your favorite girly movies and pick a night to binge watch them over a bowl of popcorn and candy. And bring tissues. You know you'll both get misty-eyed at the love scenes.
8. Stroll down memory lane
Visit a place with sentimental value, like the book store where you first met for coffee or the bar happy hour where you had your first heart to heart.
9. Give her some Face(book) time
Turn your Facebook timeline or Instagram feed into a tribute to her awesomeness with images of all the good times you've shared together.
10. Show her you love her a latte
Make her morning a little less hectic by popping by with with her favorite latte or coffee, so she can start the day off right.
11. Make her a friendship bracelet
Friendship bracelets … you remember those? Remind her of the good old days you shared as kids with a nostalgic homemade gift.
12. Pass her a love note
If you don't live close enough to meet, mail her a handwritten note reminiscent of the ones you used to pass each other in class. She'll love getting something in the mail that isn't a bill or a grocery store coupon.
13. Get fabulous
Treat yo' selves to new clothes or shoes. Then get blow outs and mani pedis and treat the world to your fabulous selves.
14. Pose like super models
Now that you're fabulous (see #13), hire a photographer to be your personal paparazzi and snap some pictures of the two of you at all your favorite places.
15. Name a cocktail after her
The Fizzy Izzy? The Tina Twist? Or just keep it simple with her full name, so everyone knows it's officially her cocktail. There's even a website where you can get your drink copyright certified.
16. Send her on a scavenger hunt
The playground where you first met. The ice cream shop where you shared sundaes. Create fun clues that send her to all the places that are meaningful to your friendship.
17. Do a karaoke duet
Be rock stars for the night and perform a dazzling encore-worthy duet at your local karaoke bar.
18. Throw a Pinterest party
Get all the supplies to finally do all those amazing Pinterest crafts you've both been obsessing over.
19. Ask her on a FaceTime date
If you're not close enough to get together in person, schedule a FaceTime, Google+ Hangout or Skype date and catch up on all the latest gossip.
20. Have a tea party
Whip up a plate of finger sandwiches, scones and mini tea cakes, brew some leaves and spend some quality time catching up like proper ladies.
21. Host a sleepover
Nail polish. Popcorn. Scary movies. Gather everything you need to relive all your slumber party traditions, like painting each others nails or clutching each other in terror when the zombies appear.
22. Try a tasting menu
Splurge and go to that trendy gourmet bistro you've both been dying to try and order the tasting menu.
23. Give her a sweet surprise
Show, and tell her, how amazing you think she is with a box of our decadent dipped cake truffles in all her favorite flavors, like red velvet and s'mores. The best part: the heartfelt secret messages hidden beneath each truffle. It's the perfect way to share a slice (or in this case, bite) of cake with her from afar.
24. …
#24? That's up to you. Whether its buying a best friend gift or sending berries, tell us how you're going to make this BFF day, unforgettably, epically fun. We can't wait to hear all about it!