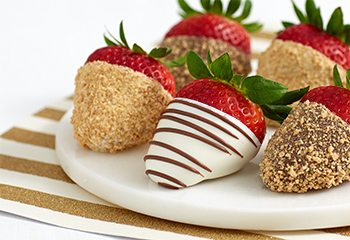 Recipe: 22 Twists on Strawberry Cheesecake
Strawberry Wonton Cups
This strawberry cheesecake wonton recipe is as easy as it is delicious. We really love the crisp wonton crust. Though the bite-sized portions, as blogger Deborah warns, make it really easy to munch on one every time you open your fridge.
Strawberry Swirl Chocolate Chip Cheesecake Bars
Creamy cheesecake, chocolate chips, strawberry jam … we can't wait to dive into Sally's "lazy-Friday dessert". A simpler, fork-free spin on her Mom's chocolate-chip cheesecake, it's the perfect finger food for a party, or a family treat.
Strawberry Cheesecake Brownies
Made with a cake mix, these bars have the chewy texture of a brownie. Blogger Kristan made them because, well, adults need treats too. Colorful and easy to eat, we think they're perfect for a laid-back spring or summer soiree.
Strawberry Cheesecake Pudding Shots
A dessert and mini cocktail in one, this vodka-spiked treat is just right for a casual night with friends. Full of clever kitchen shortcuts, it's made with instant cheesecake-flavored pudding.
Strawberry Cheesecake Bites
As if cheesecake wasn't decadent enough, Utah blogger Gloria's recipe takes it to a whole new level by scooping it into bite-sized balls and dipping it in white chocolate.
Cheesecake Stuffed Strawberries
We can't imagine it getting any easier, or fresher, than this recipe. Simply stuff ripe strawberries with a cream cheese mixture, sprinkle with graham cracker crumbs and presto!, instant strawberry cheesecake.
Strawberry Cheesecake Cupcakes
Inspired by the taste of farm-picked strawberries, this cupcake recipe doesn't use cake mix or strawberry JELL-O, just fresh berries. We also can't help but admire the artful cheesecake frosting swirl on top.
Strawberry Cheesecake Pastry Bites
All you need is 15 minutes and four ingredients to make these amazing pastry bites. Fast and fabulous, they're made with crunchy puff pastry shells, cream cheese filling and fresh strawberries.
Frozen Cheesecake Strawberry Shortcake Sandwiches
Strawberry cheesecake meets strawberry shortcake meets ice cream sandwich … this frozen dessert is luscious, and low-fat! So, we'll probably eat the whole batch. Because eating eight mini shortcakes is the same as eating one normal-size serving of shortcake, right? Well, that's what we're telling ourselves.
Strawberry Cheesecake Bites
Of course, we had to get in on this. Our latest collection serves strawberry cheesecake two dreamy ways. First up, our chocolate-covered strawberry cheesecake bites. We took bite-sized cheesecake squares, topped them with strawberry puree, dipped them in dark chocolate and drizzled with them with milk chocolate. No one can eat just one.
Roasted Strawberry Cheesecake Smoothie
Now this is our idea of the breakfast of champions: a strawberry cheesecake smoothie. Did we mention that it's roasted (the berries not the smoothie)? Plus, since the drink's creamy cheesecake flavor comes from low-fat cottage cheese or yogurt, it's also healthy. If you're not too attached to the bright pink shade, you can make it even healthier by blending in a little spinach. We promise, it will taste just as delicious.
Mini Mascarpone Cheesecakes With Strawberry Balsamic Topping
A love of cute desserts, and her husband's birthday recipe, gave blogger Toni the idea to create these tiny wonders. Made in jelly jars, they're not only ready to eat or store, they're ready to gift! So we're giving her bonus points for clever packaging and presentation.
Strawberry Cheesecake Mousse
Light, fluffy and just sweet enough, this mousse recipe uses fresh fruit puree, crumbled graham crackers and real whipped cream. Chilled, it's a great way to treat yourself, or your family, on a hot summer day.
Strawberry Cheesecake Muffins
Muffins (morning's favorite comfort food) and streusel (a favorite anytime dessert) merge in this rich and hearty baked treat. Oh, and there's also a cheesecake filling surprise inside. In the tempting words of blogger Sally, "it's like eating strawberries n' cream cupcakes for breakfast". Enough said.
Strawberry Cheesecake Napoleon
A neglected box of puff pastry in her fridge, a Napoleon recipe and some cream cheese was all it took for This Gal Cooks blogger Julie to create this pudding and berry layered Strawberry Cheesecake Napoleon.
No-Bake Strawberry Cheesecake With Chocolate Ganache
Rachel had us at "no-bake" … or maybe "chocolate ganache". We love that this recipe is so easy to make—no worries about your cheesecake falling or cracking. It's just "whip, fold, fill and chill". And the ganache … We love adding dessert to our dessert.
Strawberry Cheesecake Tartlet
Another easy, no-bake treat, these tartlets will make you look like the hostess with the mostess. Though the recipe uses shortcuts, there are enough fresh touches (like the berries and toasted almonds) to convince everyone that you've been slaving away in the kitchen all day.
Strawberry Cheesecake Cocktail
You know what would make happy hour even happier? A strawberry cheesecake cocktail, of course. All you need is muddled strawberries, vodka, half-and-half and this easy recipe.
Strawberry Cheesecake Dip
Cream cheese, yogurt and fresh strawberries are the secret to this simple and irresistible dip recipe. Once you start dipping, you won't be able to stop.
Strawberry Cheesecake Pops
When the weather gets warm, these creamy cheesecake pops are the best way to cool down. And just like the blog they came from, they're "damn delicious".
Chocolate Dipped Strawberry Cheesecake
Mini cheesecakes topped with dark-chocolate-dipped strawberries—of course we approve. Though originally designed as a Valentine's Day surprise, we think this treat is too good to serve just one day a year.
Dipped Cheesecake Strawberries
Speaking of dipped strawberries … you really need to meet our dipped cheesecake strawberries. They're the star of our cheesecake collection. Cheesecake-flavored dip, fresh, juicy strawberries and graham cracker crumbles make it our dreamiest dip yet.
Strawberry Cheesecake, Your Way
We're still looking for number 23. Do you have a uniquely delicious spin on strawberry cheesecake? Give us all the details in the blog comments!