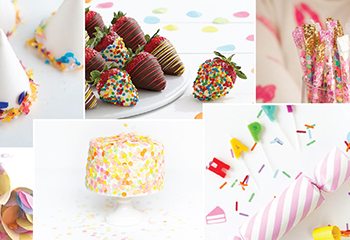 19 Ways Confetti + Sprinkles Make Birthdays Better
Decorations
1. Tissue Paper Confetti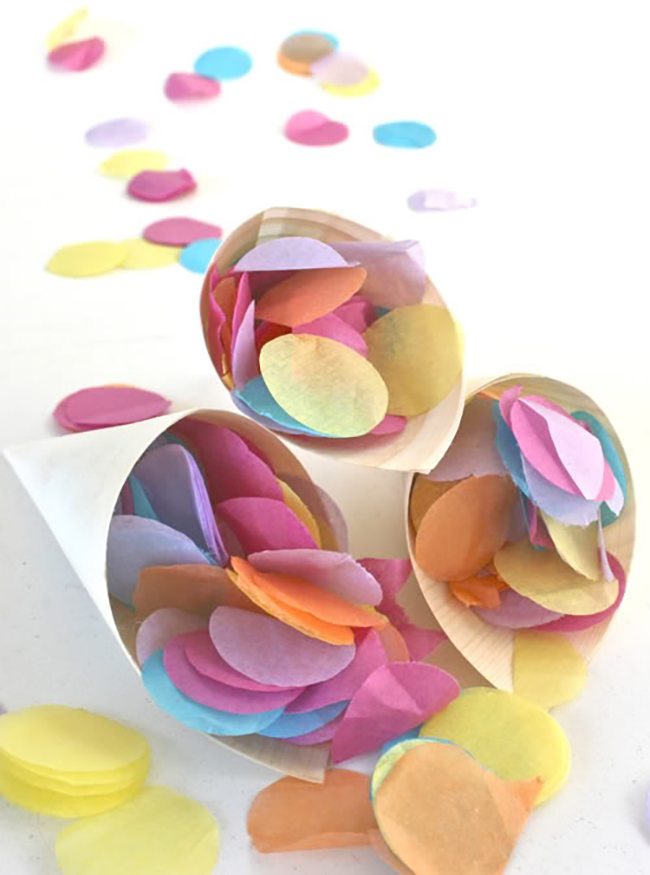 Photo courtesy of polkadotprintsstudio.blogspot.com
First up, this festive, yet super simple, tissue paper confetti from Polkadot Prints. Create your own color scheme to match your birthday party decor and sprinkle it on table tops or put it in deflated balloons and then blow them up.
2. Birthday Cake Tea Lights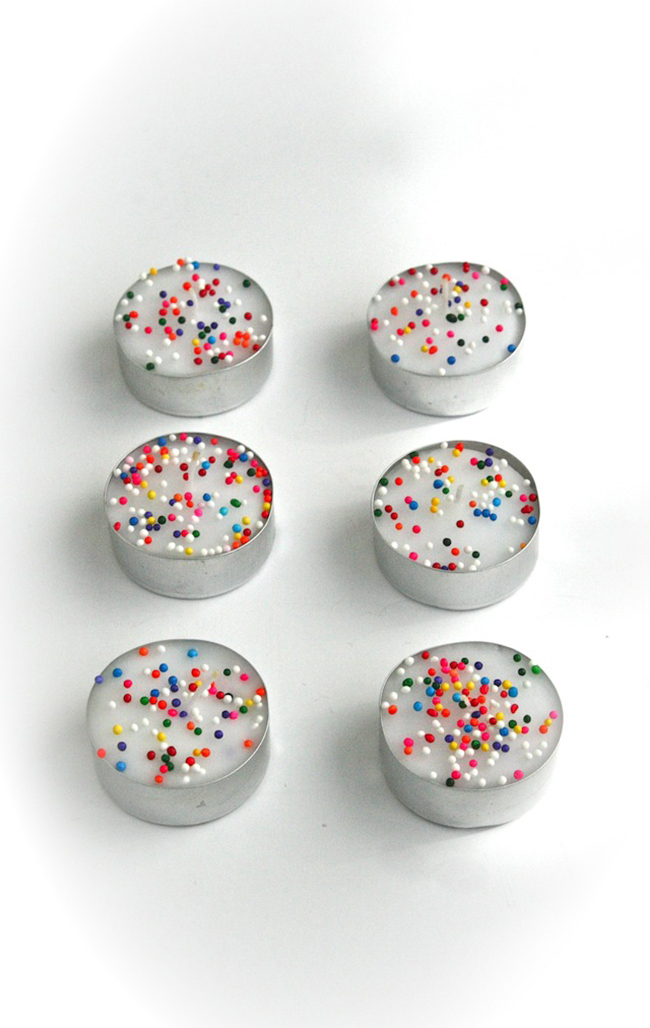 Photo courtesy of heyeep.com
All you need are tea lights, candy sprinkles and eight minutes to make EEP blogger Erin's birthday-ready sprinkle candles. The add an extra touch of fun to your birthday table.
3. Confetti Balloons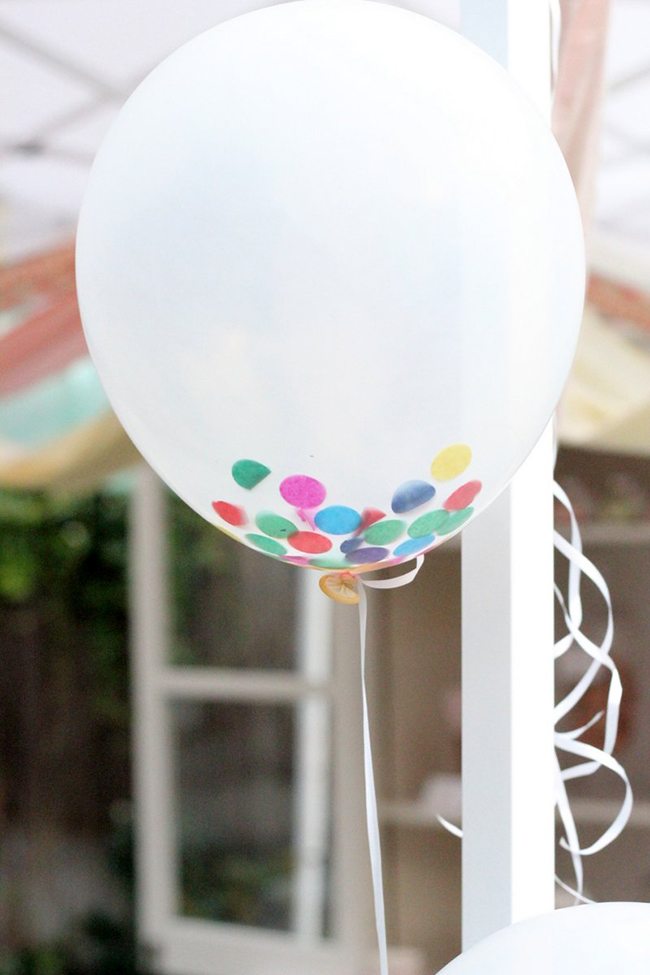 Photo courtsey of kojo-designs.com
Kojodesigns took it to a new level with her sprinkle birthday party. Our favorite part was the confetti-filled balloons. You can make them with the tissue paper confetti idea above (#1 on our list).
Favors
4. Confetti Party Hats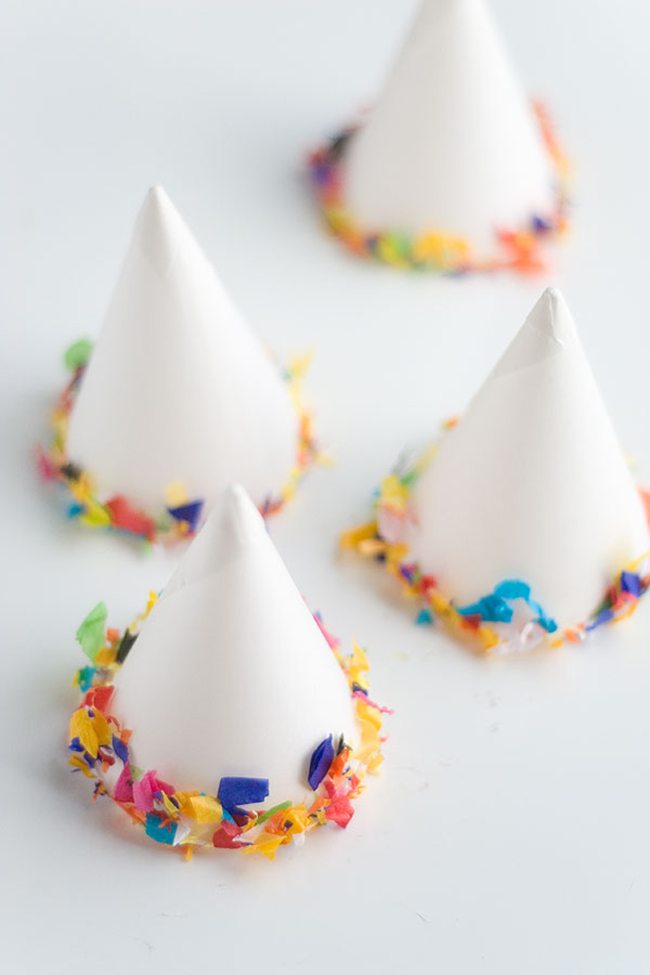 Photo courtesy of confettisunshine.com
Nothing's more simple, or fun, than an impromptu confetti party. With, of course, impromptu confetti party hats. (Or an impromptu birthday surprise party, wink, wink.) Just follow Confetti Sunshine party guru Sara's fast and easy instructions.
5. Confetti Sticks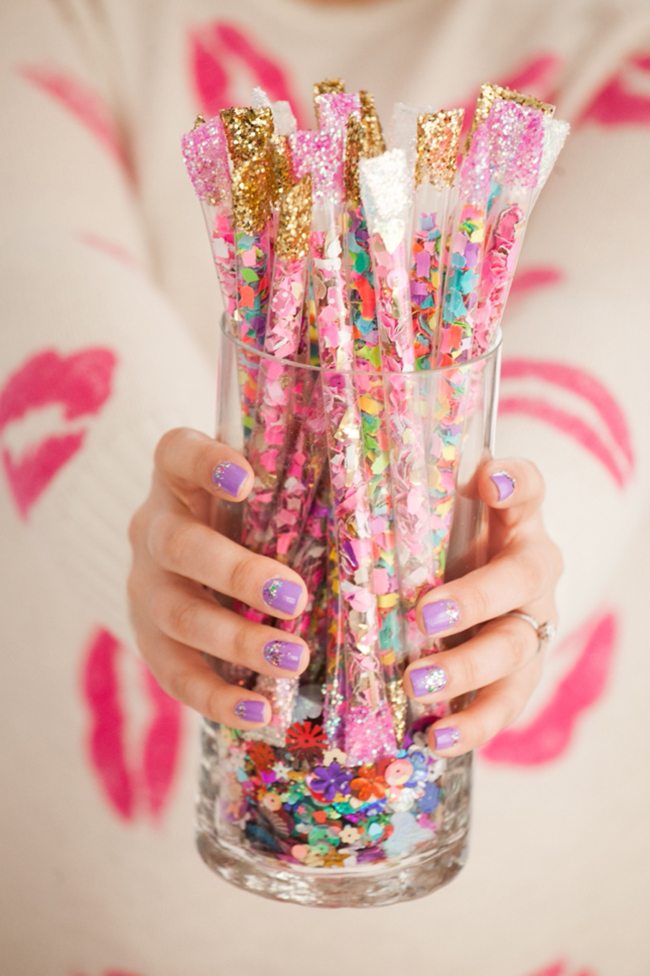 Photo courtesy of bestfriendsforfrosting.com
Glitter-glam and full of color, these confetti straws from Best Friends for Frosting work great as birthday party decor, or favors for guests. Roll up personalized notes and stuff them inside, or tie the straws to confetti-sprinkled note cards and thank your guests for celebrating with you.
6. Birthday Confetti Popper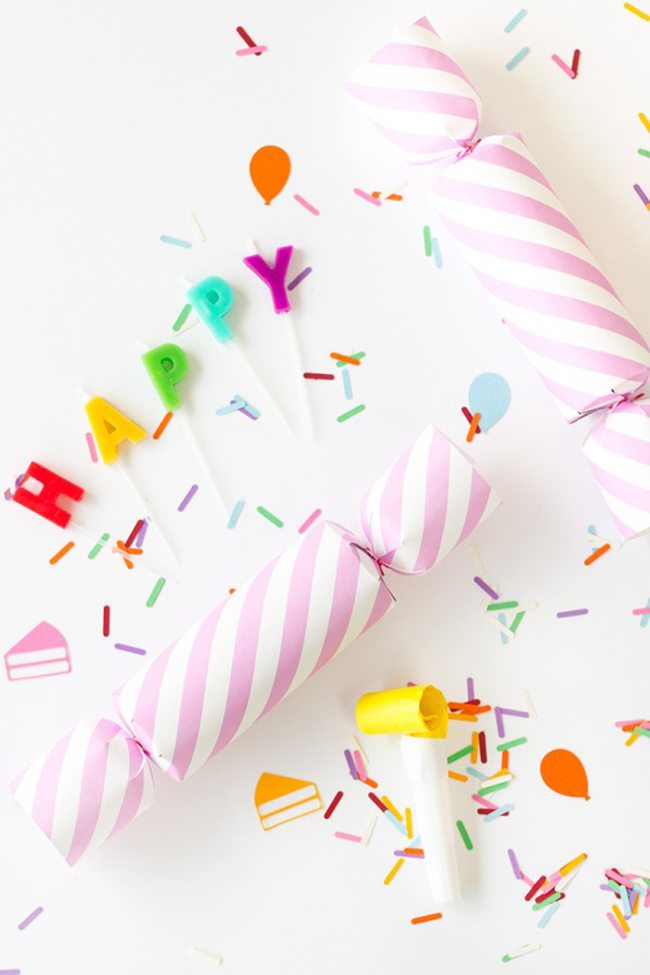 Photo courtesy of studiodiy.com
These pops of joy by DIY Studio are an instant celebration. No birthday soiree would be complete without festive confetti poppers—and happy confetti-covered guests. Simply pull and twist both ends swiftly and … pop!
Treats
7. Sugar Cookie Puppy Chow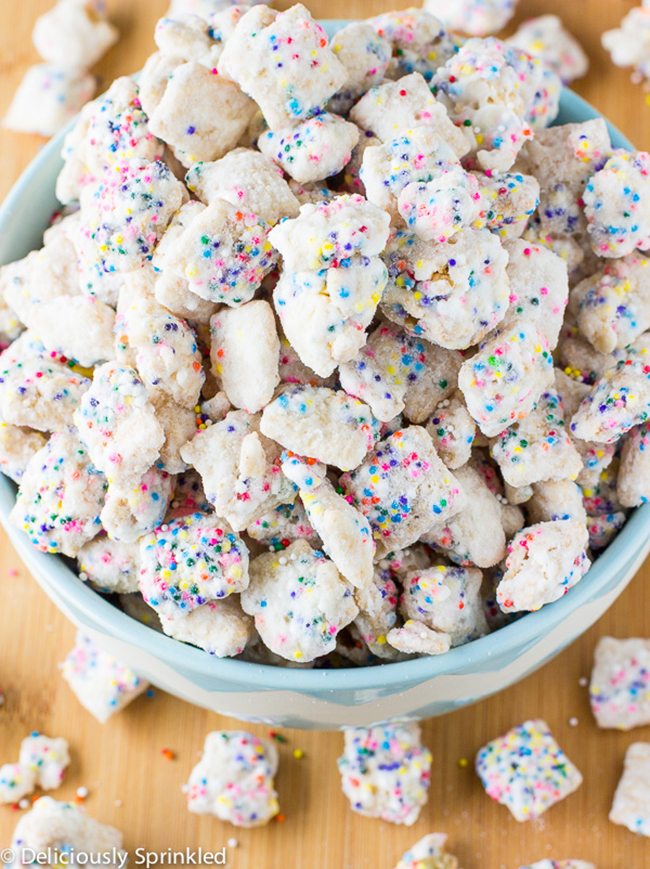 Photo courtesy of deliciouslysprinkled.com
Sugar Cookie Puppy Chow looks (and tastes) much better than it sounds. Almond bark or white chocolate bars (you can use either) are the secret to its frosted sugar cookie flavor. You don't have to turn on your oven, and it takes less than 15 minutes to make. Deliciously Sprinkled blogger Jenn promises it will be the most addictive snack at your next birthday bash.
8. Birthday Strawberries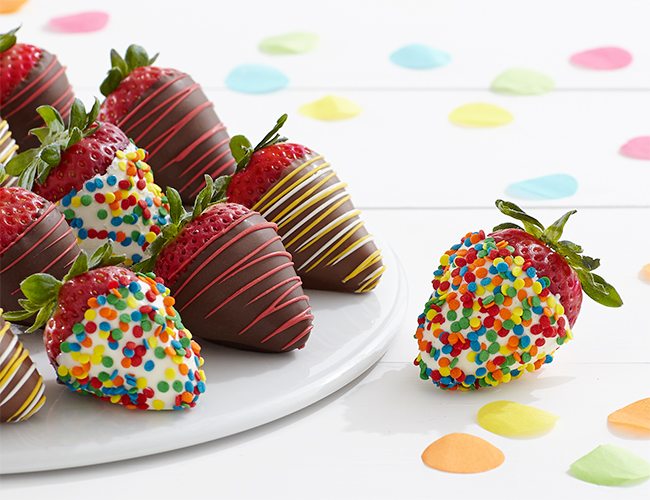 Dipped and decorated, our confetti-sprinkled birthday strawberries are ready to celebrate! Even better, you don't have to lift a finger (well, not in the kitchen). We'll make them for you and deliver them to the lucky birthday boy or girl.
9. Sprinkled Chocolate Spoons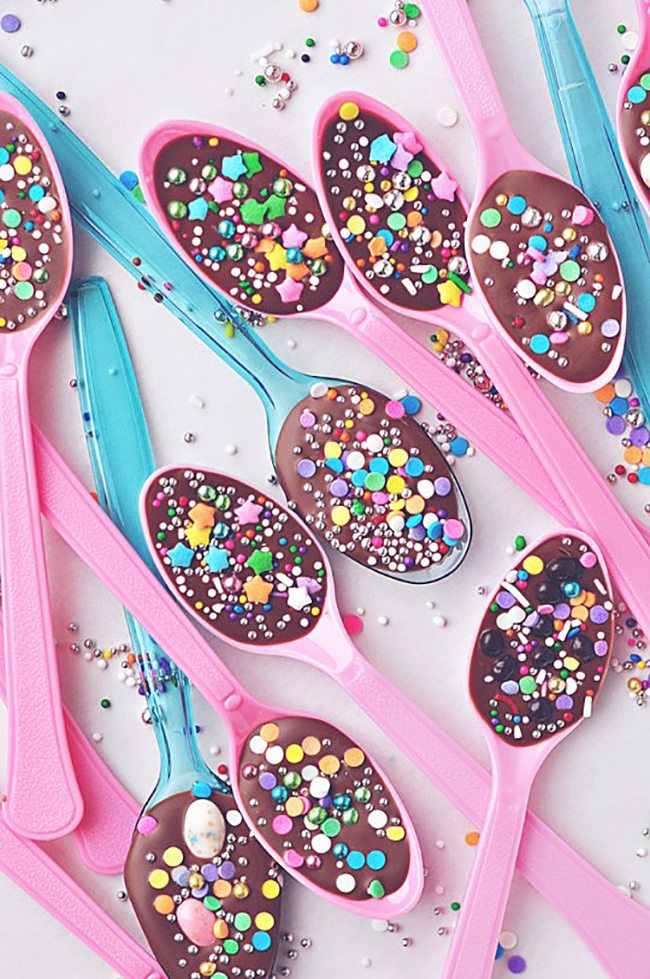 Photo courtesy of sweetapolita.com
Warm chocolate, sprinkles and a Barbie®-pink spoon. That's Sweetapolita's recipe for bliss—and the perfect birthday party favor, or Tuesday afternoon surprise for little girls (or big girls who still love chocolate and sprinkles). Really, who couldn't use a sprinkled chocolate party spoon?
10. Confetti Marshmallow Numbers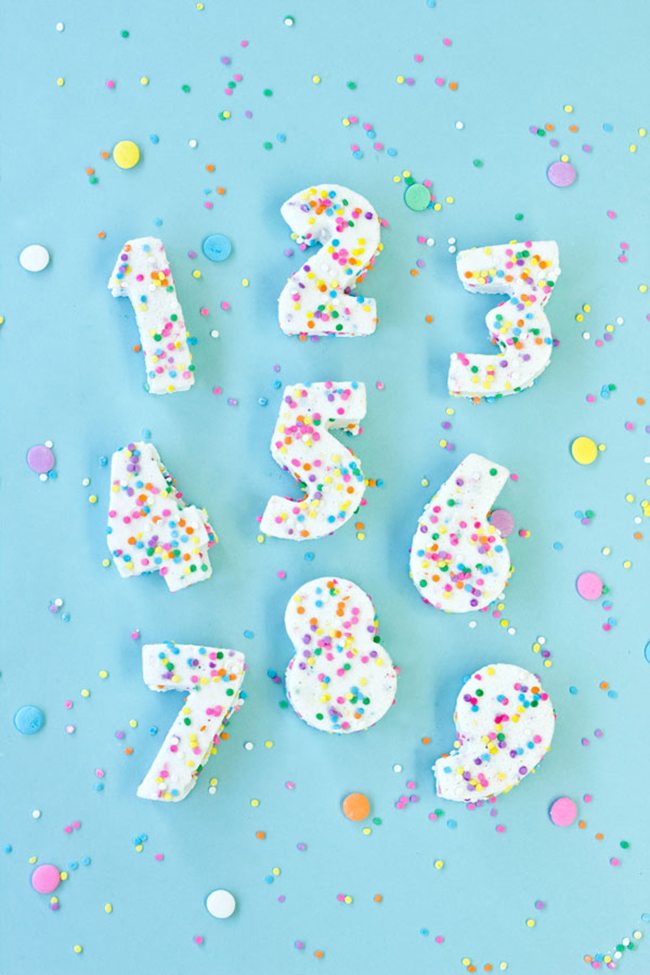 Photo courtesy of studiodiy.com
So long, wax number candles! On a mission to make homemade marshmallows DIY Studio took it up a notch and created these delicious confetti marshmallow numbers. They make great birthday cake toppers, party favors, table numbers and more.
11. Confetti You Can Eat!
Skip the cheesy store-bought sprinkles and make your own tasty confetti in whatever shapes, sizes or shades you dream up. It's a snap with Sugar & Cloth's sugar sheet DIY. We love how simply elegant and delicious it looks atop a white frosted birthday cake. They're also fabulous as biodegradable wedding send offs or party favors.
12. Birthday Brownie Pops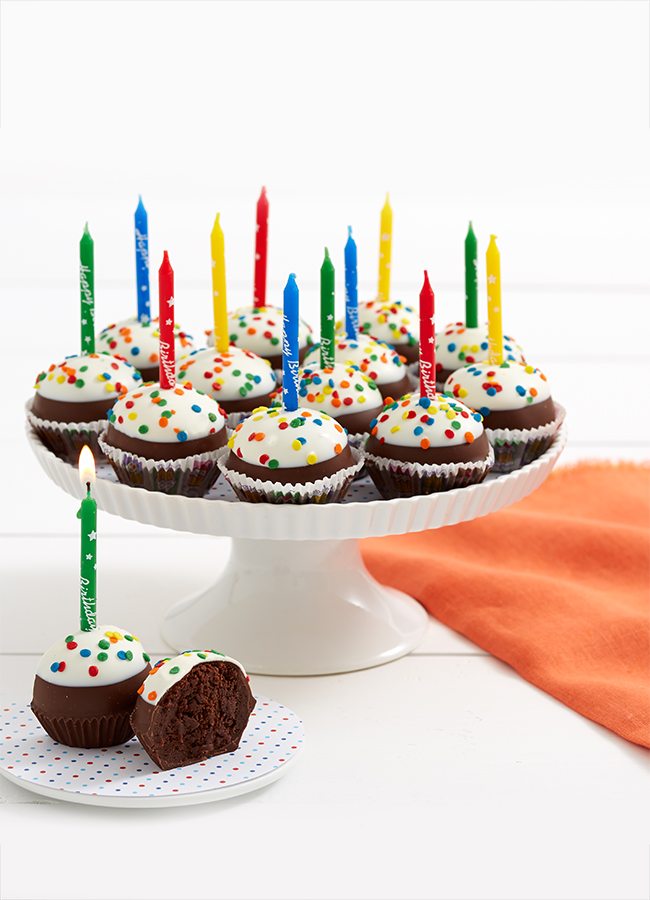 Make their birthday wishes come true with our confetti-sprinkled birthday brownie pops. Topped with frosting, they have all the fudginess of your favorite brownies and arrive with birthday candles. All they need to do is open the box, and celebrate!
Gifting
13. Confetti Packages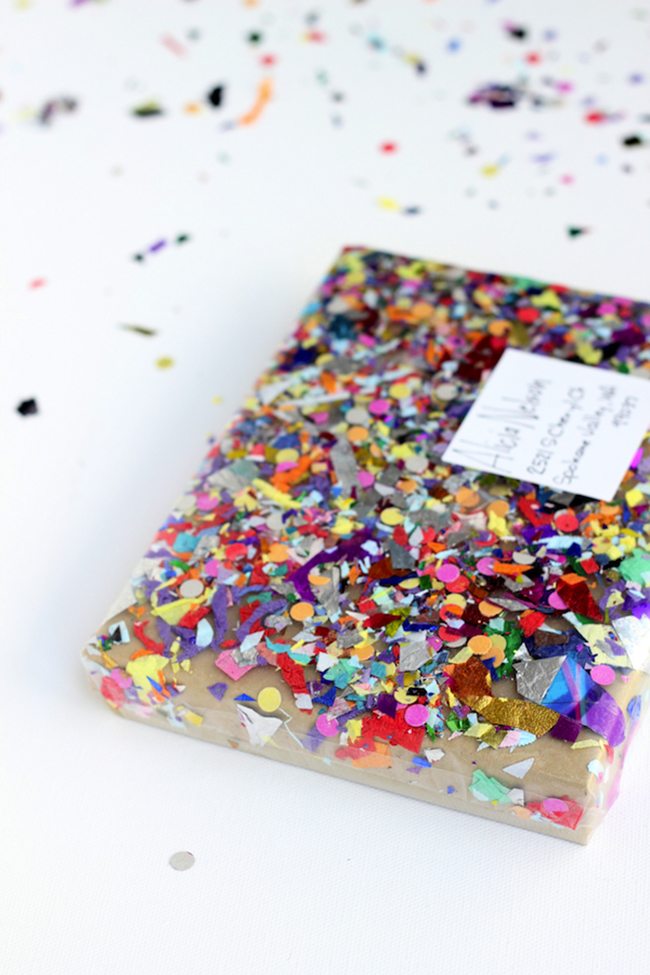 Photo courtesy of youaremyfave.com
Dress up a plain package or gift box with this confetti DIY from You Are My Fave. All you need is confetti and contact paper. We also love Melanie's idea of using stickers to write an unexpected birthday message on the inside of the box lid. Not a big surprise, if you've seen our cake truffles box.
14. Jar Full of Joy Card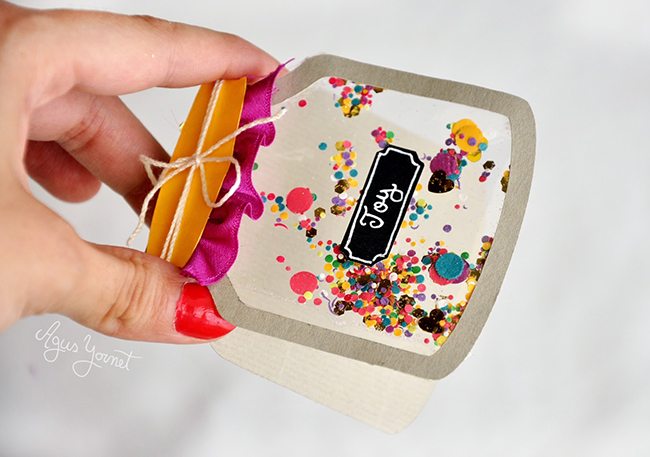 Photo courtesy of agusyornet.com
Why send a boring drugstore card, when you can send a birthday jar full of joy with this adorable DIY card from the AY blog? A plastic bag taped to a paper card cut out holds glitter, hearts and confetti.
15. Sprinkle Bows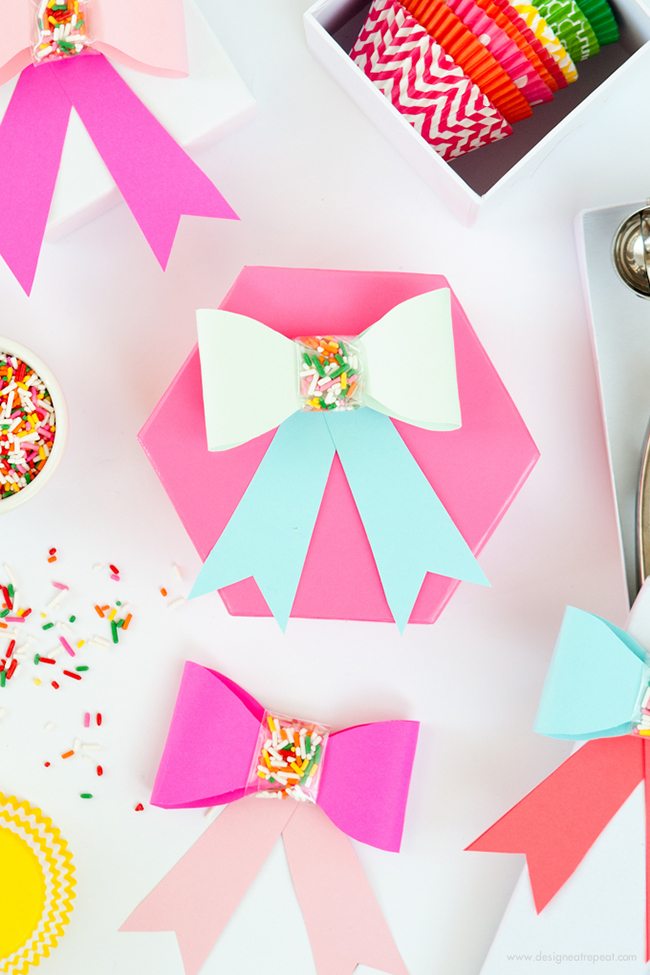 Photo courtesy of designeatrepeat.com
Design Eat Repeat proves everything is better with sprinkles, especially birthday gift bows. Blogger Melissa makes hers in a minutes with printable paper bows and a plastic bag filled with candy sprinkles.
16. Confetti Leaf Gift Wrap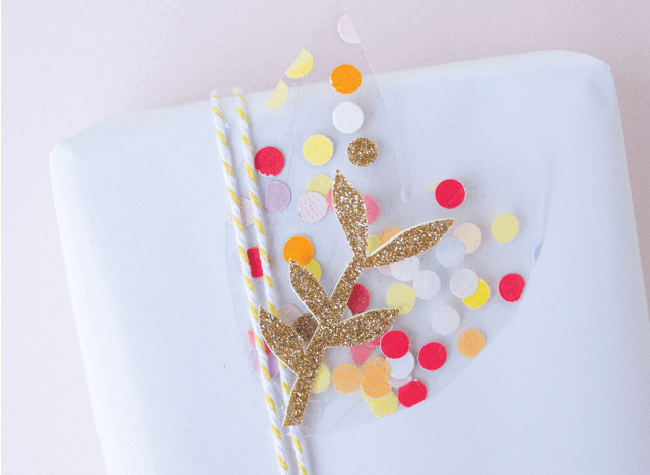 Photo courtesy of crafthunter.com
Need to glam up a gift in a hurry? This Confetti Leaf Gift Wrap only takes five minutes, but will make everyone think you spent all day artfully hand decorating their present. And it's also a great way to recycle leftover scraps from other projects.
17. Confetti Wrap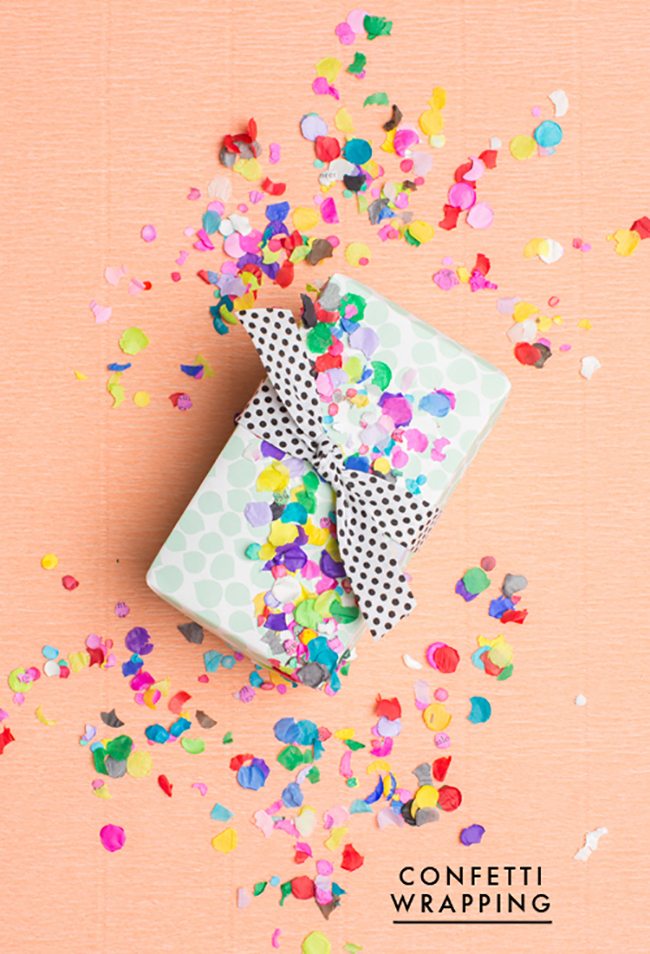 Photo courtesy of thehousethatlarsbuilt.com
There's no excuse for boring gift wrap. Not when all you'll need to make this amazing confetti gift wrap topper is Mod Podge®, a paint brush and homemade confetti.
18. Confetti Tape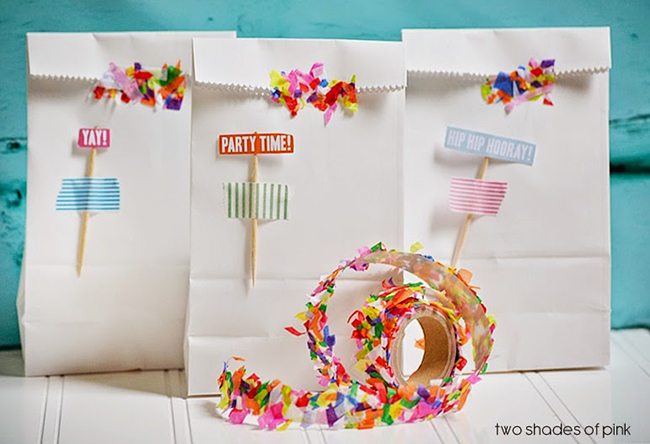 Photo courtesy of twoshadesofpink.blogspot.com
And the easiest way to put confetti on everything is, of course, with this wondrous DIY confetti tape. Stick it on packages, tie it around flower bouquets or a bottle of champagne, use it to spell out "Happy Birthday" on a banner … the options are endless.
19. Confetti Birthday Countdown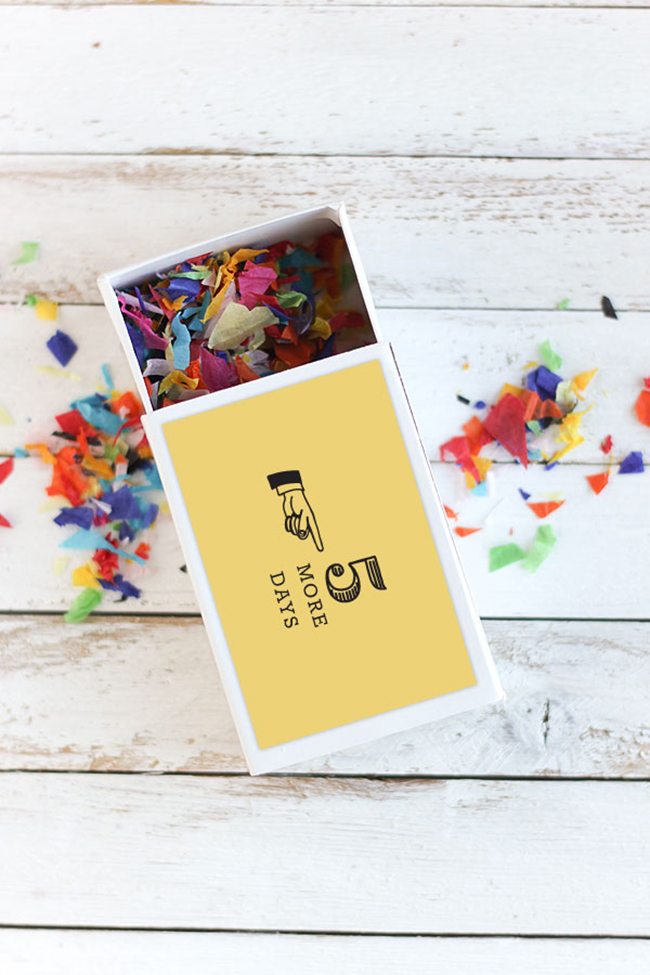 Photo courtesy of confettisunshine.com
Confetti Sunshine blogger Sara knows birthdays are a big deal. So she figured one day wasn't enough time to celebrate, and came up with the brilliant idea to count down to the big day with a week of surprises. Just fill seven small boxes with confetti, sprinkles, balloons and more treats and wrap them in her fun birthday printables.
What's your confetti (or sprinkle) birthday tip or trick?
How do you use confetti and sprinkles to make birthdays better? Give us all the details in our blog comments.