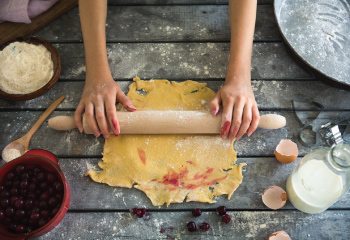 Chocolate-Covered Cherry Pie Pops
What could be cuter (or more delicious) than a pie on a stick? These chocolate-covered cherry pie pops are sure to be a hit with kids and adults alike.
Blueberry Pie Pops
Similarly, these blueberry pie pops offer all of the sweet, flaky gooey goodness of pie without the mess of a traditional slice.
Pumpkin Pie Pops
While these look like something you'd have to be artistic to accomplish, these playful pumpkin pie pops are easier than they appear. All you need are jack o' lantern cookie cutters to create these adorable treats.
Fruit Cookie Pie
This fruit cookie pie is as simple as it is delicious. While similar to fruit pizza, it's made in a pie dish and combines fresh fruit with a cream cheese-based custard. It's light, delicious and makes a great finish to a summer meal.
Patriotic Fruit Pie
Memorial Day, Labor Day or the Fourth of July, this patriotic-themed fruit pie is a great way to serve up some all-American spirit. The best part? All you need is pie crust, Greek yogurt and berries!
Fresh Peach Pie
This fresh peach pie is a traditional favorite. However, it could also be made with strawberries, nectarines or any other seasonal fruit that suits your fancy.
Mini Pumpkin Pies
A twist on classic pumpkin pie, these mini muffin-tin pumpkin pies are sure to become your new fall favorite. With a dollop of whipped cream on top, these will be a hit at any autumn celebration.
Mini Apple Pies
These mini apple pies are delicious and lovely to look at. They're made using cookie cutters, creating a unique design that makes them look like little flowers.
Mini Cherry Pies
Check out these mini cherry pies; described as "pocket-sized", these would never be put in anyone's pocket and saved for later—they're far too scrumptious.
Mini Key Lime Pie
Another twist on the mini-pie, this key lime pie features Greek yogurt and a decadent, gluten-free macadamia nut crust.
Traditional Key Lime Pie
This simply irresistible key lime pie doesn't mess with a good thing (or a beloved recipe). It's made with a graham cracker crust and tart, creamy filling with specks of lime for a little extra zing.
Chocolate Ice Cream Pie
If you're not a "pie person", but you do love a giant ice cream sundae, this recipe's for you. It's essentially an ice cream sundae made into a chocolate ice cream pie.
Pine Nut Pie
If you're searching for something a little savory, a nut-based pie is the perfect end to a rich meal. This pine nut pie is a tempting mix of brown sugar and pine nuts complemented by vanilla, butter and cream.
Mason Jar Lemon Meringue Pies
Pie on a stick, meet pie in a jar. These mason jar lemon meringue pies all are about the presentation. Of course they taste as lemony and sweet as the sliced version with graham cracker crust, pudding filling and meringue on top.
Your Pie Picks
What pie recipes are your favorites? Please share with us in the comments.