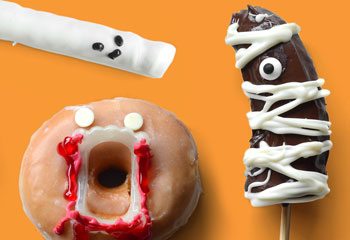 12 Easy and Spooktacular Halloween Desserts

How to spookify your Halloween desserts
All of these Halloween desserts took less than 20 minutes to make, unless of course you plan to bake your own cookies and cupcakes. We were excited to find googly eyes you can eat but using small marshmallows for eyes was also fun! Wanna set up all your easy Halloween treats on a dessert table? Check out these dessert table ideas.
Here are some simple instructions for each treat:
Graveyard Shift: We took plastic (but you can use glass) cups and filled them with chocolate and vanilla pudding. Next we crumbled up a chocolate cookie and used that for the "dirt." Top it with a biscuit cookie and use frosting to write on it. Add some fun decorations such as worms and plastic body parts, and you've got yourself a grave!
Ghostly Party: Take a pretzel stick, melt some white chocolate and dip! For the eyes, we used black frosting, but you can also find markers that use "ink" you can eat.
BeWitching: Dress up a marshmallow! Soak some coconut flakes with green food coloring and use a bit of orange frosting to place on the marshmallow. Layer the cookie, peanut butter cup, and chocolate kiss to make her hat.
Mummy I'm Scared!: Place half a banana on a skewer stick and dip in dark chocolate. Wait until it dries a bit then take a spoon, dip it in white chocolate and start adding it over the dark chocolate to create the mummy bandage. Place googly eyes, or draw them in with frosting.
Skeletons in the Closet: Take a lollipop stick and dig it into a cupcake. Layer three white pretzels and add half a marshmallow for the head. Break two pretzels for the arms and place inside the last pretzel.
Spooky Rice Crispy: For these two (Sneaky Cat Crispy and Haunted Pumpkin Crispy) we molded puffy rice into a rectangular shape. Added ears for the cat. A gummy work for the head of the pumpkin and decorated with glitter, chocolate and frosting.
Donut Fear: We took some plastic fangs and placed directly in the middle of the donut. The red frosting takes it to the next level!
Peeping Grape: No need to be wary of these grapes, they are good for you! We used a bit of frosting to get the googly eyes to stick and added some "veins" with red frosting.
Fangtastic: If you've got strawberries and dark chocolate, then you are set. Simply dip and decorate!
Spider Attack: These took less than 10 minutes to make. Simply break thin pretzel sticks, dip in chocolate and form them into little spiders. Eyes optional.
Monsters Under My Bed: We took toaster pastries (and a variety of other cookies), covered them in chocolate frosting and placed marshmallows where desired. Small marshmallows cut in triangles are great for the teeth!
Now that you've seen how easy to make these are, which will you be making first? If you have guests that aren't able to indulge in your awesome treats, send a little spooky love their way with one of our treats from the Halloween collection.