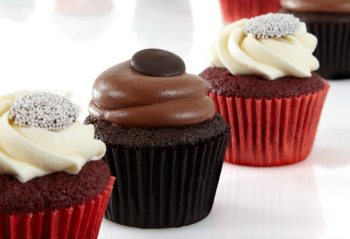 100 Dessert Lovers to Follow
If you want to quickly catch up on the latest news (or memes), few social networks are as useful as Twitter. Maybe it's the brevity of the exchange, maybe it's the propensity of Twitter users to share great links, but whatever the reason, Twitter seems custom-made for staying current with what's happening right now. Here at Shari's, we like to sneak a peek at Twitter to see what's new in the world of desserts and sweets. We're sure you do too, so we've curated this collection of "Sweetest Tweets" featuring dessert mavens, home cooks, bakery owners, pastry chefs and food bloggers all guaranteed to tempt your sweet tooth in 140 characters or less.
Top 100 Dessert Lovers to Follow on Twitter
Tessa Arias, @handleheat
iFood.tv, @ifoodtv
Darla, @Bakingdom
Milisa, @missnthekitchen
Carla, @chocolatemoosey
Annalise, @completedelish
Meaghan Mountford, @DecoratedCookie
Jennie, @MessyBakerblog
Kirbie, @kirbiecravings
Tessa Lindow Huff, @StyleSweetCA
Erin, @thespiffycookie
Stephanie, @stephbitebybite
Dorothy, @crazyforcrust
Aimee Shugarman, @shugarysweets
Lori Baltazar, @DessertComes1st
Shanna S, @PinaCocoblog
Something Swanky, @somethingswanky
Robin, @SimplySoBaking
Sally, @SallysBakeBlog
Dessert Buzz, @dessertbuzz
Rachel Conners, @bakeritablog
Best Friends For Frosting, @BF4FROSTING
Crunchy Creamy Sweet, @CrunchyCreamySw
Jocelyn, @BruCrewLife
Erica Pitera, @EricaSweetTooth
Karyn Granrud, @PintSizedBaker
Glory Albin, @GloriousTreats
Heather Saffer, @HeatherCupcakes
Miriam, @OvertimeCook
Joan Hayes, @CCCandmore
Dollhouse Bake Shoppe, @LindsayAnnBakes
Stephanie, @eatdrinkluv
Curly Girl Kitchen, @CurlyGirlKitch
Brittany Lehnhoff, @BarrAndTable
Michelle, @ChelleyCandy
Chelsea Sugar, @chelseasugar
Ashley, @BakerByNature
Candy Wong, @DessertByCandy
Emily P, @SheMakesnBakes
Regina Braun, @SpecialtyCake
Kim, @TreatsTrinkets
Beer for Dessert, @beerfordessert
Dessert Professional, @dessertpromag
Yammie's Noshery, @YammiesNoshery
Michelle, @HummingbirdHigh
meatified, @meatified
Nina, @ambrosia_tweets
Jennifer Rodda, @milk__honey
Jess Gonzalez, @_sugarmountain
Tastes of Lizzy T, @TastesofLizzyT
To create our delicious list of top dessert-obsessed Twitter users, we started with some of our favorite Tweeple and looked at who they followed. Next, we perused a few of our favorite online hangouts for foodies such as Food Gawker, Dessert Stalking and Daily Food Buzz to look for the sweetest dishes being shared. Criteria for making the list included ratio of sweet to savory tweets, recency of tweets, engagement with other Twitter users, and (for bloggers) web content with a focus on desserts, baking and other sweet pursuits.
Where do you look for inspiration? If you follow someone who shares sweet tweets, drop a link in the comments so we can check them out!