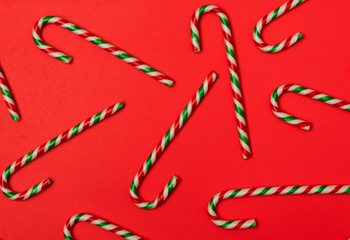 The 10 Jolliest Cities in America
Our Methodology
Whether or a city is jolly or not is hard to quantify. Still, we knew we had to try. We decided to do this by looking for the signs of a happy and holiday-oriented city.
We started with a list of the 200 biggest cities in the US. Then we used these five statistics to try and predict how jolly a city is:
Safety – To be truly jolly you need to feel safe, in your home and on the streets.
Food Banks – Giving to others embodies the reason for the season and makes for some of the happiest memories.
Bakeries – Sweet treats are one of the best things about Christmas, and Santa deserves something fresh for all the hard work he does.
Christmas Events – Nothing says Christmas cheer like a special occasion that brings the whole city together in celebration.
Cost of Living – When people don't have to worry too much about paying the bills they can focus more on giving to charity or buying a couple of gifts.
Christmas Tree Farms – When wanting to find the perfect Christmas tree for your home, it is important to have an array of options.
We found these statistics using the U.S. Census, City Data, and Yelp. Using this information, we scored every city on each of the six categories. We added the points up, compared them, and ended up with the top ten.
That's how the list we're presenting came to be, but numbers only tell a part of the story. Read on to find out a little more about what makes each of these cities so jolly.

1. Grand Rapids, MI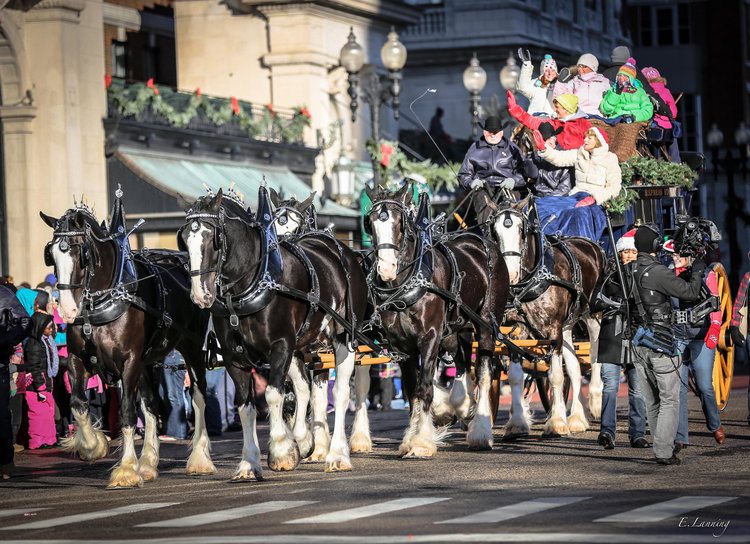 The author of the famous children's book The Polar Express grew up near Grand Rapids. It only makes sense that America's jolliest city would inspire such a Christmas classic. Just witness as the holiday season kicks off with the Art Van Santa Parade. After that the city will have you believing that a train might be coming to take you to a winter wonderland.
The people of Grand Rapids certainly have good reasons to be jolly. The city has one of the the highest numbers of food pantries per capita out of all 200 cities we looked at. It also tied with Salt Lake City in terms of unemployment and has the best cost of living index out of the whole top 10. With jobs to go to and bills that don't break the bank, the people of Grand Rapids can focus on the joy of giving this season.
Fun Fact: Trees for Troops, a program run by Christmas tree growers in Michigan, donates over 1,000 trees to military families each year.
2. San Francisco, CA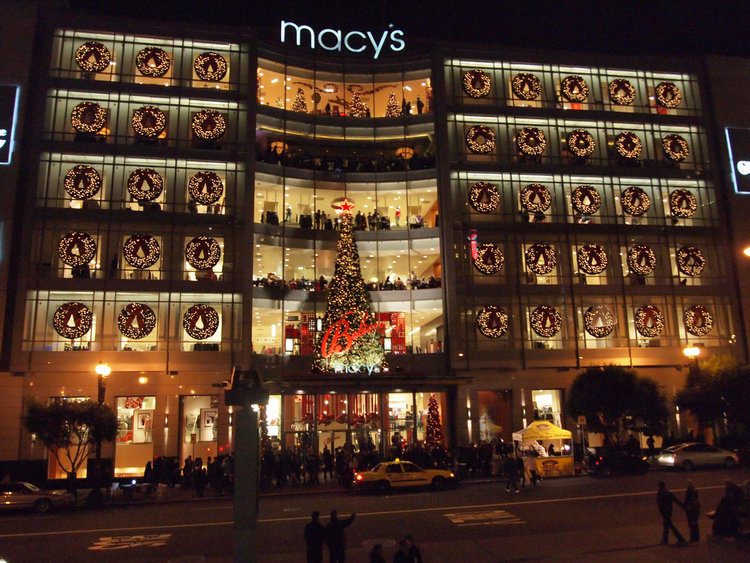 San Francisco is a city that wears its love for Christmas on its sleeve. When December rolls around the whole city goes to work, stringing lights and hosting Christmas events. It has twice as many holiday events and light displays as Salt Lake City, the next closest city in the top 10.
On the way home, it's incredibly easy for San Francisco residents to pick up freshly baked Christmas snacks. The city has more bakeries per capita than any other city in our top 10. San Francisco residents also get to enjoy unique holiday treats, thanks to the Chinese bakeries in Chinatown and the Italian bakers in North Beach.
Fun Fact: The annual gathering and pubcrawl, SantaCon, originated in San Francisco in 1994 and has since expanded to over 300 cities.
3. Portland, OR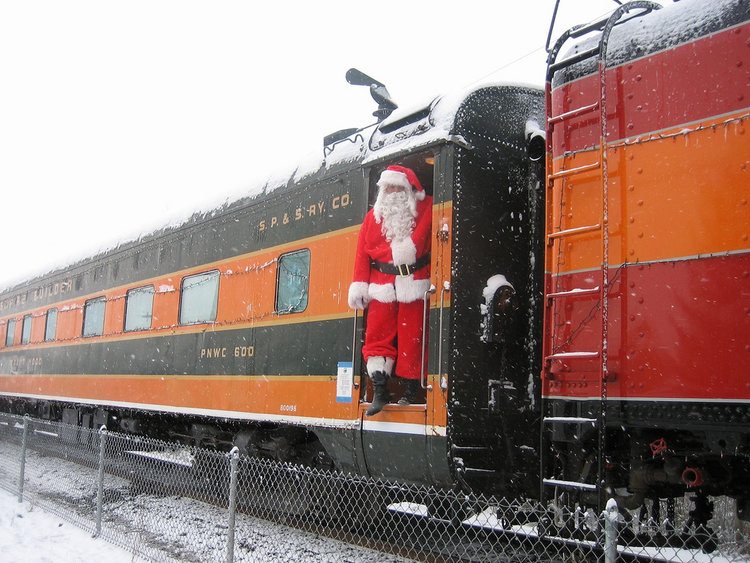 Portland is a bit of a haven for artists and artisans alike, so if you're looking for unique gift ideas it's a great place to visit. The city is full of stores selling locally produced goods. If you want to see as much as possible check out the Multnomah Arts Center's Artful Gift Sale or the Christmas bazaar at the Portland Expo Center. When you're in Portland it's easy to get one-of-a-kind gifts for everyone on your Christmas list.
If you're 21 years or older consider taking a trip to the Holiday Ale Festival. Portlanders appreciate good beer, and you'll find beverages from dozens of local brewers. It's a great way for grown-ups to warm up with a bit of liquid cheer. Fortunately, with Portland's high walkability score it's incredibly easy to go from one event to the next on your own two feet. If you're in the area you'll definitely want to check out as much as you can.
Fun Fact: In the iconic Portland city sign, the jumping deer's nose shines bright red every holiday season.
4. Washington, DC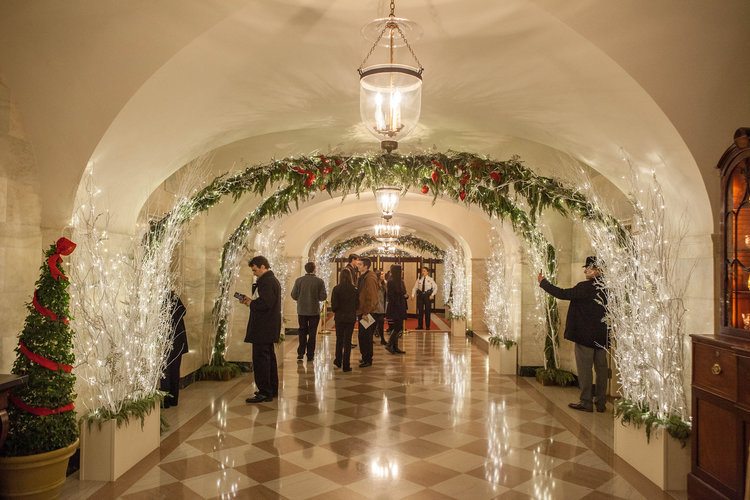 It's rare that jolly news comes from the officials in our nation's capitol. But the city is much more than the home of the three branches of government, it's also home to some of the jolliest people in the country. One of the best places to experience the season is at the National Christmas Tree. Events are held in front of the tree all December long, but the lighting ceremony is one of the most monumental Christmas traditions in the nation. Just know that you have to buy tickets and arrive early to see the lighting ceremony. But don't stress if you can't get in. The festivities go on all month long, with concerts at the tree just about every night!
Washington DC is a beautiful city all year long, filled with majestic buildings and grand monuments. Things only get better when everything is decked out for the holidays and people gather around to ring in the season. We found that the city has one of the highest number of Christmas events per capita.
Fun Fact: In 1934, President Andrew Jackson threw an extravagant Christmas party for his kids and grandchildren, which included an indoor snowball fight.
5. Cincinnati, OH
Few cities in America appreciate baked goods like Cincinnati. Local establishments like Abby Girl Sweets, Jean Paul's Paradiso, and Bonomini Bakery ensure that the city is well stocked with cakes, pies, cookies and tarts. Consider eating your baked goods a la mode with some Graeter's Ice Cream, a favorite local treat for over 140 years!
The good people of Cincinnati don't just enjoy buying food for themselves, they also purchase it for others. The city has the third-highest number of food pantries per capita on our list. Every year Cincinnati citizens help the Freestore foodbank distribute over 20 million meals. That's the sort of number that can't be achieved without a community that's exceptionally caring. If you are a music lover, check out Holiday Pops performed at The Cincinnati Music Hall, which has been home to some of the country's greatest performers since 1878.
Fun Fact: Cincinnati celebrated its first Christmas tree in 1913 at Fountain Square. It was 45 feet tall and included 2,000 electric lights.
6. Minneapolis, MN
There are few Christmas specials as popular as A Charlie Brown Christmas, and that special would never have happened without Minneapolis. The creator of the special, Charles Schulz, was born and raised in the city. Anyone who has had a white Christmas in Minneapolis understands that it's a city that knows what Christmas is all about.
The people of Minnesota are known for being nice, to the point that the term "Minnesota nice" is used throughout the country. This perception is validated by how giving the people of Minneapolis are. They made our list thanks to their generous number of food pantries per capita. Food banks like Second Harvest Heartland helped to distribute 89 million pounds of food in 2014!
Fun Fact: Although Christmas lake, located in western Minneapolis, sounds like a beautifully decorated Christmas display, it got its name from Charles W. Christmas and actually has nothing to do with the holiday itself, contrary to popular belief.
7. Seattle, WA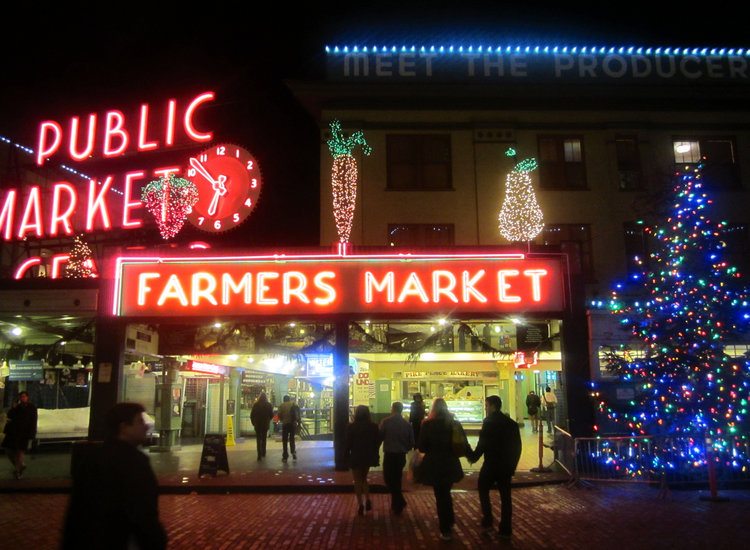 From spectacular outdoor displays to holiday bazaars to indoor snow showers (that's right, indoors), Seattle has Christmas joy covered. The Emerald City loves local celebrations like the Festival of Trees, where visitors can stroll by festively decorated firs for their own decor inspiration and, better yet, make a donation to benefit the Seattle Children's Hospital. Also, did you know New York City isn't the only city with a Macy's Parade? The holiday cheer continues every November in downtown Seattle with the Macy's Holiday Parade!
And those are only two holiday events to get Seattle excited. The city ranked fourth in Christmas events overall, with more than 50 every year spreading yuletide joy. Not to mention they placed in the top 10 for commuters, so everyone can get to their holiday party after the 9 to 5 on time. No road rage makes for a happy caroler!
Fun Fact: Home to the original Starbucks, Seattle also hosts a holiday pop-up shop at Starbucks Reserve Roastery and Tasting Room, where only selected special reserve coffees are sold.
8. Denver, CO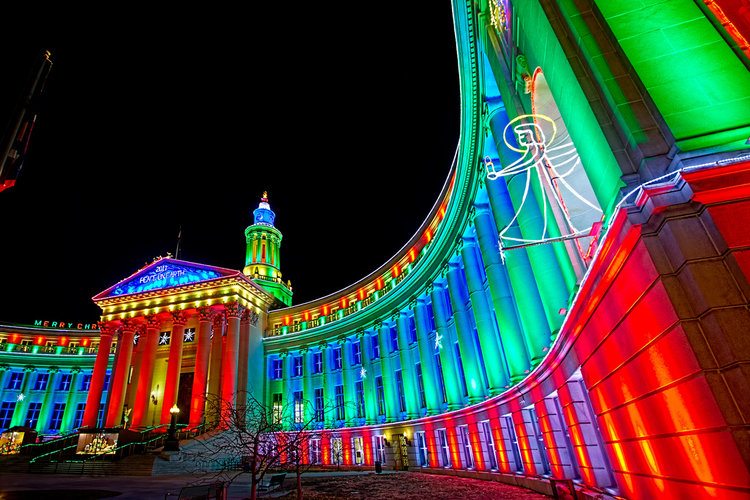 Winter in Denver may be most known for its snowfall, averaging more than 50 inches annually, creating a picturesque landscape that shouts "Happy Holidays!" Denver takes their celebrations so seriously, the mayor even declared the month long affair as the Mile High Holidays, with festive activities like The Nutcracker with the Colorado Ballet, the lighting of the Denver Zoo and strolling Larimar Street's market.
Denver managed to rank in the top 20 across the majority of the categories, showing that the Mile High city can still be the jolliest without all the pomp and circumstance. Most notable was its number of Christmas events, which includes everything from ski resort getaways to outdoor light extravaganzas. Pair that with the beautiful snowy backdrop and you'll think you're living in a Christmas story.
Fun Fact: Historians have agreed that Denver is the first city in the US to display lights outside of their homes. Founder of Sturgeon Electric, D. D. Sturgeon, wanted to bring joy to his sick son by wrapping pine trees with electric lights.
9. Salt Lake City, UT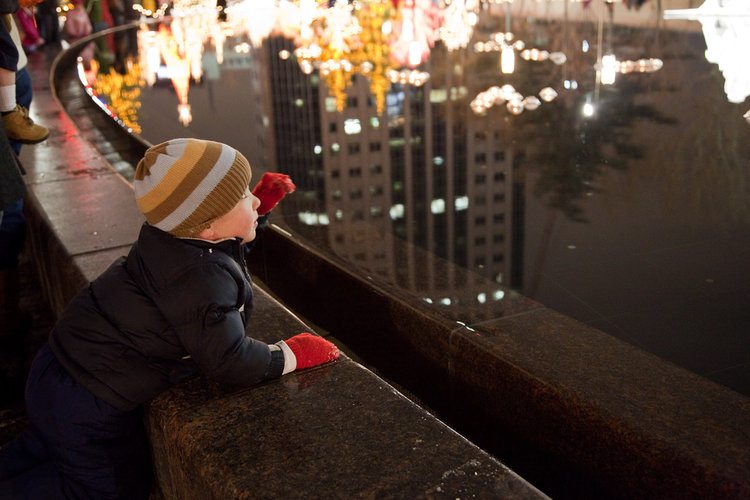 Utah is a state filled with natural beauty, but there are few sights as beautiful as Salt Lake City's Temple Square, all lit up with countless lights. The square also hosts concerts throughout the Christmas season, bringing the city together in yuletide celebration.
If you love milk and cookies as much as Santa, then Salt Lake City is a great city to live in. At local favorites like Gourmandise and Eva's bakeries, you'll find all sorts of holiday favorites to snack on yourself, or serve to Saint Nick. The people of Salt Lake City also have plenty to give thanks for. The city's economy is fairing well, standing out on our top 10 with one of the lowest unemployment rates and an affordable cost of living. That leaves more money for gifts, charity and baked goods.
Fun Fact: For 70 years, a group of neighbors on Glen Arbor Drive transform their street into a magical display of lights, known as Christmas Street.
10. Miami, FL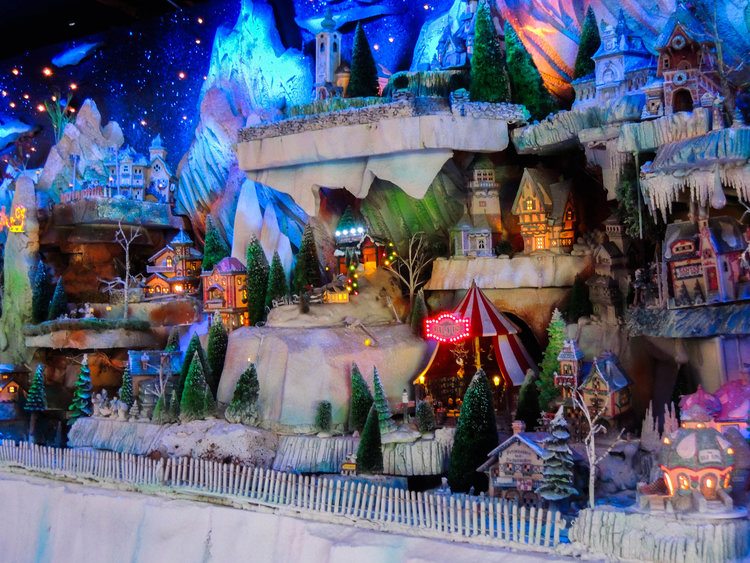 It's hard to imagine a city known for bustling nightlife, exotic beaches and glamorous lifestyles would also be all about the holiday spirit. But before you start doubting The Magic City, not only do they host the world's largest annual holiday theme park—called Santa's Enchanted Forest—they infuse their local culture into every aspect of the holidays, right down to the food. Think hot chocolate with churros or, for the adults, a Puerto Rican-inspired eggnog called coquito.
Miamians are serious about their food, ranking first nationwide in bakeries per capita. Not to worry though, the city also ranked in the top 10 for most walkable, so after indulging in sweets, they don't have to take on any post-holiday guilt. Christmas calories without the pounds? Now that's something to be jolly about.
Fun Fact: It is no surprise that Miami, with its beautiful beaches, holds an annual holiday boat parade. This tradition, hosted by the Miami Outboard Club since 1998, hosts more than two dozen dazzling boats.
Have a Holly Jolly Holiday
If you want to get into the Christmas spirit a trip to any one of these cities should do the job. Each one of them holds events throughout the month of December, so serious Christmas fanatics could even take a tour to see how America celebrates the season.
Whether or not your city is on this list we can all learn from it. Christmas is about appreciating what we have. Our communities, our traditions, and our delicious baked goods. It's also about giving. So get out there and get into the spirit. Whether that means a visit to your local food bank, decking the halls or surprising someone you love with a sweet holiday treat or custom Christmas stockings.