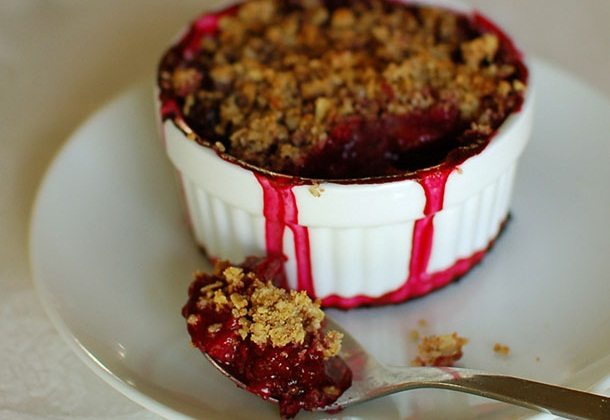 10 Desserts to Look for in 2014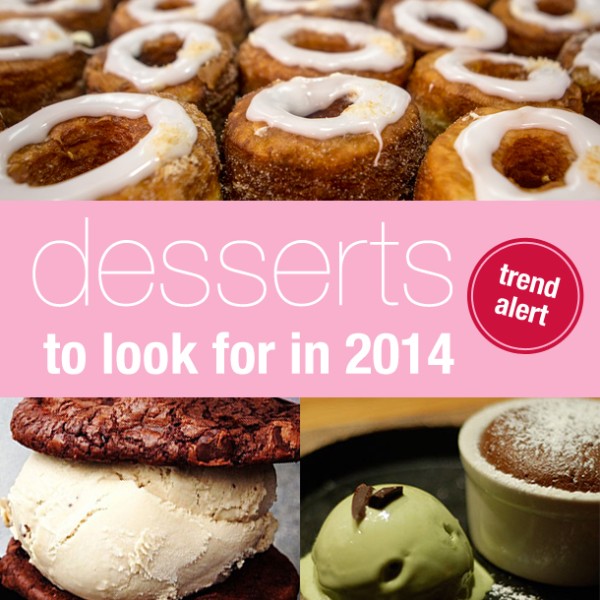 Foodies are always on the lookout for the next great meal. Dessert aficionados are no different. Though we might have a favorite go-to sweet (dipped strawberries), we're always searching for something new to tempt our taste buds.
It might be a classic recipe reimagined with different ingredients, an elaborate dish deconstructed into its simplest form, or a completely unique creation from an up-and-coming chef. For those who love dessert, the pursuit of extraordinary flavors is as fun as the discovery.
As we enter 2014, we can't help but wonder about the delicious surprises that have yet to be revealed. Here are our predictions for the top dessert trends in the coming year.
Hybrid Desserts Still Surprise and Delight
Last year a pastry chef combined the lightness of a croissant with the sweetness of a doughnut initiating a new food craze of hybrid desserts. The Cronut™, the townie (a brownie tartlet), the brookie (a brownie cookie), the crookie (croissant plus Oreo® cookie) and others in this sugary smorgasbord all aim to delight dessert lovers with an unexpected pairing of favorite flavors. Though the trend will likely morph in 2014, it's by no means coming to an end.
Ice Cream Sandwiches Overtake Cupcake
"This year's trends are about the experiential," said hospitality consultant Andrew Freeman in his company's annual trends report. Freeman predicts ice cream sandwiches will be the top way to satisfy your sweet tooth in 2014. With limitless opportunities to mix-and-match flavors, imaginative chefs can capitalize on cutting-edge food fads to create a new experience for jaded foodies or lead diners on a trip down memory lane with nostalgic combinations that taste like childhood.
In Washington, D.C., chef Jason Gehring is experimenting with recipes like pineapple ice cream on a coconut doughnut and raspberry-verbena ice cream on a passion fruit doughnut. For the rest of the country, Coolhaus is taking this trend from the food truck to a freezer near you with treats like the chicken and waffles ice cream sandwich and the Louis Ba-Kahn (chocolate chip cookie with brown butter and candied-bacon ice cream).
Nostalgic Desserts Make a Comeback
Speaking of nostalgia, classic comfort foods are making a comeback, according to Nestle Professional. Old-fashioned sweets like cobbler, bread pudding and pie satisfy the soul with warm memories of homemade baked goods. Also look for childhood favorites, such as bar cookies and whoopie pies, to share the spotlight.
Pies Attract More Attention
Imaginative fillings and creative crusts are fueling a fresh trend in baking that's anything but humble. Today's pies are signature desserts that highlight seasonal fruit, showcase regional delicacies or combine classic ingredients in new ways.
Shops like Four & Twenty Blackbirds in Brooklyn, N.Y. have earned their popularity one slice at a time with unique recipes like Cranberry Sage and Grapefruit Custard. Some savvy pastry chefs are even taking a page from the cupcake playbook and making single-serve pies that are just the right size for an impromptu treat.
Pastry Chefs Use Nut Milks to Boost Flavor
Nut milks are making an appearance on dessert menus across the country. According to Nation's Restaurant News, chefs are touting the nutty richness of almond, cashew and pecan milks. Jason McClure of Sazerac in Seattle, Wash. boosts the flavors in his banana-pecan-bourbon bread pudding by adding pecan milk, while Gregory Gourdet, chef of Departure in Portland, Ore., accompanies his strawberry and Asian pear crisp with a bowl of almond-milk ice cream.
Desserts Become Drinkable
Last year brought boozy desserts to the mainstream in the form of adults-only milkshakes and beer floats. This trend will continue in 2014, but expect to find more liquid sweets with options that are alcohol-free. Met Back Bay in Boston, Mass. offers a dessert flight with four decadent variations of hot chocolate. At BurGR in Las Vegas, Nev., international restaurateur Gordon Ramsay serves up pudding shakes—thick, creamy milkshakes generously topped with pudding.
Pudding Takes on Unexpected New Forms
Ramsay's milkshakes aren't the only place to find pudding in 2014. Janet Carver, culinology group manager for Ingredion Inc., tells Food Business News to expect more pudding this year, but with an "innovative twist." Premium toppings and decorative accents separate modern puddings from their smoother, silkier forebears.
The Root Beer Pudding, topped with crushed root beer candies and smoked cashews, at Alder in New York City is a good example. Chef Jose Andres at Jaleo in Washington, D.C. uses variations of flavor and texture to excite customers. His arroz con leche 'tia Chita' infuses caramelized rice pudding with vanilla, lemon and cinnamon.
Eclairs Get a Makeover
Parisian chef Christophe Adam has given the traditional chocolate eclair a makeover for 2014. The modern version is as glamorous as ever, but now sports a playful palette of colors and flavors. Look for this trend to pop up in the U.S. with fillings infused with yuzu, passion fruit, salted caramel or pistachio.
Tea-Infused Desserts Get More Exotic
Cream and sugar are natural companions to tea, so it's not surprising that dessert chefs are finding inspiration from this season's hottest ingredient. Green tea is already a common flavor in everything from ice cream to macarons, but look for other tea-inspired treats in 2014. New dishes are likely to include herbal infusions of Earl Grey, hints of Southern-style sweet tea or complex layers of chai and rooibos.
Mini Desserts are a Big Hit
Sometimes a bite is just the right size and sometimes we want a bite of everything. Either way, 2014 is the year to indulge because mini desserts are expanding in popularity. Dessert lovers will have more choices such as savoring a solo sweet, sharing a sampler of signature dishes or indulging in a flight of dessert tastings. In Charleston, S.C., Fish offers mini dessert Dim Sum, letting customers choose four items from their seasonal menu of sweets.
Seize the Day — and the Dessert Menu
As we move into a new year, remember: never put off until tomorrow that which you can eat today. Enjoy every bite because, like any good trend, these desserts will eventually evolve, change and give way to the next must-try foodie fad.