Ingredients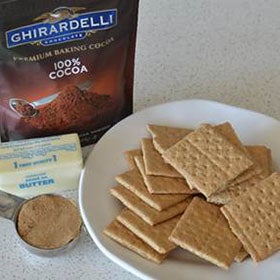 For the Crust

10

Graham Cracker Sheets or 1.5 C Graham Cracker Crumbs

¼ Cup

Light Brown Sugar

½ Cup

Melted Butter

2 Tbsp

Cocoa Powder

1/2 Tbsp

Vanilla Extract

For the Filling

1 Can

of Pumpkin

1 Cup

Light Brown Sugar

2 ¼ Tsp

Tsp Pumpkin Spice Blend (Or 1 Tsp Cinnamon, ½ Tsp Ground Ginger, ½ Tsp Ground Nutmeg, 1/8 Tsp Clove)

½ Tsp

Salt

1

Whole Egg

2

Egg Yolks

2 Tbsp

All Purpose Flour

1 Cup

Evaporated Milk

¼ Cup

Whipping Cream

1 Tsp

Vanilla Extract

½ Cup

Semi-sweet Chocolate Chips
1

Place Graham Cracker sheets in a food processor and pulse until they resemble coarse sand. If you don't have access to a food processor, place the Graham Cracker sheets in a plastic food bag and use a rolling pin to crush them finely.

2

Stir the melted butter, brown sugar, and cocoa powder into the cookie crumbs until fully combined.

3

Use the bottom of a measuring cup to press the crumb mixture firmly into place along the bottom of your pie dish and your hands to press it into the sides.

4

Blind bake the pie crust at 300°F for 10 minutes, then set aside to cool fully. Raise the oven temperature to 400°F.

5

While the crust cools, put the pumpkin puree in a blender with the sugar, spices and salt. Blend on high for 5 minutes or until the pumpkin/spice mixture looks shiny and smooth. Blending the pumpkin puree gives the finished pie a silky-smooth finish.

6

Cook the pumpkin/spice mixture over medium heat for 5 minutes or until the pumpkin starts smelling cooked and making "plop" sounds. Cooking the pumpkin reduces the raw pumpkin's slightly bitter after-taste.

7

In a separate bowl, whisk together the whole egg and two egg yolks until fully combined. Spoon a bit of the warm pumpkin mixture into the whisked eggs to warm them up and prevent them from cooking when you incorporate them into the pumpkin mixture. Pour the warmed eggs into the pumpkin mixture and blend well.

8

Whisk the all-purpose flour, evaporated milk, whipping cream, and vanilla extract into the pumpkin mixture.

9

Once your pumpkin filling is well blended and your pie crust is cool, sprinkle the chocolate chips all over the bottom of the pie crust and place the pie dish onto a cookie sheet near your oven, or, ideally, on the slightly pulled out center rack of your oven.

10

Carefully pour the pumpkin mixture into the pie crust and slide into the oven. Filling the pie dish right in the oven helps keep the filling from sloshing out when you move the pie.

11

Bake for 40 minutes at 400°F or until the top of your pie is slightly domed and barely jiggles in the middle. Cool fully, ideally for 24 hours before serving. Serve with a healthy dollop of whipped cream and take a moment to reflect on how grateful we all are that pumpkin and chocolate are a match made in heaven.