Ingredients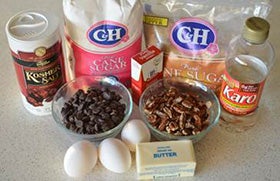 1

9-inch pie dough

1 Cup

Chopped Pecans

3

Eggs

3/4 Cup

Sugar

1/4 Cup

Dark Brown Sugar

1 Cup

Corn Syrup

1/3 Cup

Melted Butter

1 Tsp

Vanilla Extract

1/4 Tsp

Salt

1 Cup

Chocolate Chips
1

Preheat oven to 350°F.

2

Butter a pie tin and line with the pie dough. Set aside.

3

Spread the chopped pecans into a rimmed cookie sheet or cake pan and toast in the oven for 8-10 minutes until they smell nutty. When you remove the pecans from the oven, increase the oven temperature to 375°F.

4

In a medium sized bowl, whisk the eggs until just blended and add the sugar, brown sugar, corn syrup, melted butter, vanilla and salt. Whisk until well blended.

5

Layer the chocolate chips onto the bottom of the pie crust and top with the toasted pecan bits.

6

Pour the whisked sugar mixture over the chocolate and pecans. The pecans will magically rise to the top.

7

Loosely cover the pie with a sheet of aluminum foil and place into the oven for 20 minutes. After 20 minutes, remove the foil and cook for another 30 minutes, until the edges of the pie have started to set and the center of the pie is jiggly. The pie will continue to set as it cools.

8

Let the pecan pie rest overnight and serve topped with a scoop of vanilla ice cream or as is. Pecan pie is especially good when slightly heated.