Harry & David Benefits & Work Life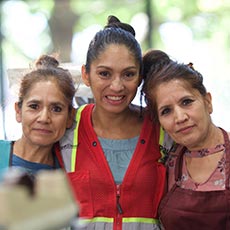 Whenever we ask our employees "what makes working here so great," the answer is most often about the people. Talented individuals from all walks of life come together every day to solve problems, share ideas, motivate each other, and do whatever it takes to get the job done, promoting a hands-on work ethic at every level. We play together—whether it's a walk around the pond and surrounding pathways, a ping-pong match in the break room, or game of touch football at lunch. We support our community together—teaming up to aid local charities through contributions of time and fundraising. And we show up for each other—to celebrate each other's accomplishments both at work and in life.
Benefits
Harry & David offers a competitive salary and comprehensive benefit package.
Full-time employees are eligible to participate in the following benefits:
Health insurance, including medical, dental, and vision care
Life insurance, including the option to elect supplemental coverage
Short and long term disability insurance
Pre-tax healthcare and dependent care reimbursement accounts
Paid time off—new employees receive three weeks of PTO annually
Nine paid holidays
Retirement Plans—the option to participate in the 401(k) retirement savings plan
Employee Assistance Program (EAP), a pre-paid counseling and informational service covering everything from personal concerns to personal growth
Part-time employees are eligible to participate in the company benefits programs listed above upon averaging a specific number of work hours within a specified and consecutive 52-week period of time.
Employee Discount
All employees receive a 30 percent discount on all Harry & David, Wolferman's, and Stock Yards purchases, as well as products from all other companies within the 1-800-Flowers Family of Brands.
Many local business, services, and attractions also offer generous discounts to Harry & David employees.