In 2010, mobile smartphones had already begun rewiring American buying habits, and 1-800-Flowers.com CEO, Jim McCann, and President, Chris McCann, knew that the sheer volume of data pumped out by digital devices would allow brands to connect more personally with customers. It would revolutionize e-commerce.
Since the company had opened its doors in 1976, this data boom—and all the software to save, measure and interpret the information—represented the fourth wave of transformational technology for Jim and Chris. He had seen the spread of 1-800 phone numbers in 1980s, the advent of the Internet in the 1990s and the birth of mobile commerce in the 2000s all re-shape his company's business. And just as 1-800-Flowers.com had responded to those earlier sea changes, the McCanns - with the help of innovation expert Amit Shah-embraced this new challenge.
By 2011, 1-800-Flowers.com was investing in data warehousing, undertaking massive statistical analysis and fostering data-driven-thinking in all corporate areas. The Digital Leadership Program was chartered to act as a pioneer in the evolving landscapes ofdata and digital marketing, and to lead company experimental and entrepreneurial projects. In 2012, the program hired its first associate, Sumantro Das.
Today, the DLP leads some of the company's most complex and ambitious efforts. As an innovation lab, it manages company platforms (desktop, mobile, tablet and apps), new brands -such as FruitBouquets.com, Florists.com and International Sales-and special projects, like enterprise analytics and conversion optimization.
"The DLP will alter our DNA. Only a select few will be invited to enter our DLP program. They are our version of Navy Seals. Smart. Nimble. Intellectually Curious. Team-oriented. They like having fun and love a challenge - characteristics that make for good DLPs."
Jim McCann, Founder, 1800Flowers.com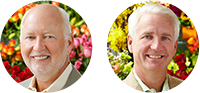 Jim McCann is a highly successful entrepreneur whose vision and energy have helped grow 1-800-Flowers.com, the company he founded in 1976, into the world's leading florist and gift company. McCann's focus on customer relationships and his willingness to embrace new technologies and business channels helped change the way flowers and other gifts are marketed for birthdays, anniversaries, holidays and special occasions.
Chris McCann is President of 1-800-Flowers.com and is responsible for the Company's overall performance and direction. Under his guidance, 1-800-Flowers.com has earned a reputation as one of the leading multi-channel retailers in the country. Additionally, McCann's role in building 1-800-Flowers.com's e-commerce channel has helped accelerate the Company's growth and earned him speaking engagements at numerous interactive conferences and universities around the country.