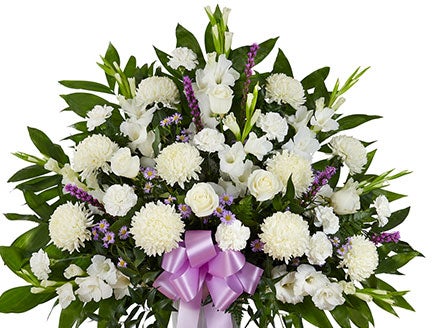 "I got distracted and forgot to order flowers for my uncle's funeral. Friday night before the 9:30 am Saturday service, I called my regular florist, but they were unable to get my flowers there in time. So I called your company from the link at my uncle's funeral home. Even with such late notice, a kind agent named Daniela got on the phone with the local florist to confirm she could do it, and YES!…there was my beautiful arrangement, just like the picture, at 9:15 am Saturday morning! I am SO impressed, and you're now my regular florist."
— Terry.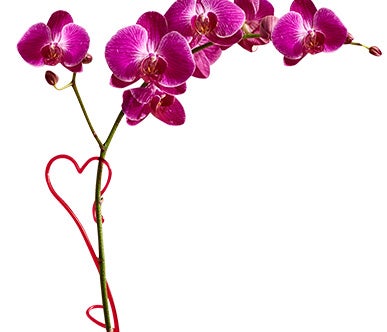 "Last year a friend's mother passed away. A few friends got together to send an arrangement to the family in New Jersey. Soon after I ordered, I got a call from [the 1-800-Flowers.com] Customer Service team. The local florist that was given our order had received 3 orders that day with the same arrangement request for this family. Knowing that they were all going to the same recipient, the florist had contacted 1-800-Flowers to reach out to me to suggest a different arrangement so that the family could enjoy another bouquet, and not receive 3 of the same thing. I thought it was very thoughtful of our florist to reach out instead of just fulfilling the order as is...and Customer Service contacted me in time to switch the order but still get the delivery out on time. The family enjoyed the support and gift the next day."
— Natasha Z.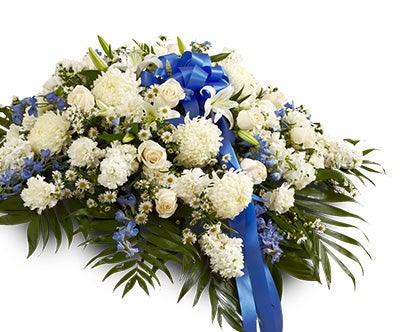 "When my grandmother passed away, I wanted to have flowers sent to the funeral home in Florida. Since I live in New York and wouldn't be arriving until the day of the funeral, there was no way I could make it to the florist to order in person. Ordering online was a much easier experience than I thought it would be, and I felt like my order was really taken care of. Knowing that they put extra care into ensuring the blue & white casket spray I ordered arrived on time and was as beautiful as pictured gave me some peace of mind during a difficult time."
— Jessica F.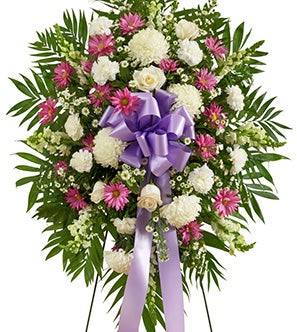 "My best friend's mother passed away suddenly at the young age of 67. There are no words when something that terrible happens, but the funeral standing spray we sent was beautiful and expressed to the family that they were in our thoughts and prayers. I was glad that we were able to order her mom's favorite color, too: purple."
— Sara R.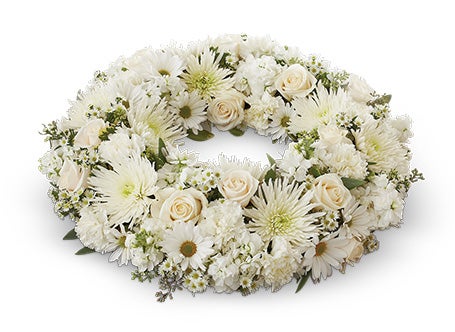 "It was a very difficult time for my sister-in-law when her own sister suddenly passed away. The wake was quickly set and, since most of my nuclear family couldn't attend because of the distance, we ordered a sympathy wreath that showed our family support. We love our sister-in-law and were fond of her sister. When the wreath was delivered to the funeral home, it helped us communicate our sympathies in some small way."
— John R.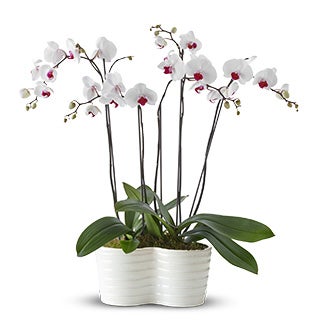 "A while back, a friend's mother passed away and I sent her an orchid to extend my sympathies. I was unprepared for what happened next. I received an amazing thank you note that stated she'd placed the orchid on her piano (which her mother loved to play) and each time she walked in the room she was brightened by it. Then she went on to remark about the lilies I had sent 7 years before, when her father passed. I was struck by how the smallest of kindnesses we show can have such a lasting effect."
— Mark L.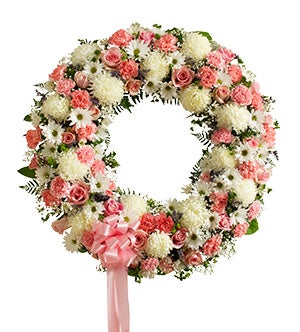 "When someone you love experiences a long illness, you imagine that when the time comes you will be prepared, but you never are. My mother was a avid gardener and she loved flowers. When I had to decide on the floral arrangements for her service, I had so many wonderful color options to choose from. When I called to place the order I was distraught and confused. I spoke with a Sympathy Advisor, who was able to provide guidance that was incredibly helpful. She said: 'Think of your mother and who she was and what she loved, and the choice will come to you.' She was so right. I chose Serene Blessings, a standing basket that reminded me of my mother's vibrant personality and her colorful garden."
— Valerie G.