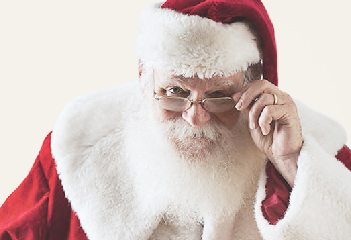 What Santa Eats Around the World

Wait, there's more …
We've gathered a few more interesting Christmas food facts.
Norway: If you aren't a huge fan of cod, you may want to stop reading. Lutefisk is traditionally served after being treated with lye, dried and salted. That's right, lye, an ingredient used to make soap.
Venezuela: Hallacas are similar to tamales and are made in batches of 70-200 at a time. The process usually takes all day (and night), but is well worth it. Hallacas are made out of meat stew wrapped in corn meal and covered in a plantain leaf. Most of the time they are given as presents and are eaten up to three times a day! For a Hallaca recipe and video check out Pica Pica's blog.
Lithuania: If you're extremely hungry on Christmas, Lithuania is the place to be. On Christmas Eve, there is a dish for every apostle including sweet cabbage dumplings, potatoes, Christmas bread, beet soup and herring—no meat, eggs or milk are allowed during this meal. During Christmas day, there are no restrictions. Meat, including roasted turkey, goose and pork are part of the main course.
Spain: Turron is a sweet almond nougat that has served as the staple Christmas treat for many years. It's so popular they even have a museum that displays its history and the process of how it's made. If you worked in Spain, this would be something your boss gets you—along with wine or whiskey!
Your Sweet Christmas Tradition
Wherever you live, the holidays are all about family, food and sharing traditions. And if you can't sit at the table with your friends and family you can still share the dessert! Make everyone merry with glitter-sprinkled strawberries, cheesecake Christmas trees, snowman brownie pops and more delicious Christmas gifts from us.