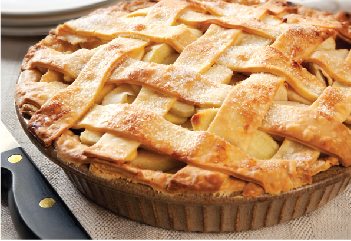 Staff Favorites: Thanksgiving Recipes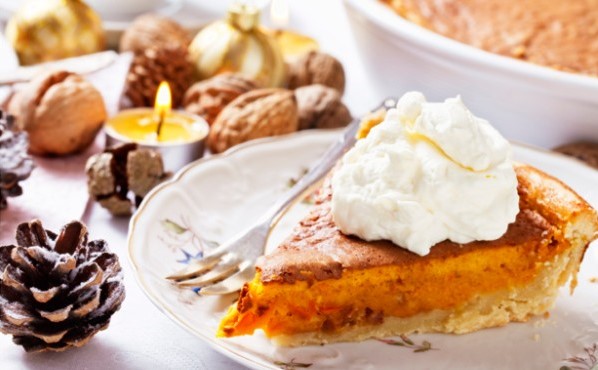 Tawny Pumpkin Pie
"Every year for over 40 years, my Mom made this pie to serve at our family's Thanksgiving dinner. And every year she told us this story about our Dad (who passed away when we were quite young). Apparently, my mom often made this pie right after they were married and would send pieces with him for lunch. Since he never said differently, she thought he liked it. And as a result, she kept making it, until one day, a friend from Dad's work came to dinner and raved about my Mom's pumpkin pie!" – Laura Szeliga, Vice President and General Manager
1 ½ cups cooked or canned pumpkin
¾ cup sugar
¼ tsp. ginger
1 tsp. flour
1 cup evaporated milk
1 unbaked 9" pie shell
¼ tsp. salt
1 tsp. cinnamon
2 eggs, slightly beaten
½ tsp. vanilla
2 tbs. water
Heat the oven to 425 degrees F. Combine pumpkin, sugar, salt and spices in a bowl. Add eggs. Mix well. Add evaporated milk, water, flour and vanilla. Mix. Pour into shell. Bake at 425 degrees, 45-50 minutes.
Brandied Chocolate Cherries
"You do taste the brandy so these are an adult treat, not for children!" – Kathleen Shelton, Merchandise Product Manager
1 bottle maraschino cherries
1 cup Brandy
½ bag chocolate chips
Take the bottle of maraschino cherries and drain out the syrup. Add brandy to the jar in place of the syrup and put in the freezer overnight. (The brandy won't freeze, so it keeps the jar from breaking.) Line a cookie tray with foil or parchment paper. Melt ½ bag of your favorite chocolate chips in a double boiler. If the chocolate gets too thick, add a bit of milk. If it's too thin, add more chocolate chips. Take the jar out of the freezer. Dry the cherries one by one with a paper towel and dip in the chocolate. (Make sure each cherry is very dry or the chocolate won't stick.) Put them on the cookie tray and put the whole thing in the fridge to set.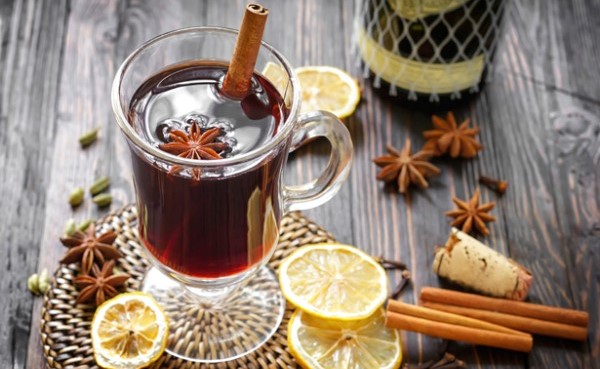 Mulled Cider
"My family celebrates the holidays in New Jersey. After a big dinner we love to stroll around the neighborhood and admire the Christmas lights and decorations (the neighbors start early). It's a nice way to get into the spirit, especially with a thermos of hot mulled cider, perfect for staying toasty on a chilly East Coast evening."— Kate Lange, Art Director
2 quarts apple cider
Orange peel, studded with whole cloves (about 8-10)
Lemon zest – peeled into 5 strips
2 cinnamon sticks
2 pieces whole star anise
3-4 whole allspice berries
Brandy (optional)
Peel orange and press whole cloves into peel. In a large saucepan, bring cider, orange peel, lemon zest and spices to a boil; cover and remove from heat. Let steep at least 20 minutes (or up to 4 hours). Ladle into mugs or travel thermos (be careful not to include solids). Add a splash of brandy for a kick.
Not My Nana's Chocolate Pie
"My Italian grandmother made everything from scratch, from fresh-baked pizza to pies. One of my favorite holiday desserts was her whipped-cream-topped chocolate pie — so simple, yet so delicious. As I grew into a gluten- and sugar-free adult I thought I'd never taste anything like it again. Until, after some experimenting, I finally did it. I baked a chocolate pie almost as good as Nana's." – Christine Champ, Senior Copywriter
Gluten-Free Pie Crust:
1½ cups almond flour
¼ tsp. sea salt
¼ tsp. baking soda
½ cup grass-fed butter
2 tbs. raw coconut nectar or agave
1 tsp. vanilla extract
Heat oven to 325 degrees F. In a medium bowl, combine almond flour, salt and baking soda. In a small bowl, combine butter, nectar and vanilla. Stir wet ingredients into dry. Pat dough into a 9½-inch glass pie dish. Bake at 325 degrees for 10 to 15 minutes, until golden brown.
Chocolate Filling:
2 cans coconut milk (14 ounces)
pinch sea salt
¼ cup arrowroot powder
½ cup raw agave nectar or coconut nectar
2 tbs. vanilla extract
2 cups baker's chocolate or 70% raw chocolate
Bring coconut milk and salt to a boil in a medium pot. Sift arrowroot powder into the pot. Whisk vigorously by hand or with a hand blender for 2 minutes. Whisk in agave and vanilla. Remove from heat and let stand for 1 minute. Add chocolate, stirring until completely melted. Chill in refrigerator for ½ hour. Place in cooled pie crust.
Whipped Coconut Cream Topping:
2 cans coconut milk
2 tsp. vanilla
Sweetener to taste (I use Truvia or Stevia)
Open the cans of coconut and scoop out the solidified cream at the top. Save the coconut water to drink later (or just toss it). In a bowl, add the coconut cream, vanilla and sweetener. Blend with an electric mixer until it reaches whipped-cream consistency. Though it's best served right away, you can refrigerate it for later use. If you want to get fancy (and have a bit of artistic skill), spoon the whipped cream into a decorating or piping bag and trace a festive leaf or turkey on the pie before serving.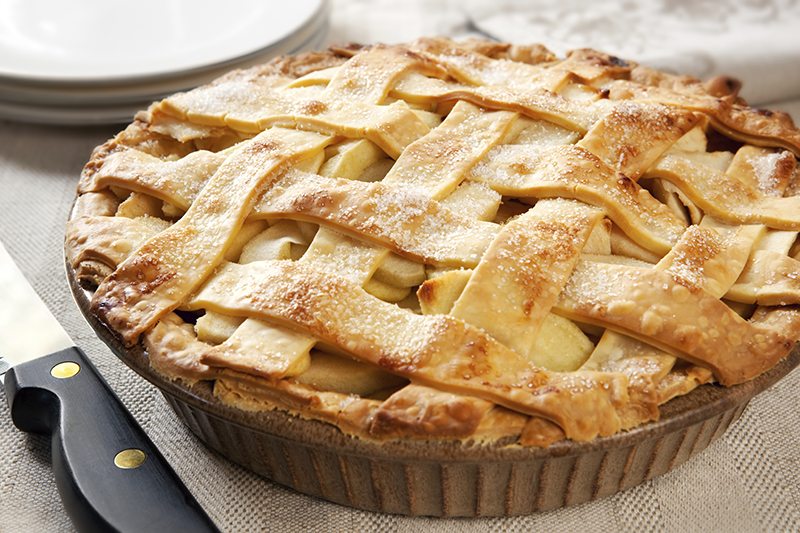 Tart Apple Pie
"I love this recipe because it's pretty tart, so it's delicious topped with vanilla ice cream. It's also a family favorite for breakfast the next day, as it keeps really well." – Sanem Ahearn, Senior Manager, Retention Strategy
2 tbs. self-rising flour, plus more for dusting
Ready-made pie pastry with extra dough for cover
8 Granny Smith apples, peeled, cored and sliced
3/4 cup sugar, plus additional for pie top
Zest and juice of 1 lemon
2 tsp. cinnamon
Pinch ground cloves
2 tbs. unsalted butter
1 large egg, beaten
Heat oven to 375 degrees F.
In a large bowl, combine apples, sugar, lemon zest and juice, spices and flour. Toss well. Spoon apples into pie pan. Dot with butter and cover with remaining pie dough. Cut several steam vents across top. Seal by crimping edges as desired. Brush with beaten egg, and sprinkle with additional sugar.
Bake until crust is brown and juices are bubbling, about 1 hour. Let cool on wire rack before serving.
Simple Pumpkin Mousse
"Pumpkin shouldn't be just for pies. For this recipe, I added nutmeg, cinnamon and more fall flavors to my classic chocolate mousse. I often make this in early August in anticipation of fall. It's such an easy recipe, you can make it in minutes. A designer at heart, I serve the mousse with chocolate shavings or ginger snaps in an elegant cocktail glass for a dessert that looks as good as it tastes."— Tia Krupa, Senior Designer
1 15 oz. can pumpkin puree
3 cups heavy cream
1 tsp. pumpkin pie spice
3/4 cup powdered sugar
1 1/2 tsp. ground cinnamon
1/2 tsp. ground ginger
1/4 tsp. ground nutmeg
1 tbs. vanilla extract
Ginger snaps for garnish
Combine pumpkin, 1 cup cream, and spice in a medium saucepan. Simmer over medium-low heat, stirring occasionally. Once combined, let simmer 5 minutes. Cool completely.
Whip remaining cream, sugar and vanilla to medium peaks and fold into cooled pumpkin mixture. Chill for at least an hour before serving, or until set. Garnish with chocolate shavings or ginger snaps and whipped cream. Yield: 8 Servings