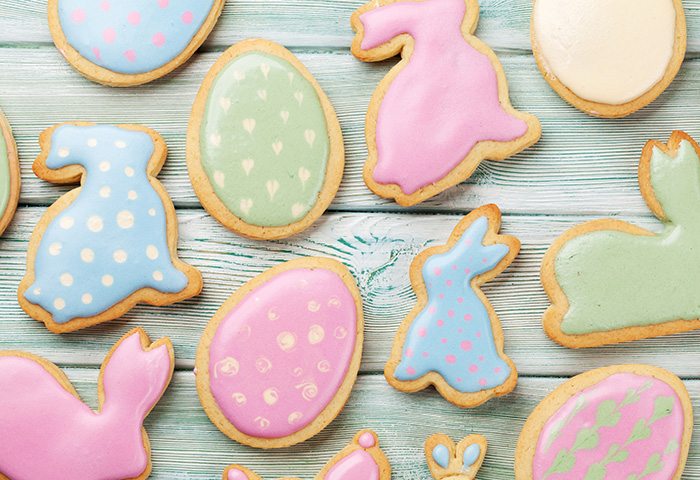 22 Easter Cookie Recipes For Your Celebration
Easter cookies are the perfect treat for springtime. We've collected our favorite Easter cookie recipes with simple and elegant, classic and innovative designs! Play up the pastels, and create adorable animal-themed treats that the kids will love.
1. Bunny Butt Cookies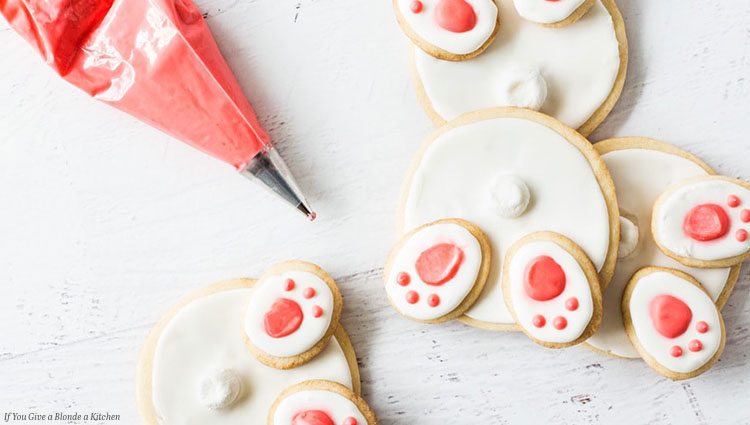 These cookies by If You Give a Blonde a Kitchen are too adorable. We like the new perspective as an alternative to the more common bunny face cookies. Kids and adults will find it hard not to smile at these cookies, because bunny got back.  
2. Vegan Chocolate Sugar Cookies for Easter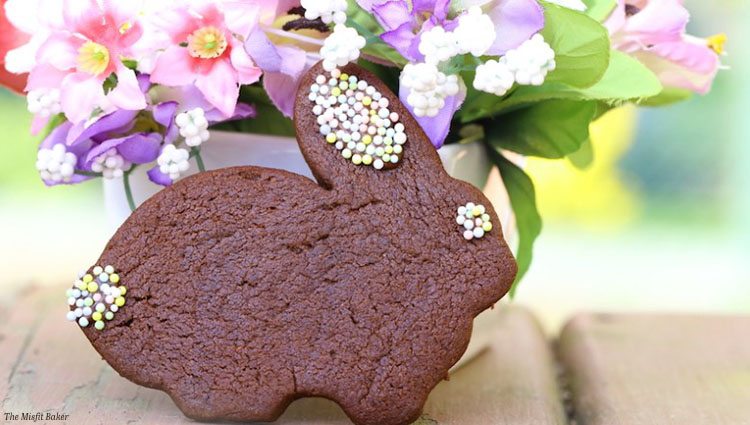 We love Misfit Baker's vegan-friendly take on the classic sugar cookie, and chocolate lovers are sure to love them too. The sprinkles are a super fun alternative to frosting. The classic side profile view resembles those chocolate bunnies that we loved so much as kids.
3. Decorated Sugar Cookies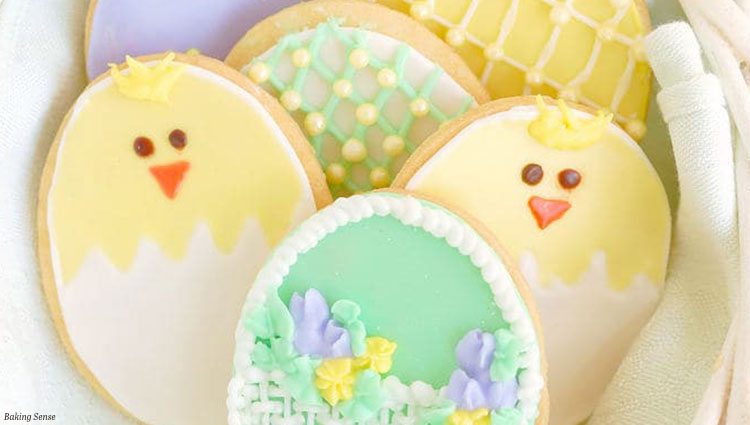 Baking Sense used classic Easter pastels and great technique to create these gorgeous cookies. This Easter cookie recipe would make a great gift or an impressive dessert platter at a party or dinner. They are almost too pretty to eat, but too yummy not to!
4. Easter Chocolate Covered OREO® Cookies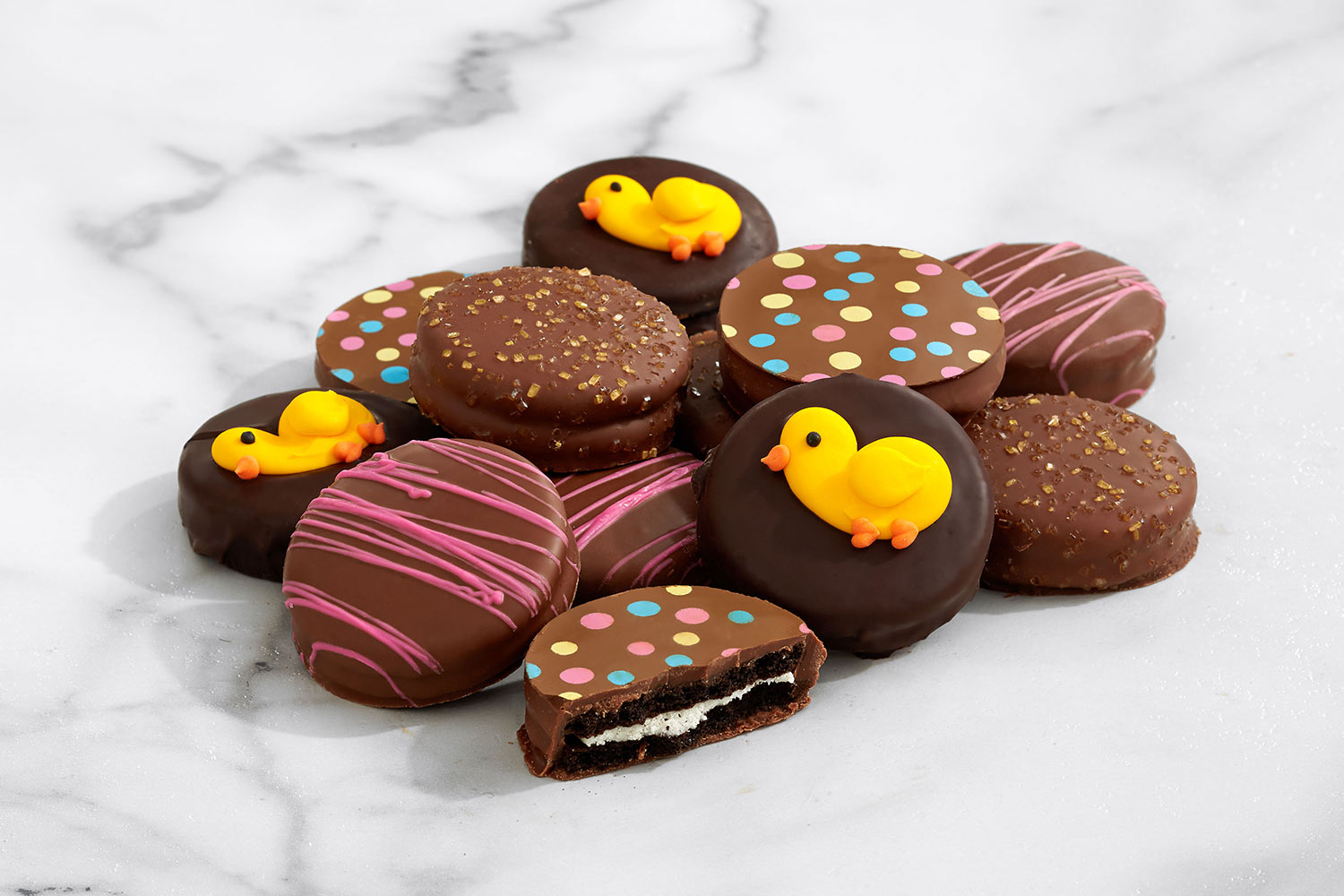 Whether you're looking for a special gift to send or festive treats to fill an Easter basket, Shari's Berries has got you covered. Dipped in rich chocolate and filled with that familiar sweet OREO® flavor, these Easter-themed cookies are ideal for a cheery, fun-filled day with your friends and family.
5. Tortas de Pascua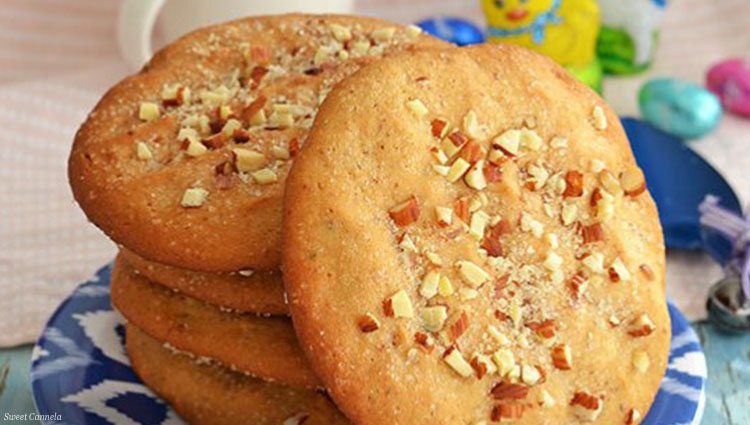 Sweet Cannela's traditional Spanish Easter cookies contain the flavors of almond, anise, orange, sugar and a touch of oil. Their texture is similar to a biscotti and they pair wonderfully with tea or coffee. This Easter, try exploring other cultures' traditions and broaden your knowledge and your taste buds.

6. Malted Milk French Macarons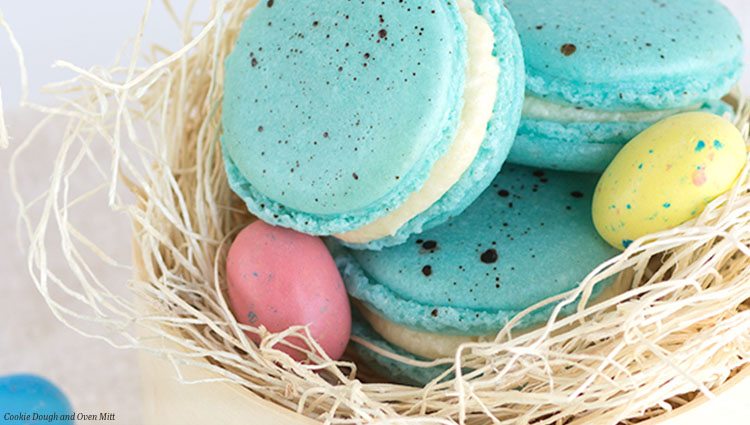 Cookie Dough and Oven Mitt has taken this French staple and made it a perfect fit for an Easter celebration. These robin eggs look gorgeous and taste delicious. They are a little more work than the average cookie, but they are so worth it!
7. Lemon Thumbprint Cookies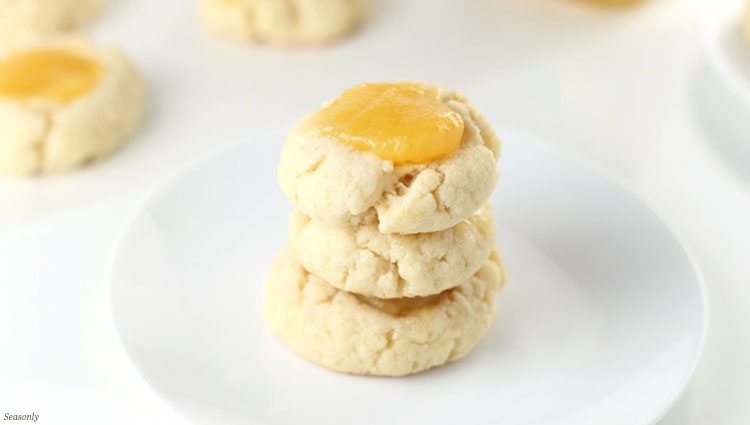 For some reason lemon desserts seem to be synonymous with Easter, and we definitely aren't complaining. Seasonly Creation's thumbprint cookie recipe fun and easy to make. Like mini lemon bars, they boast tangy lemon flavor balanced with a sweet vanilla cookie.
8. Mini Egg Cookies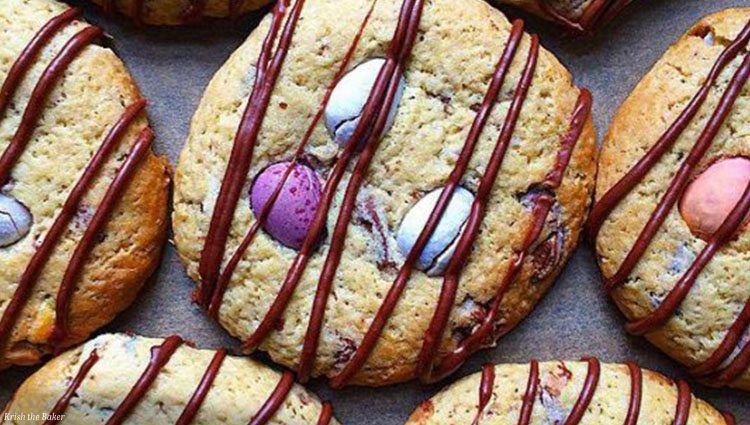 We totally love these chocolate chip cookies all dressed up for Easter. Krish the Baker uses candy eggs instead of the usual chocolate chips and the results are delicious. These cookies are simple, yet so clever and perfect for Easter parties.
9. Pastel Ice Cream Cookies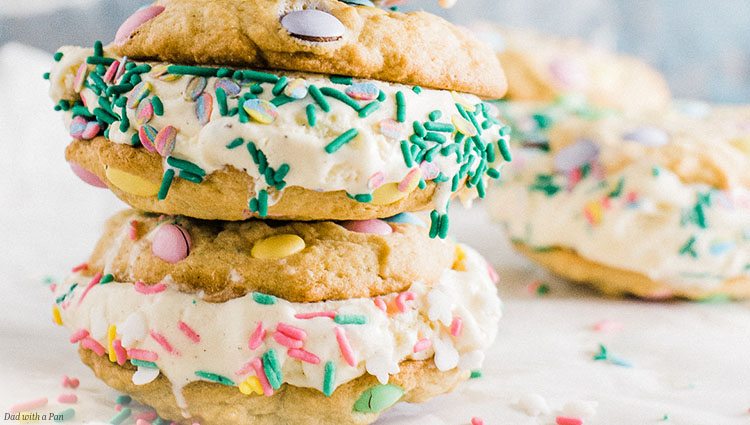 You will love this modern twist on the basic Easter cookie. Dad with a Pan's dessert is super easy to customize with your family's favorite ice cream flavors. These pastel sweets are a creamy, refreshing addition to any Easter celebration.  
10. Easter Bunny Cut Out Sugar Cookies (Vegan and Gluten-Free)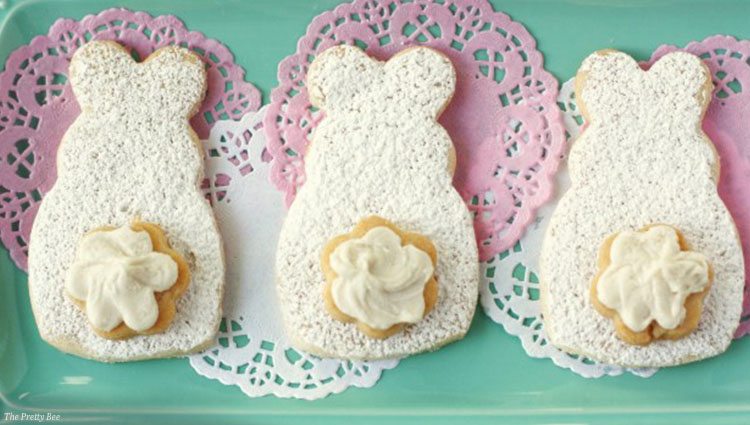 These delicate cookies are perfect for any Easter celebration. The subdued color palette gives these cookies a classic and elegant look. We love The Pretty Bee's recommendation to use cocoa powder in place of the the powdered sugar for a chocolatey version!  
11. Easter Blossom Sugar Cookies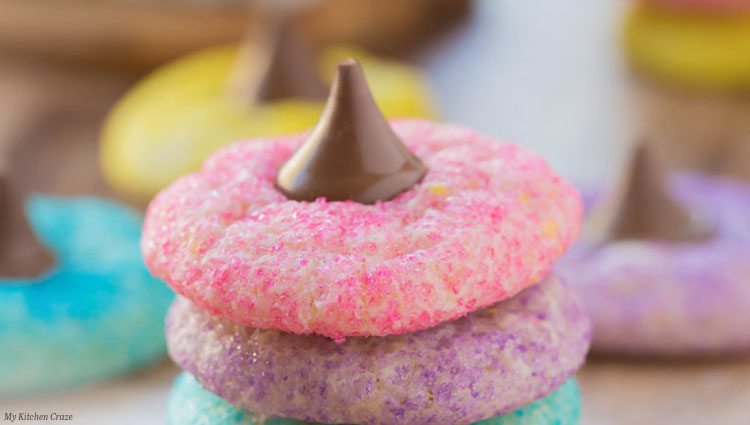 We love My Kitchen Craze's blossom cookie recipe. Chewy, colorful and sweet, these cookies are perfect for spring. They are also ideal for baking with your kids because of how fun and easy they are to make.
12. Toasted Coconut Shortbread Cookies (Vegan and Gluten-Free)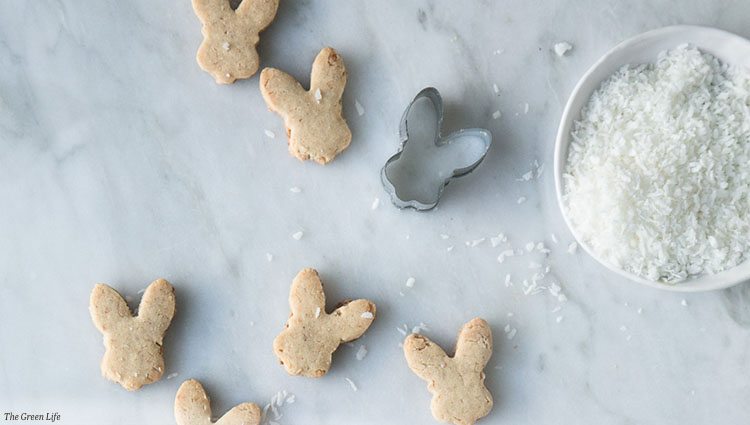 Delicious toasted coconut shortbread cookies are something that should be enjoyed year round, but the cute bunny cut outs make them a perfect fit for spring. These cookies created by The Green Life are also a ideal for people with dietary restrictions as they are vegan and gluten free. Regular shortbread cookies are great, but these are really "cut out" for an Easter celebration.
13. Easter Egg Nest Cookies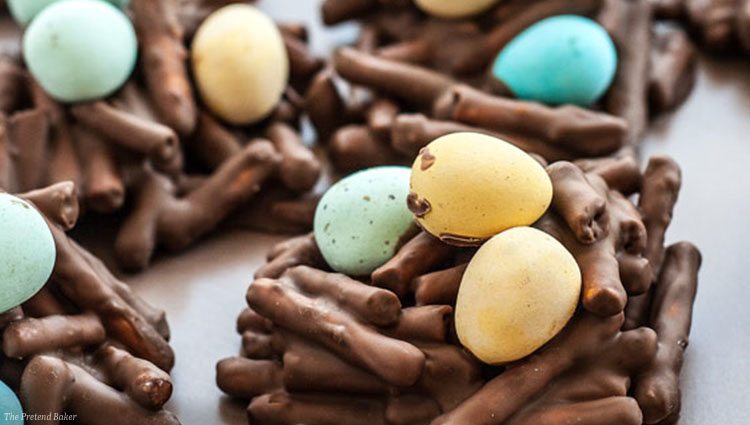 These "nests" are a super creative addition to an Easter spread. They are also easy and fast; The Pretend Baker estimates that the prep and cook time is under 10 minutes—perfect for busy hosts. Also, who doesn't love chocolate covered pretzels?
14. Easy Crispy Mini Meringues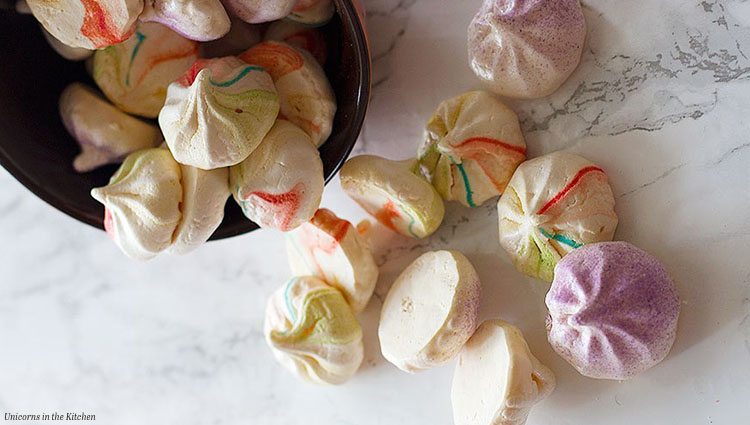 We are obsessed with these sweet little french treats; the streaks of color give them a very artistic quality. Unicorn in the Kitchen's meringues look so much harder to make than they actually are, and they are sure to impress. These bite-sized cookies are super light and melt in your mouth. Enjoy as many as you'd like!
15. Cookie Lamb Lollipops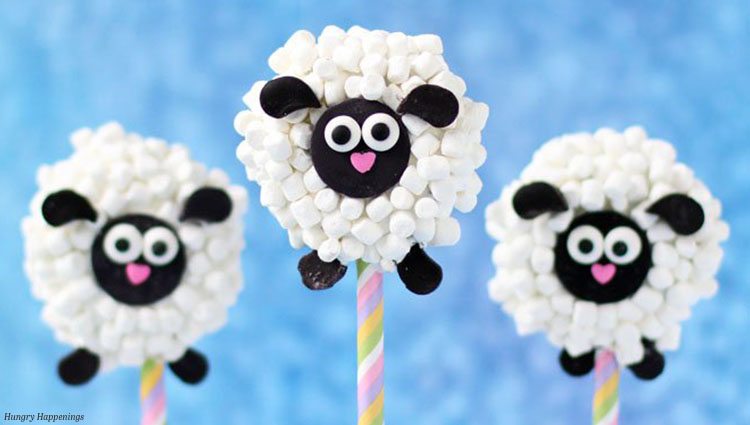 The Easter Bunny gets used so much for Easter dessert that people often overlook the lamb as a source of Easter inspiration. We love Hungry Happenings' use of the mini marshmallows to mimic sheep fleece. Kids will love these. Try bringing them to a class function or a Sunday school celebration.
16. Carrot Cake Cookies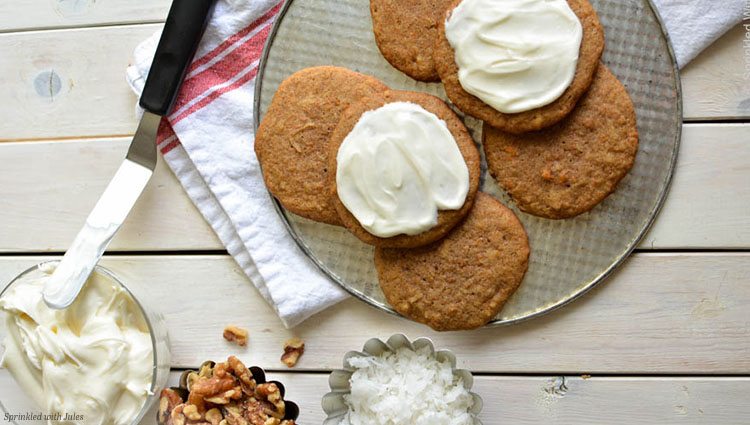 Carrot cake is the perfect addition to any party or meal, and these carrot cake cookies by Sprinkled with Jules give you the same delicious flavors you love with the added ease and portability of cookies! Try them and see for yourself how moist and cake-like these cookies are. Serve them plain or load them up with cream cheese frosting and toppings. Either way, you can't go wrong.
17. Koulourakia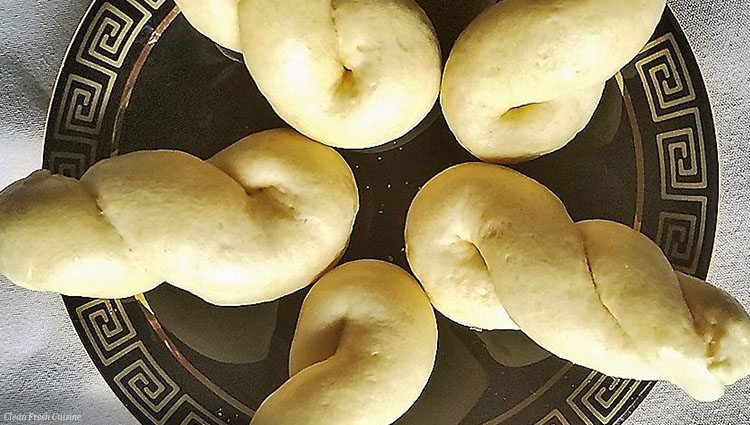 These traditional Greek confections are buttery shortbread cookies with a hint of vanilla. These cookies are intended to be enjoyed after Holy Saturday. Koulourakia are a special occasion treat, so take the opportunity to try Clean Fresh Cuisine's recipe this Easter!
18. Chocolate Cookie Pizza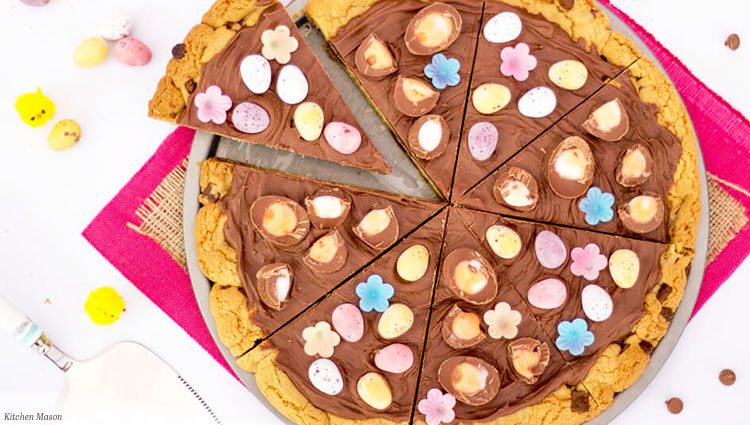 A dessert that combines elements of pizza and chocolate is what dreams are made of. It is simple enough that kids can easily help out with this super fun recipe, too. Kitchen Mason's recipe serves eight people, but we won't tell if you want to keep more of it for yourself!
19. Malted Milk Speckled Egg Cookies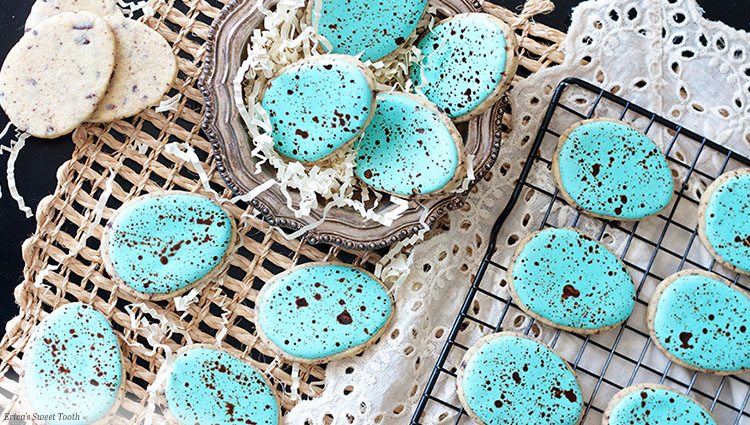 These gorgeous robin egg cookies by Erica's Sweet Tooth are absolutely delectable. We love how the splattered speckles make each cookie unique. These cookies would definitely add that wow factor to your Easter or springtime get-togethers.
20. Easter Egg Macarons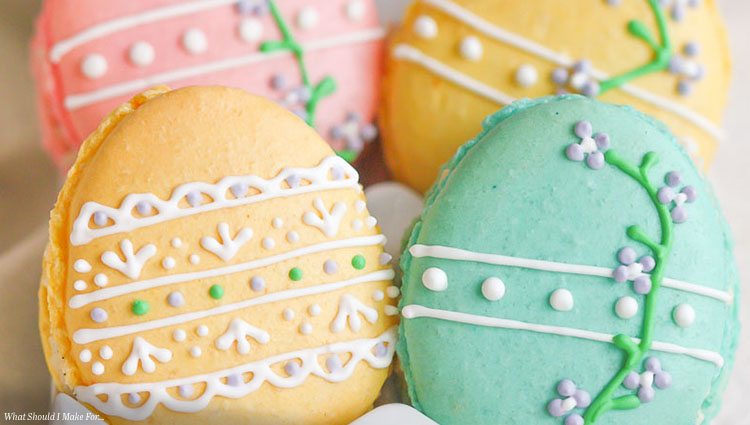 Another dessert that is almost too lovely to eat. Executing the decoration of these takes time and skill, but just look at the results. We love What Should I Make For's use of color, and the idea to serve these on a tray that resembles an egg carton – super cute!
21. Bunny Bum Cookies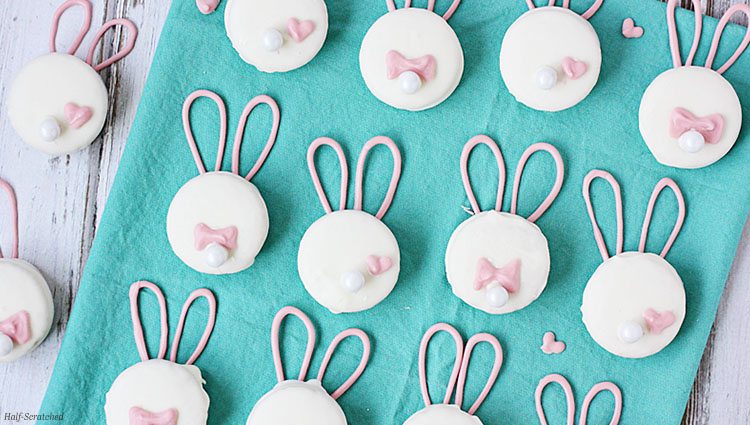 Half-Scratched gave this classic cookie a charming Easter makeover. This recipe only requires a handful of ingredients and is easy and fun to make. In addition to Easter, these cookies would be great for a springtime baby shower!
22. Coconut Macaroons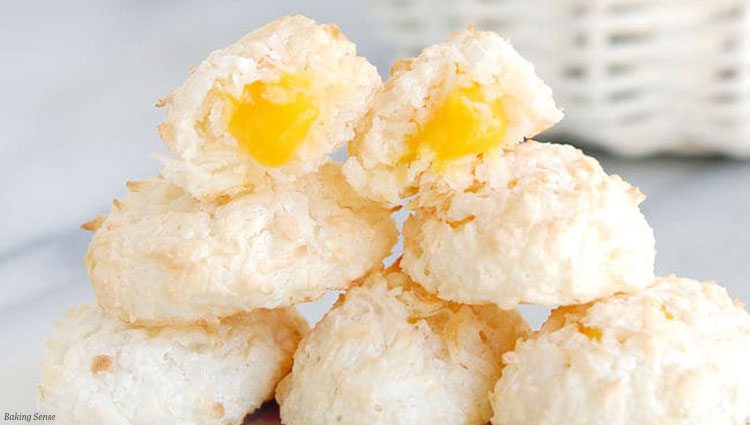 These cookies by Baking Sense are so unique, you don't have to worry about bringing the same dessert as someone else to the Easter party. The coconut macaroon cookies are filled with a flavor-packed passion fruit filling. Is your mouth watering yet?
Whether you want to make Easter cookies for close family or for a banquet, we hope that you found what you were looking for! Please let us know what you think about these cookies, and comment your favorites below. However you decide to celebrate this year, we hope that it is filled with yummy treats.