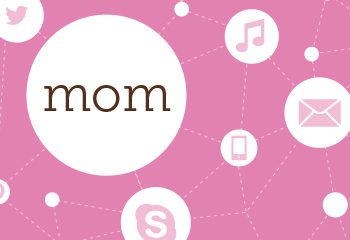 7 Tech Tributes to Mom
If a crafty homemade card isn't your DIY speed, celebrate Mom with one of these fun, free and easy tech tributes.

1. Momagram
On Mother's Day, or even better, the week leading up to it, dedicate your Facebook, Instagram or Pinterest page to the woman who raised you. Make every post and pic all about Mom: the bumblebee Halloween costume she made you in 4th grade, the trick she taught you last week to get your 2-year-old to eat his broccoli (you hide it in the macaroni and cheese)… and all the life lessons that made you who you are today.

2. Personalized e-cards
"I hope your Mother's Day is more pleasant than labor was..." Think you're as witty—or wittier—than the greeting card writers at Someecards? Use their interactive feature to design your own.

3. Printstagram swag
Transform your Mom-and-me Instagram gallery into jewelry, canvas prints, drink coasters, t-shirts, greeting cards, magnets and more with Printstagram. We especially love the idea of editing a photo with a black and white or sepia-toned filter and framing it in a chic vintage locket your mother can wear. Or gluing images onto tiles or wood squares to make unique coasters.

4. Mom, the movie
Thank Mom in a short and sweet flick using Instagram video or the Vine app. Add a touch of nostalgia by filming it silent movie style with handheld signs that profess your love or the reasons why she's the world's best mom. If you're a YouTube pro, post a slideshow or video honoring her on the site. Set it to music or a song you wrote just for her—auto tuned, of course (there's plenty of free software for that too, on the web). And if you can toss in a hamster on a piano, even better. Whatever will make Mom happy.

5. Digital scrapbook
If Mom's used to flipping through stacks of cellophane photo albums—when she wants to show visitors that cute baby picture of you in the bathtub—introduce her to the digital age with Shutterfly's free digital scrapbook feature. She can share photos from her iPad, cell phone or Roku. The iPad version even allows you to add custom audio, captions and doodles. Plus, this way you can make sure the album also includes snapshots of you all grown up (and clothed).

6. That's her jam
Gather her favorite tunes—and some new songs you think she'll dig— and DJ your mother a special Spotify playlist she can listen to on her daily walk or while she's tooling around town.

7. Long-distance love
If you can't be with Mom for Mother's Day, schedule a heart-to-heart on Skype, Google Hangouts or FaceTime (if you have an iPhone 4 or newer).
Tell the world
And of course a tribute to Mom wouldn't be truly tech-savvy if you didn't share it, tweet it or post everywhere—including, of course, in our blog comments.